Humanitarian Crisis in Syria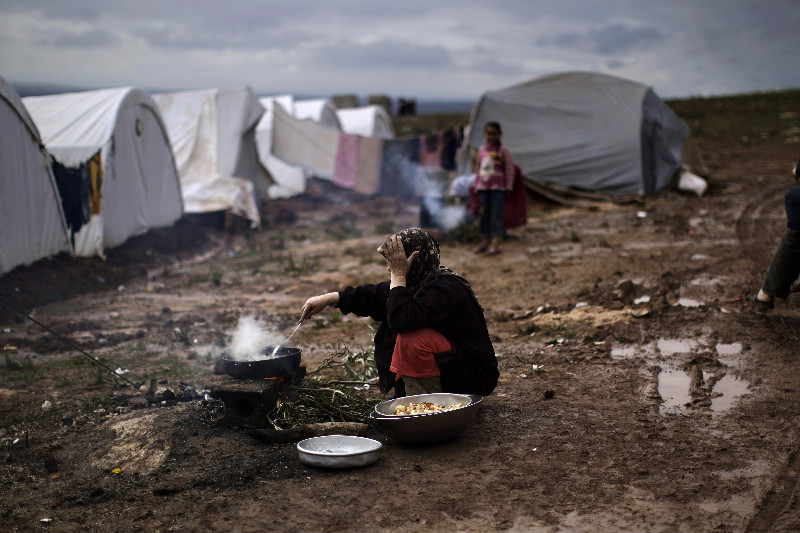 13 Apr 2021
The Al-Imdaad Foundation continues its efforts to assist Syrian refugees in Jordan and Turkey as well as those internally displaced within Syria. The Al-Imdaad Foundation has many projects including medical support, orphan care, educational, food security, refugee rehabilitation and more.
Syria: A Decade of Crisis
12 Apr 2021
After ten years, the crisis in Syria is in one of its worst phases yet. Ongoing conflict, almost complete economic collapse, and a growing health crisis have come together as a deadly cocktail. Food is 33 times more expensive today than pre-war levels and 12.7 million people are food insecure, without available meals or sustained access to nutritious food. In numerous camps in Northwest Syria 1 in every 3 children are stunted.

It's a decade on, but Syria still needs us. Hunger happens every day.

DONATE NOW. FOR SYRIA.

Syria enters year 10 of crisis
12 Jul 2020
Syrians are into the tenth year of war and displacement and are now facing unprecedented levels of hunger leaving millions of people acutely vulnerable to the Covid-19 pandemic. Covid-19 restrictions, economic collapse and the displacement of millions have led to unprecedented numbers who are no longer able to put food on the table or afford basic necessities. A shocking 9.3 million Syrians are now going to sleep hungry with 2 million more are at risk of a similar fate. This is part of a 42 per cent rise in the number of Syrians facing food insecurity. Unless humanitarian increases, many Syrians will be pushed to the brink of starvation. Almost a decade of war has thrown Syrians into a spiral of despair and destitution that keeps getting worse. YOUR SUPPORT IS NEEDED NOW, MORE THAN EVER.
Our Efforts for Syrian Refugees Continue
23 Oct 2017
After more than six years of conflict in Syria and the death of hundreds of thousands of civilians, Al-Imdaad Foundation's humanitarian aid programme for Syrian refugees and Internally Displaced Persons (IDPs) continues. We target Syrian refugees in Turkey, Jordan and Lebanon as well as IDPs inside Syria. Continue your donations and help us continue our response.
Al-Imdaad Foundation Inaugurates projects for the Syrian People
04 May 2014
The Al-Imdaad Foundation's relief teams have recently returned from Syria and Turkey. Since the crisis began, teams have been delivering emergency aid and establishing projects to alleviate the suffering of the Syrian people affected by the civil unrest. Amongst the many projects completed, this visit saw the Al-Imdaad Foundation inaugurate a containerised village to house orphans, widows and destitute families as well as the Shammarin bakery project which is providing much needed bread to destitute Syrians. A trauma centre sponsored by the Muslim Ladies' Enrichment Forum of Laudium, Pretoria was also officially opened to assist victims affected by the ongoing crisis. As the conflict is deepening, the need for more accommodation to house the desperate Syrian people is increasing. With this being a point of concern the Al- Imdaad Foundation has now begun the establishment of an additional tent village along the Syrian -Turkish border.
Al-Imdaad Foundation partners with the Al-Falaah Muslim community to assist Syrian refugees in Jordan
08 Mar 2014
As the civil unrest in Syria enters its fourth year, millions of refugees continue to pour over its borders into Jordan, Turkey, Lebanon, Iraq and Egypt. The Syrian refugees are about to become the biggest refugee population in the world with 2.5 million people having already escaped from Syria. With a desire to assist the refugees, the Al-Falaah Muslim Community of Crown Mines, Johannesburg South Africa partnered with the Al-Imdaad Foundation to assist Syrian refugees in Jordan. Headed by Ml Moosa Leher, The Al-Falaah Muslim Community delegation assisted refugees at the Al-Imdaad Foundation distribution centre in Mafraq which is close to the Jordan/Syrian border. Regular assistance is offered to new refugees who are brought to the centre. Currently between 500 to 700 refugees enter Jordan daily. The Al-Imdaad Foundation busses the newly arrived refugees to the distribution centre where they receive their first humanitarian aid after entering Jordan. The Al-Imdaad Foundation's Jordanian team headed by Dr Nizar Al-Shaik has taken great care and consideration into putting together a starter kit considering every member of a family. The following items are included in a starter kit as per the family need: Food pack for one month, Hygiene Kit, Paediatric pack as per the family requirement, Ground blankets, Covering blankets, Duvets, Clothing and shoes for all ages. Whilst ensuring that every need of the refugees are met the Al-Imdaad Foundation also ensures that each person receives the aid with dignity. All recipients are welcomed at the Al-Imdaad arrival hall, where each person receives a fresh sandwich and a hot cup of tea after which each family unit is registered on the database. The Al-Imdaad Foundation also operates a field clinic at the distribution centre where a specialist conducts a medical examination and if there is a need, a pharmacist is available to dispense any medication accordingly. The Al-Imdaad Foundation is continuing its efforts to assist Syrian refugees in Jordan and Turkey as well as those internally displaced within Syria.
Winter Warmth for Syrian Refugees
05 Dec 2012
The Al-Imdaad Foundation launched an urgent winter relief aid mission for Syrian refugees in Jordan on December 4, 2012. As temperatures plummet to minus four degrees, the Al-Imdaad Foundation is currently distributing food parcels and blankets to the needy refugees. An emergency medical unit has also been set up at the Zataari refugee camp to tend to the sick and wounded. Distributions are also under way in Mafraq to Syrian refugees. The Al-Imdaad Foundation's Middle East office, based in Amman, has also set up permanent distribution centers in the region. Al-Imdaad Foundation is bringing much needed humanitarian aid to refugees at border camps. There has been an influx of refugees coming from Syria as the civil war continues and winter approaches. There are currently 90,000 refugees in Jordan. The Al-Zataari camp alone houses 46,000. The refugees are not allowed to leave the camp and due to the steady increase of refugees, only a limited number of people are allowed to stay. Only 500 to 600 new refugees are allowed entry into the camp every day. Many refugees on the Syrian side of the border are waiting to cross over into Jordan but are not permitted to. These people have nowhere to go. Their homes have been destroyed. Their family members have been killed. They have nothing. The situation is dire. The Al-Imdaad Foundation's relief efforts are being coordinated by our Jordanian office and thousands of blankets will be distributed this winter amongst other relief items such as food hampers. "Words cannot describe the emotions of what the refugees are feeling but their spirit is high. They are so delighted that we are here," said Hafez Mahmood Asvat, Logistics Coordinator of the Al-Imdaad Foundation. For live updates call: Head of the Syrian Mission and Logistics Coordinator, Hafez Mahmood Asvat on +962 799210690 or +881 632553058. Please follow us on Twitter (@alimdaad) for daily updates or to donate towards this relief effort call our offices on 0861786243.
First hand account on the Syrian Refugee Crisis by Al-Imdaad team member
03 Apr 2012
To many of us, even under normal circumstances, the prospect of leaving home is often a daunting one. Whether it be for work, studies or even a holiday we are always somewhat wistful when we have to leave, because we are aware of what's being left behind and the memories that attach us to the place we call home. As is often said, home is where the heart is. Now imagine a completely different scenario. Imagine having your whole life being turned upside down in an instant. Imagine being torn away from your family, picture watching loved ones being butchered before your eyes, think of how it must feel to watch your home being demolished, how it must feel to watch the life drain away from your innocent child. This bleak image is a reality to every single Syrian refugee! Each one of them has had to watch their loved ones, their lives and their possessions perish at the blink of eye. Not being able to mourn their losses, unable to salvage anything but their lives, the innocent people of Syria have been forced to flee their homes with nowhere to go and nothing to go towards. Not being able to watch our brothers and sisters suffer any longer, The Al-Imdaad Foundation mobilised teams from our Jordanian, United Kingdom and South African offices in order to respond to the deteriorating crisis. Unable to enter Syria due to increasingly volatile conditions, our teams were dispatched to border towns in Jordan and Turkey in order to assist the masses of refugees who were lucky enough to escape the carnage in Syria. Working in Jordan, The Al-Imdaad Foundation set up a clinic to cater exclusively for the medical needs of the refugees. This clinic offered a wide array of services which included general checkups by GP's, a gynaecology wing, minor operations theatre and a dispensary. High value food hampers and infant care baby packs were also distributed on a regular basis. Many of the refugees in Jordan were unable to get access to refugee camps and thus our office assisted them in covering their accommodation costs. All beneficiaries were verified in order to ensure that the aid was going into the right hands. Recognising that the crisis was unfolding on more than one front, members of our team then travelled to Turkey in order to provide assistance to the thousands of refugees that had amassed on the Turkish Border. Whilst in Turkey, our team visited a few refugee camps and conducted distributions within the village. Many refugees were staying with friends and family members and The Al-Imdaad Foundation travelled house to house distributing high value food hampers. Working morning through till evening our team was put through their paces visiting depots, packing the goods into boxes, loading the trucks and finally distributing the aid. With the situation being extremely volatile and security being a concern our team was advised to conduct our distributions as quickly and discreetly as possible. Once again, all beneficiaries were verified and all goods received were signed for. The Al-Imdaad Foundation will continue to monitor the situation in Syria and our office in Jordan is ready to respond as and when the need arises. Written by: Muhammed Hasan Sader, International Relations officer
Distribution at border village
27 Mar 2012
Al-Imdaad Foundation visits a village on the Turkish/Syrian border. Over 500 refugees pass through this border daily. Many refugees have taken residence in the village. The team distributes food aid, blankets and mattresses to the refugees in the village.
Visit to refugee school and refugee apartments
25 Mar 2012
Al-Imdaad Foundation team visits a school for Syrian child refugees and conducts a detailed assessment of their needs. The team is shocked to learn how many children are orphaned and how their lives have been affected by the fighting in their homeland of Syria. The team then proceeds to visit families housed in apartments in the city of Antakya. Food hampers are distributed to the refugees at these flats/apartments.
Teams Package Relief Items
24 Mar 2012
The team spent part of the day packaging relief items and loading trucks ahead of distributions. The team then visited the Boynuyogun refugee camp housing thousands of refugees on the border of Syria. A distribution was subsequently carried out with Al-Imdaad Foundation's ground partner at the camp.
Teams arrive in Turkey
23 Mar 2012
Al-Imdaad Foundation relief team arrive in Turkey and are briefed on the current situation and needs of the refugees thus far. Al-Imdaad Foundation continuously updates its assessment portfolio with regards to the ongoing Syrian crisis. Aid is already being distributed in various refugee camps on the Turkish/Syrian border
Teams on the Syrian Border Delivering Humanitarian Aid
21 Mar 2012
A clinic has been initiated for the thousands of refugees that have crossed over the border from Syria due to the ongoing fighting. Free medical care and treatment has now been provided for the refugees. Team members are on hand working closely with doctors and nurses to assist the refugees. Accommodation has also been arranged for families fleeing the violence from Syria in Jordan. All refugees have been carefully recorded onto a database and are receiving continuous aid from Al-Imdaad Foundation which comprises food packages, medical treatment and payment for rental purposes. Distributions of blankets, mattresses and bedding also takes place for refugees seeking refuge under the care of Al-Imdaad Foundation, Jordan. A large distribution of food hampers and packs was also distributed for the refugees.
Humanitarian Crisis in Syria
24 Feb 2012
An ongoing internal conflict, the Syrian uprising is part of a wave of social upheaval throughout the Arab world demanding greater political freedom and an end to autocracy. Gaining inspiration from concurrent regional protests, public demonstrations seeking to address government corruption, a high rate of unemployment and the absence of an effective constitution began on the 26th of January 2011 and developed into a nationwide uprising. In an attempt to quell the uprising, the Syrian Government deployed the Syrian army and several cities were besieged. Due to restrictions placed on foreign journalists by the Syrian Government, verification of death tolls and specific events have been hard to confirm. However, according to the UN and other sources, since the beginning of the uprising, up to 8000 people including armed combatants have been killed in total. Many more have been injured and tens of thousands of protestors have been imprisoned. Over 400 children have also lost their lives in the conflict. Forced to flee from the intensifying violence, thousands of refugees are streaming into neighbouring Turkey and Jordan. The Al-Imdaad Foundation is currently assessing the situation and seeking ways to address the unfolding humanitarian crisis. Updates to follow.