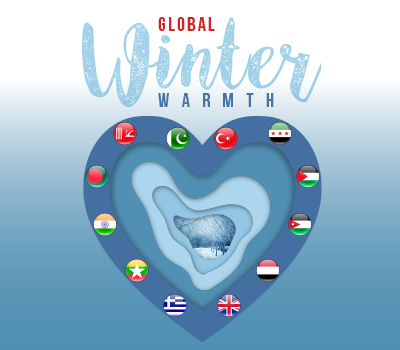 09 Mar 2021
BE WARM HEARTED. SPONSOR A WINTER PACK FOR JUST R600.
Across the northern hemisphere our brothers and sisters are bracing for the winter months at a time when available resources have been limited due to the severe impact of the Covid-19 pandemic on struggling economies. For refugees, IDPs, the impoverished, orphans, widows and other vulnerable groups, the winter is one of the most difficult times of year, and this year, it could be even worse.

Syrian Refugees and IDPs, struggling communities in Kashmir, Pakistan, India, and Bangladesh, vulnerable Rohingya communities, refugees freezing on Greek Islands, homeless UK residents, and the conflict ravaged IDPs of Yemen - Let's Share warmth with them all.

Sponsor a winter pack for just R6oo. Packs will include food aid, winter apparel, hygiene kits or fuels, depending on the need in each location.

BE WARM HEARTED. DONATE NOW.