Middle East Winter Warmth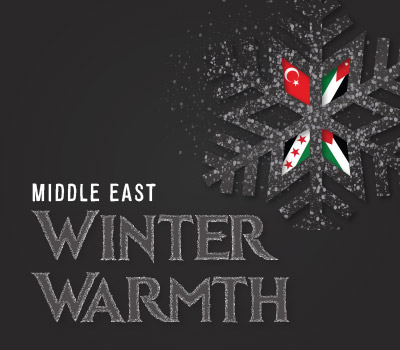 30 Apr 2020
This winter, help spread Warmth to IDP and refugee communities in Turkey, Syria, Jordan and Gaza
Across the Middle East, millions of refugees and internally displaced people are using whatever they can to wrap their children up tightly, hoping that this winter will not bring further tragedy and despair. Winter is a silent killer, with tens of thousands of deaths occurring each year during the colder months. With rising fuel costs, inadequate nutrition and insufficient winter supplies, already struggling refugees and IDPs are pushed to the brink of survival. The last few Middle Eastern winters have been severe, with freezing temperatures, snowstorms and icy floodwaters making life in camps unbearable.
Operation Winter Warmth Middle East allows you to provide lifesaving winter clothes, blankets, food aid, fuels and energy solutions to Palestinian and Syrian IDPs and refugees in Gaza, Jordan, Turkey and Syria. 
WINTER SHOULD NOT BE A TRAGEDY. DONATE NOW TO PROVIDE LIFESAVING WARMTH.