Kenya Housing Village (Sahaba City)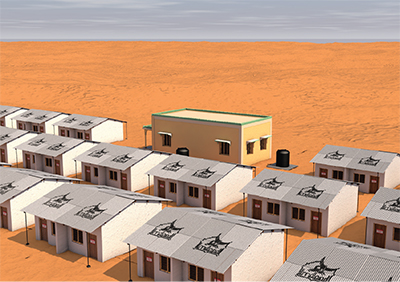 06 Apr 2021
Help us build homes for needy families in Kenya at just R26000 per house
Sahaba City 5
05 Apr 2021
This year is a milestone. We are almost halfway through our dream to build 10 villages dedicated to the memory of the Companions of the Holy Prophet PBUH. The current fifth Sahaba City Village dedicated to the Caliph Ali (RA), will provide a further 100 homes for Kenyan families displaced by conflict, climate change and poverty. Build a future for struggling families steeped in the memory of the illustrious companions. SPONSOR A HOME TODAY AT JUST R26 000.00
Third Village Innaugurated
31 May 2020
During the month of Ramadan 1431 our office in Kenya inaugurated the third Sahaba City village in Hamesa in the Galole area in Tana River County. The village provides a further 100 homes, Masjid, and sanitation facilities for need families in the area. The village was handed over by the honourable representative of the Galole Local Constituency MP Said Buya Hiribae
Help build Sahaba City this Ramadan
23 Apr 2020
With the third Sahaba City village in Kenya set to be completed this Ramadan 100 struggling families will have new shelter quarters to call home. Our vision remains to complete ten such villages all dedicated to the illustrious memory of a companion of the Holy Prophet PBUH. This Ramadan help provide shelter for families displaced by tribal conflict, poverty and climatic change. LET'S KEEP BUILDING SAHABA CITY. SPONSOR A HOME AT R26 000 THIS RAMADAN.
First two villages inaugurated
07 Oct 2019
Al-Imdaad Foundation inaugurated the first two villages as part of the Sahaba City project. The villages were inaugurated in early October 2019 and will provide decent living conditions for 100 families each. Beneficiary communities were overjoyed by their new brick homes after moving out of straw huts and other rudimentary forms of accommodation. Villages also included Masjid facilities and boreholes to provide reliable water sources in the drought affected region. The project is still ongoing with more villages planned for other communities. DONATE A HOME AT JUST R26 000 AND HELP SECURE DECENT ACCOMMODATION FOR A WHOLE FAMILY
Soil Breaking For First Village
20 May 2019
Drought and conflict have displaced countless numbers in East Africa. They resettle in areas far from home, with limited resources and insufficient shelter. Al-Imdaad Foundation's office in Kenya has been able to assist these communities by establishing shelter villages to accommodate the neediest families. Your support can help put shelter over the heads of struggling families and allow them to live dignified lives. Sponsor or contribute towards a home that will provide safety and comfort in the face of poverty and struggle. DONATE NOW AT R26 000 PER SHELTER.