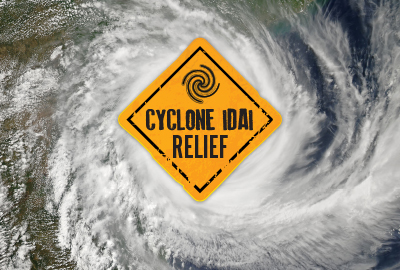 11 May 2020
Together we responded to Cyclone Idai in Southern Africa in 2019. Let's continue to work together for the neediest communities.
Idai Relief-7 Months On
20 Oct 2019
Seven months after the devastation of Cyclone Idai in Mozambique and Al-Imdaad Foundation teams were once again on the ground ensuring affected families are taken care of. The teams delivered food hampers and home rebuilding kits which were generously sponsored by the Businessmen's Aid Delegation and the Empangeni Muslim Society who also sent volunteers along for the mission. The team also visited Masjid Taqwa which is being rebuilt with support of the Maryam Islamic Centre and is expected to be completed at the end of October 2019.
Cyclone Idai Response Continues
05 May 2019
It's been almost 2 months since cyclone Idai first made landfall, leaving a trail of destruction that has affected millions. In the aftermath of the crisis cause by Idai. A-Imdaad Foundation teams were amongst the first to deliver emergency relief in badly affected areas. In subsequent weeks new cyclonic systems have battered other parts of Mozambique causing further damages. The Mozambican people are our neighbours, and we are committed to ongoing support for their needs. Join us as we continue to support rebuilding efforts and support for food security in affected areas. DONATE NOW AND MAKE A DIFFERENCE.
Cyclone Idai efforts continue in Mozambique
06 Apr 2019
Al-Imdaad Foundation teams continue to respond on the ground in Mozambique with generous support from partners and volunteers. Teams have been distributing home-rebuilding kits, hygiene kits and food hampers in affected areas. The current interventions received generous sponsorship from Iqraa Trust, South Africa and Brothers for Humanity, who also dispatched a volunteer mission to help deliver the aid. In the face of sustained humanitarian needs in the aftermath of the Cyclone including escalating rates of cholera infection, and damage to food security in the agricultural sector, the need for continued assistance for affected populations remains essential. YOUR SUPPORT IS HELPING TO ENSURE AID CAN BE DELIVERED TO THOSE IN NEED
Relief Efforts in Malawi
29 Mar 2019
Al-Imdaad Foundation relief activities took place on Saturday, March 23rd, for hundreds of families from the Mulanje District of Malawi, near the border with Mozambique. The area had also seen extensive destruction as a result of floods caused by Cyclone Idai and thousands of homes had been damaged. Al-Imdaad Foundation's team leader for the Malawi mission said that the distribution had taken place in Masa village, in the Kando area, where 300 families from nine surrounding villages had assembled to collect aid hampers.
Relief efforts in Mozambique
29 Mar 2019
Al-Imdaad Foundation teams were on the ground responding to the crisis in Beira, Mozambique as of Friday, March 22nd 2019. The teams implemented Phase 1 emergency relief distributions in areas around Beira and for communities who had been cut off by flood waters in Tika and the town of Buzi. The team worked with local partners and volunteers to implement a relief effort benefitting hundreds of families, many of them receiving aid for the first time since the impact of the Cyclone. Al-Imdaad Foundation was also able to assess damage, to housing, public buildings, mosques and schools. Moving forward the Al-Imdaad Foundation's response will be focusing on enhancing food security through the provision of hampers for families who have lost their livelihoods. It will also be supporting basic rebuilding efforts to allow affected families to fix their homes and establish shelters CONTINUE YOUR SUPPORT FOR THESE IMPORTANT AID EFFORTS