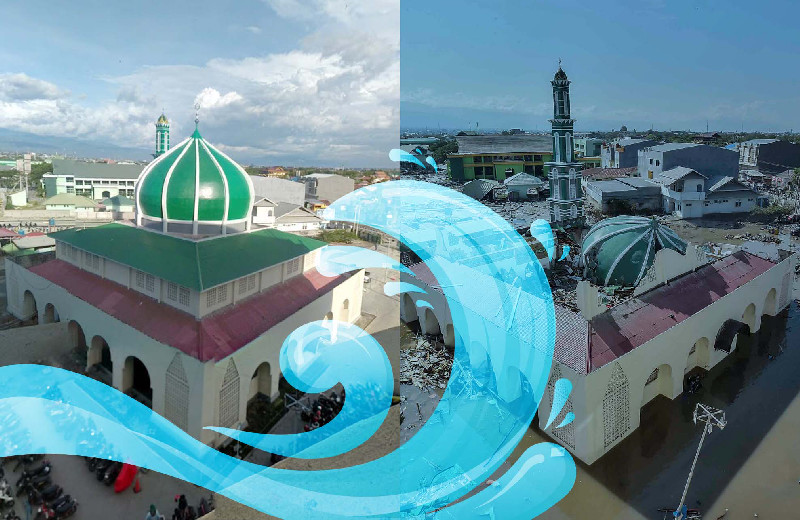 11 Feb 2020
Al-Imdaad Foundation has been responding with emergency relief for victims of the 7.5 magnitude earthquake and resultant Tsunami that struck the Indonesian Island of Sulawesi on Friday, September 28th, 2018.
Empowering Beneficiaries with the support of Ummah Welfare Trust
02 May 2019
In late April and early May 2019, generous contributions from Ummah Welfare Trust were distributed to families who remained displaced after last year's earthquake in Sulawesi Island, Indonesia. The intervention allowed beneficiaries to help re-establish lives and livelihoods through purchasing of agricultural machinery, starting up small businesses and purchasing land for the construction of permanent housing. The programme successfully reached 685 beneficiaries from several badly affected areas of the Island including the Sigi District, Petobo Hosing Complex, and West Coast Dongala District. In many of these areas whole neighbourhoods had been completely flattened by the earthquake and resulting soil liquefaction. WE WOULD LIKE TO THANK UMMAH WELFARE TRUST FOR THEIR IMPORTANT CONTRIBUTION TO THESE COMMUNITIES
Al-Imdaad Foundation tent village established in Sulawesi
10 Oct 2018
Al-Imdaad Foundation teams on the ground responding in Indonesia have established a tent village for displaced families who have moved out of the urban areas. The team is providing food aid, shelter, safe water and hygiene items for residents of the village and plans are being made to continue to assist victims going forward. DONATE NOW AND HELP US CONTINUE TO PROVIDE FOR EARTHQUAKE VICTIMS
Teams experience new earthquake, but aid effort continues
09 Oct 2018
Al-Imdaad Foundation teams on the island of Sulawesi in Indonesia started the day with a terrifying jolt as a new 5.3 magnitude earthquake struck the Island. Team members joined hundreds who had run out into the streets in fear but luckily no major damages or loss resulted. The teams went on to conduct numerous distributions throughout the day for displaced communities and victims in various areas. Distributions took place at a safe zone in Palu city where many displaced families had congregated, as well as in rural areas away from buildings where some communities had relocated as a safety measure in the face of ongoing aftershocks. The Al-Imdaad Foundation aid response is continuing with tents shelters to be distributed in the coming days. Further diversification of the aid effort is also being planned to address water, sanitation and other needs. CONTINUE YOUR DONATIONS AND HELP US SUSTAIN THESE EFFORTS
Al-Imdaad Foundation activities continue
07 Oct 2018
Al-Imdaad Foundation teams have been on the ground in the worst affected areas of the Indonesian Island of Sulawesi since Thursday, October 4th,2018. The teams have been assisting with the harrowing task of retrieving corpses from the rubble of buildings and have been distributing initial-phase emergency relief aid. By Friday, October 5th the death toll from the quake and tsunami had risen over 1500 and continues to rise daily. Authorities also reported that more than 70000 people had been displaced with over 66000 homes damaged and almost 200 000 in urgent need of assistance. Al-Imdaad Foundation teams witnessed many of these displaced people living in makeshift structures around the city of Palu and facing severe shortages in basic-essentials. The Al-Imdaad Foundation is continuing its emergency relief programme to assist displaced victims with food aid, shelter and other essential needs. DONATE NOW AND HELP PROVIDE FOR VICTIMS TODAY
Al-Imdaad Foundation teams go to ground
04 Oct 2018
On Thursday, October 4th,2018, Al-Imdaad Foundation teams went to ground in earthquake affected areas around the City of Palu on Sulawesi Island, Indonesia. The teams witnessed widespread devastation caused by the 7.5 magnitude earthquake and subsequent Tsunami of September 28th including unprecedented destruction from the phenomenon of soil liquification whereby solid ground assumed the consistency of liquid. The teams joined in the search and rescue effort and assisted with the retrieval of bodies. They also met with the Deputy Mayor of Palu, Mr Pasha, and received permission for distributions in badly affected areas including Balaroa, Talise Beach and Petobo. UPDATES TO FOLLOW…
Latest Updates
02 Oct 2018
The events of 28 September 2018 resulted in a classic disaster scenario with major earthquakes triggering a tsunami, soil liquefaction, and landslides. This resulted in direct damage to person and property and constrained humanitarian access to affected areas. It is now estimated that some 1.5 million people were exposed to moderate and strong shaking, and around 537,000 people were exposed to strong shaking and the subsequent tsunami and liquefaction. Around 191,000 people are in urgent need of humanitarian assistance. The death toll has now risen to 1,234 fatalities, as of October 3rd with over 632 injuries, 99 missing persons, and rescue efforts still ongoing. There are currently over 61,867 evacuees being housed in 109 evacuation sites. All figures are expected to rise as assessments proceed. Al-Imdaad Foundation teams are working on access to affected areas and will initiate their response activities soon.