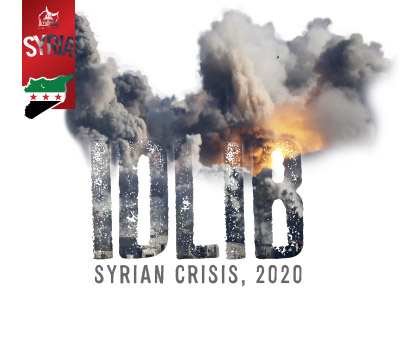 09 Mar 2021
HELP SUPPORT ONGOING RELIEF EFFORTS FOR DISPLACED SYRIANS IN NORTHWEST SYRIA
Let's not forget Northwestern Syria
06 Oct 2020
The situation in Northwest Syria is becoming more dire by the day. With winter encroaching, the Covid-19 infection rates are rising, with already 100 new cases being reported a day. This is more than 14 times the September rate. Some 2.7 million people remain displaced in the area and access to adequate medical services are inadequate. The Covid threat has impacted what little work was available and made people more reliant on aid and without an increase in funding more people are likely to suffer. The coming winter also brings an added danger for young infants who are especially vulnerable to freezing conditions as witnessed in the loss of 6 infants to the cold in the last winter. There are currently a record 9.3 million Syrians who are food insecure and this number threatens to grow by another two million people who are at risk of being pushed into hunger and food insecurity without rapid assistance. The economic crisis which has seen the price of food triple in the past year has left many families with no option but to decrease the amount and number of meals they eat and to take debts in order to buy food, this could have long term affects on malnutrition levels and stunting amongst children. At a time like this the people of Idlib and greater North-west Syria need our aid more than ever. DONATE NOW TO MAKE A DIFFERENCE
SYRIAN IDPs NEED YOUR SUPPORT
07 Jul 2020
In Idlib and other parts of the Syrian northwest, the Turkey-Russia ceasefire seems to face a bleak fate, with fighting and aerial bombardments reported since May. Home to over 4 million people, many of whom have been displaced multiple times, the Idlib and northern Aleppo governorates face catastrophe if there is a Covid-19 outbreak. Many live in squalid overcrowded IDP camps or sleep out in the open. Water is scarce, and the health and civilian infrastructures have been decimated. In recent weeks, a new wave of violence in southern Idlib has forced hundreds of families to pack up their few belongings and leave their homes and tents once again. YOUR CONTINUED SUPPORT FOR THESE FAMILIES IS VITAL
IDP Shelters
31 May 2020
With generous sponsorship from our donors, we have been able to establish semi-permanent brick shelters for Syrian IDPs in Idlib and Northern Aleppo. These shelters are more durable than tents and offer better protection against the elements. The shelters were installed with toilet blocks for males and females and handed over together with household supplies including kitchen sets, mats, mattresses, hygiene kits, solar torches, and other items. Food hampers were also delivered to the families. One hundred shelters have each been established in Azaz in Northern Aleppo and in Idlib.
IDP CRISIS
23 Apr 2020
The year 2020 started with some of the worst human suffering in all nine previous years of the Syrian crisis. A million new IDPs are now in horribly overpopulated conditions along the Turkish border and they need your support to survive. They are facing an extremely difficult conditions under the threat of COVID-19, in pitifully overcrowded camps with limited essential facilities. Help provide regular food aid, hygiene kits and other essential aid. It's the least we can do for our Syrian brethren. SYRIAN IDPs HAVE A RIGHT. LET'S FULFILL IT.
The worst it's been
26 Feb 2020
Over the past three months more than a million newly displaced persons have fled ongoing violence in Noth-west Syria with tens of thousands on the move daily. Civilian infrastructure and even camps hosting the displaced have been struck with impunity. The displaced are 80 % women and children with children numbering 500 000. These families are having to live in the barest conditions as humanitarian organisations are struggling to cope. Tents have run out and many tens of thousands are sleeping in the open in cold, wet and even snowy conditions. In this context your donations are needed more than ever. It is nine years on but the crisis is at its worst. DONATE NOW TO CONTINUE SAVING SYRIAN LIVES
Escalation's in December 2019
05 Jan 2020
Escalations of conflict in North-west Syria since mid-December have caused 298 000 new displacements already, including 175 000 children. More than 80% of the displaced are women and children. Airstrikes have hit areas where displaced families have gathered leading to significant civilian deaths. The winter season means families have had to flee with almost nothing, under torrential rains and in night-time temperatures close to freezing. They have been settling in tents, flooded camps, destroyed buildings, under trees or out in the open. The desperation is beyond belief and the needs on the ground are growing by the minute. It is heart wrenching that after 9 years the Syrian people are still going through this.
Al-Imdaad Foundation will be delivering emergency items including food aid, mattresses, blankets and hygiene packs to newly displaced Syrian families. These are people who have been driven from displacement to displacement, with each escalation a new tragedy and a new bid for survival.
DONATE NOW TO SAVE LIVES. WE CAN'T IGNORE THIS INDESCRIBABLE SUFFERING.

Escalations Soar in North-western Syria
05 May 2019
Since the beginning of May 2019, the situation in North-western Syria has once again taken a turn for the worst. Regime airstrikes have increased in Northern Hama and Southern Idlib causing up to 150 000 IDPs to flee. Already 77 deaths have been recorded, many of them civilians. The threat of a large scale battle in Idlib with dire humanitarian consequences is escalating as the truce that has held together over the last few months begins to fray. It is nine years into the Syrian crisis and still millions live a life of daily struggle.

THIS RAMADAN LET'S NOT FORGET OUR SYRIAN BRETHREN, IT'S BEEN SO LONG, BUT THEIR TRIAL IS NOT OVER

Idlib Deal Helps avoid conflict
19 Sep 2018
An eleventh-hour Turkish and Russian brokered ceasefire deal has forestalled the looming Idlib offensive and provided some respite for the conflict ravaged inhabitants of the territory. The Al-Imdaad Foundation continues to monitor the situation and stands ready to assist the population in the event of any future breakdown of the deal or further escalations.
Aid deliveries in Wadi Isa
13 Sep 2018
Al-imdaad Foundation emergency relief distributions took place in Wadi Isa, just 5 kilometres from the Syrian border. With aerial attacks continuing in various areas displacements are increassing. Your support helps us deliver essential aid such as tents, food hampers, cooked meals, by and female hygien packs and other items to displaced families. DONATE NOW AND MAKE A DIFFERENCE
Idlib Latest Developments
11 Sep 2018
• Preliminary air campaign in north-western Syria has been initiated • In the past 72 hours, monitors have reported more than 70 Russian airstrikes, 50 regime barrel bombings, 15 cluster munition attacks, and more than 565 artillery strikes • Attacks are mostly concentrated in northern Hama and South-eastern Idlib. • The initial campaign is aimed at weakening opposition front-line defences and at depopulating areas likely to see first-phase ground fighting. • At least 30,000 civilians have already fled these peripheral areas since Sept. 6 • Three hospitals, two rescue service centers, and an ambulance depot have all been destroyed. • Some 2.9 million people , more than 98 per cent of whom are civilians, reside in the Idlib area • Armed factions are also present, but are few in number with 100 civilians (most of them women and children), for every fighter • John Ging, Director of the Coordination and Response Division at UNOCHA, said more than 2 million people in Idlib need humanitarian assistance. • Turkey, which currently hosts some 3.5 million refugees, has also said that it could not accommodate any more. • The UN has said as many as 800,000 people could be displaced by a regime assault on Idlib and surrounding areas. In the light of the evident build up and escalations, Al-Imdaad Foundation response includes food aid, cooked meals, tent shelters and hygiene items for displaced victims.