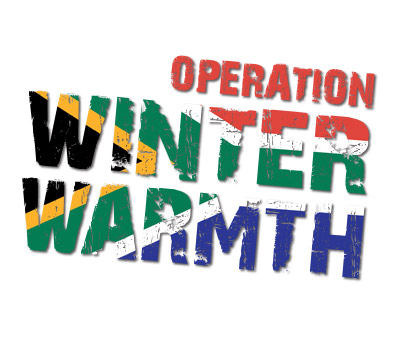 11 May 2020
Help provide that extra layer of warmth this winter by sponsoring a blanket for just R75 as part of the Al-Imdaad Foundation's #OperationWinterWarmth2018 campaign. Our blankets are distributed to rural dwellers, the elderly, impoverished, homeless and other vulnerable groups.
School Distribution in Richmond
01 Aug 2018
Al-Imdaad Foundation partnered with the Road Incident Management System (RIMS) for a programme at Mkhuzane Primary School in Thornville, Richmond where they distributed 100 warm hats and 50 mini-blankets to needy young learners.
Blanket Distributions for Joburg's Homeless
31 Jul 2018
Al-Imdaad Foundation teams in Johannesburg were on the streets on the last night of July to deliver Operation Winter Warmth blankets to homeless residents, helping them better deal with the freezing nights. Johannesburg can get bitterly cold in winter months placing homeless residents in a very difficult situation.
Warm hat and blanket distribution in Nottingham Road
31 Jul 2018
Al-Imdaad Foundation partnered with the Road Incident Management System (RIMS) N3TC to hand over warm hats to the needy learners of Silindele S.P. School in the Nottingham Road area. Other residents of the area also received blankets from the teams as part of the distribution. The Nottingham Road area in the KwaZulu-Natal Midlands is notoriously cold placing impoverished residents in a very vulnerable position during the winter months.
Durban and Johannesburg Programmes
25 Jul 2018
Teams in Johannesburg and Durban were active recently with Operation Winter Warmth distributions in Evaton and Phoenix. Teams in Johannesburg distributed blankets to elderly community members of Evaton Township whilst in Durban, blankets, baby blankets and warm hats were distributed to some 250 learners at the Phoenix Highstone Primary School. The Durban programme was held together with Circle of Care Association and Pharmaguild.
Eastern Cape Programme in Dimbaza
24 Jul 2018
Al-Imdaad Foundation teams in the Eastern Cape distributed blankets, woollen hats, school bags and hygiene packs at a joint programme with MEC P Majodina of the Provincial Department of Roads and Public Works. The programme was held at the Twebe Great Hall in Dimbaza.
Mpumalanga distributions
19 Jul 2018
Over the course of the past week, Al-Imdaad Foundation teams have been actively engaged in Operation Winter Warmth activities in various areas of Mpumalanga. Teams distributed blankets in Barberton, Bethal, Carolina, Nelspruit and Ermelo where warm hats were also distributed to school children.
Western Cape Activities
15 Jul 2018
Al-Imdaad Foundation teams in the Western Cape recently conducted distributions of blankets, warm hats, hygiene packs and a beverage hamper as part of an Operation Winter Warmth intervention at the Onse Kaia Homeless Shelter in Vredendal. Teams also recently distributed blankets, warm hats and walking sticks to beneficiaries in Worcester in partnership with the Worcester Islamic Society.
Blanket Distribution in KwaDabeka
26 Jun 2018
Towards the end of June 2018, Al-Imdaad Foundation teams partnered with MA Motala Islamic Centre to distribute blankets and walking sticks at the Sub 5 Hall in KwaDabeka outside Durban. The programme was attended by local ward Councillor Mr Bheki Mvubu.
Launch in uThukela District
19 Jun 2018
Al-Imdaad Foundation teams in KZN conduct Operation Winter Warmth programmes in the uThukela District Municipality with distributions at Thembisizwe Primary School in Alfred Duma Municipality and at the Emachibini Hall in the Mhlumayo area. The teams distributed hygiene packs and warm hats at the school and blankets and walking sticks to seniors at the hall.
Special Needs School
06 Jun 2018
As part of ongoing Operation Winter Warmth activities, Al-Imdaad Foundation teams in Gauteng partnered with Care4U2 to distribute blankets and socks to disabled learners at Actonville Special Needs School in Benoni.
Distributions in Kimberly, Phoenix and Pretoria
02 Jun 2018
Recent Operation Winter Warmth activities have seen distributions in Kimberly in the Northern Cape, Phoenix in Durban, KwaZulu-Natal and Pretoria in Gauteng. Blankets were distributed to elderly citizens from Galeshewe township in Kimberly and warm hats distributed to learners in Pretoria and Phoenix. The Pretoria programme took place in partnership with the South African Police Service and the Phoenic programme took place in partnership with the Phoenix Care Association and benefited 1200 learners from up to 100 schools.
Distributions in District 6 with acting WC Premier
15 May 2018
As part of ongoing Operation Winter Warmth activities, Al-Imdaad Foundation teams in the Western Cape partnered with the Provincial Department of Social Development (DSD) to distribute blankets and hygiene packs at the Youth Solution Shelter in District Six, Cape Town. The programme was also attended by Acting Western Cape Premier and Department of Social Development MEC, Mr Albert Fritz.
Distributions with Al-Falaah Students at Jadu Settlement
15 May 2018
On Saturday May 5th , 2018, Al-Imdaad Foundation teams in Durban partnered with students from Al-Falaah College for an Operation Winter Warmth distribution at Jadu informal settlement. It was a good way to get the learners involved in community outreach.
Recent Winter Warmth Interventions
11 May 2018
Operation Winter Warmth distributions have been ongoing across the country in recent weeks. In KwaZulu-Natal distributions have taken place in Braemer on Durban's South Coast, in Stonebridge in Phoenix and inland in the Cedera area in partnership with Madrasah An-Nur for the blind. In Gauteng, the programme was launched on May 5th in Ekurhuleni Metropolitan Municipality followed closely by distributions in Langa, Cape Town at the Noluthando Pre-school. Winter Warmth distributions also took place as part of the launch of a Make Breakfast Possible feeding scheme at Zwelitsha Primary School in the Eastern Cape on May 8th 2018. Items handed over during the various recent activities include blankets, baby blankets, warm woollen hats and women's winter gowns.