East Ghouta Crisis and IDP Relief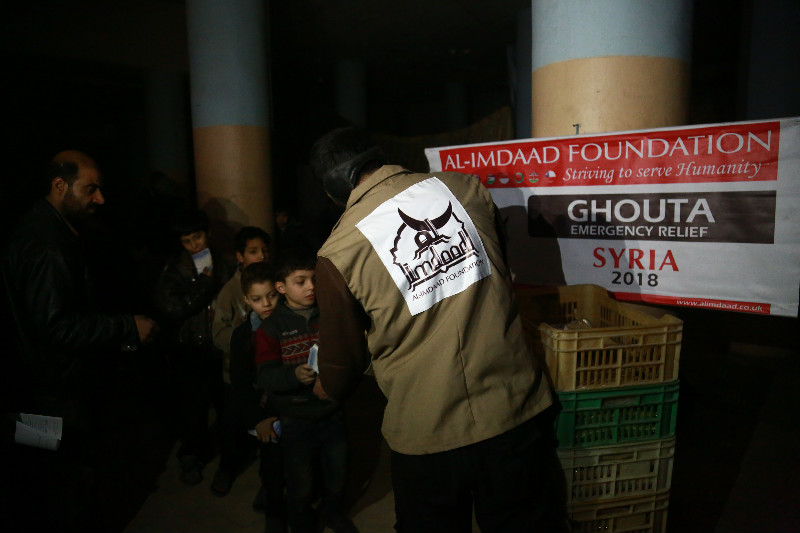 12 Apr 2019
THE PEOPLE OF GHOUTA ARE STILL SUFFERING IN THEIR NEW LIFE AS IDPs, THE LEAST WE COULD DO IS MAKE A CONTRIBUTION TO HELP ALLEVIATE THEIR PLIGHT.
Ramadan Hampers for IDPs
30 May 2018
Al-Imdaad Foundation teams have been providing Ramadan hampers to displaced Syrian families. Representatives have been distributing the hampers in tent-based communities of newly displaced IDPs who have been living in very difficult conditions. The hampers are intended to provide for the nutrition needs of these vulnerable families during the month of Ramadan. CONTINUE YOUR DONATIONS AND HELP US CONTINUE SUPPORTING SYRIAN IDPs
Internally Displaced Persons
09 May 2018
After recent rounds of conflict in Eastern Ghouta and other areas of Syria, tens of thousands of residents were newly displaced, many leaving home with only the clothes on their backs. Some were evacuated to other parts of the country and others were settled in temporary facilities outside of Damascus in very poor conditions. Al-Imdaad Foundation continues to support Syrian IDPs with emergency supplies to help ease their conditions. HELP US CONTINUE SUPPORTING THE DISPLACED PEOPLE OF SYRIA WITH EMERGENCY RELIEF SUPPLIES
Ghouta IDPs
07 Apr 2018
Many people from Ghouta have left and evacuated through a combination of military force, expedient political agreements and Russian brokered deals. Tens of thousands have been newly displaced and have been resettled in other areas where they are crammed into temporary displacement centres and hastily established camps and facilities. Conditions are very poor with basic essentials scarce and communicable diseases such as lice spreading rapidly. There are also fears of water related diseases due to deteriorating hygiene conditions resulting from inadequate water supplies and unhygienic conditions. Al-Imdaad Foundation is responding to the needs of newly displaced residents of Ghouta who have settled in other areas. CONTINUE YOUR DONATIONS AND HELP US SUSTAIN THESE EFFORTS FOR GHOUTA IDPs
Conditions in Gouta
12 Mar 2018
Humanitarian conditions continue to deteriorate in besieged Eastern Ghouta as a result of aerial bombardment and shelling over residential areas. This has led to exaggerated conditions of extreme need for hundreds of thousands of people who live in the Ghouta area. The state of affairs remains very distressing with people at the edge of starvation and hunger at unprecedented levels. Food has become very scarce as a result of the stifling siege and even if it is found, prices are prohibitively inflated. Shelling did not avoid destroying even civilian facilities and infrastructure and almost all residents are now living beneath the poverty line. Similarly, medical services, health facilities and medications are have become extremely limited and very expensive if available. Almost all residents have taken to ill-equipped shelters or basements after fleeing in search of a place of relative safety from the aerial bombardment and shelling. Volunteers, representatives of various humanitarian NGOs, first responders and ambulance services are finding it very difficult to reach affected areas due to the destruction of streets, the rubble everywhere and the lack of fuel. But the most tragic aspect of the situation in Ghouta are the children and women who are suffering due to a lack of vital needs such as food, medical care and other daily needs. These families, who have lost their breadwinners and have young children, are at the greatest risk in the current crisis. All of Ghouta, which has been struck by this crisis, remains in an indescribably terrifying state. HELP US ADDRESS THE CRISIS IN GHOUTA. DONATE NOW AND MAKE A DIFFERENCE.
Emergency relief distributions underway in East Ghouta
24 Feb 2018
Al-Imdaad Foundation's emergency relief distributions including cooked meals, food aid hampers, medical supplies and baby foods have started to reach the people of Eastern Ghouta, which has seen intensified bombing and destruction in recent weeks.