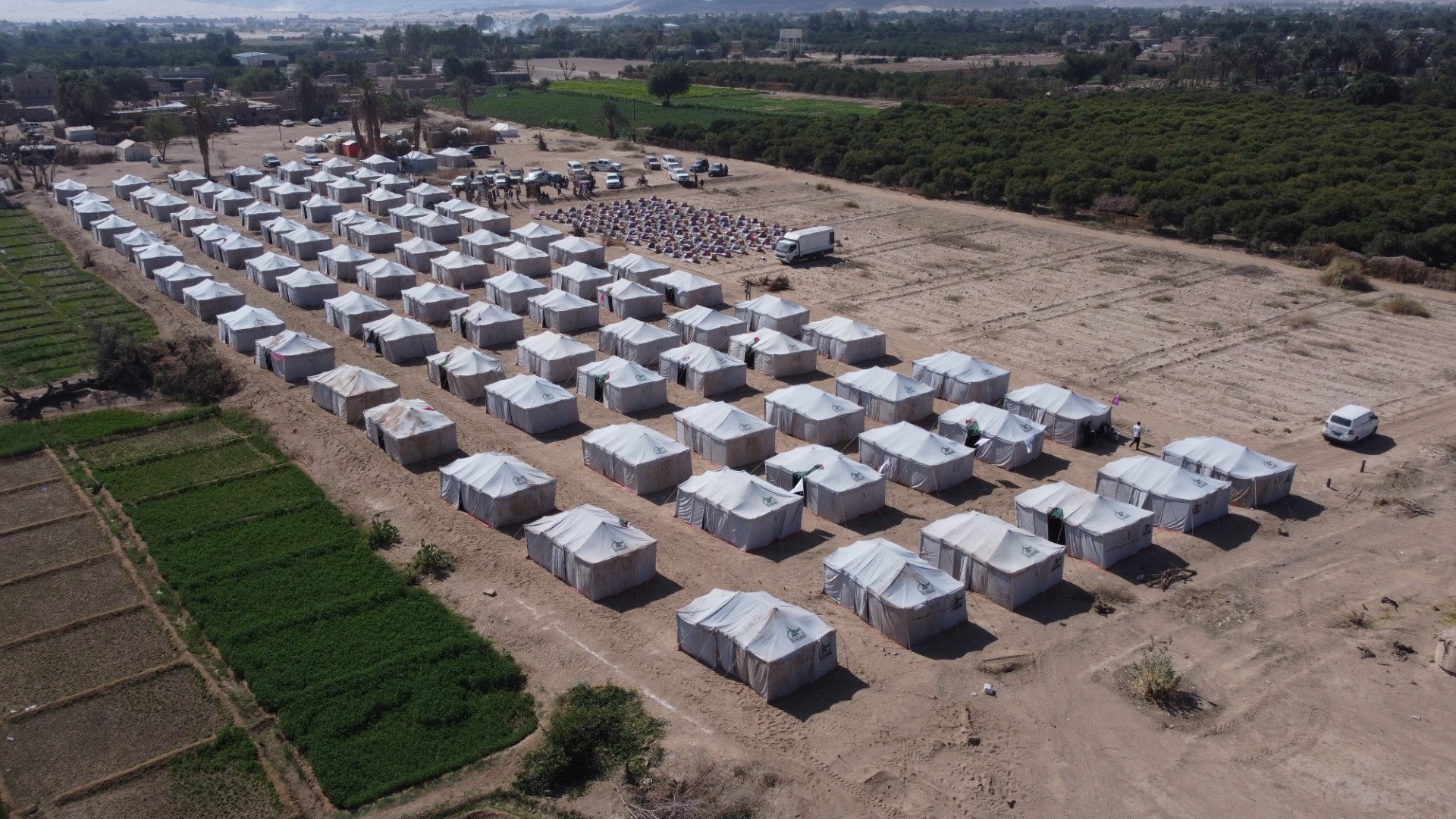 15 Dec 2021
Help us address emergency needs faced by starving Yemeni communities as a result of the ongoing conflict and instability
Yemen is Desperate
14 Dec 2021
Fierce fighting continues to rage in the south of Marib district in Yemen with high civilian casualties, largescale displacement, and breaches of international humanitarian law. Since September 2021 more than 45 000 persons have been displaced with numbers rising daily. These families face urgent shelter, food, water, sanitation and health needs. It has been 7 years of crisis in Yemen with 80% of the population in need of aid and more than 5 million on the brink of famine. In the wake of these recent flare-ups the population is beyond desperate. DONATE NOW. DON'T LET HOPE BE DISPLACED TOO.
Fight Famine in Yemen
12 Apr 2021
It's into the seventh year of war in Yemen and the UN is warning of a massive famine, unseen in decades. Millions are facing starvation and some 400 000 children under five are already severely malnourished and could die without urgent interventions.





Seven years is seven years too long. Let's fight famine in Yemen today.



DONATE NOW TO FIGHT FAMINE IN YEMEN.



Famine is Still Looming in Yemen
15 Sep 2020
Food aid and hygiene kits are reaching Yemen at a time when they are critically needed. In a UN security council briefing on September 15th the members were reminded that the specter of famine is looming over Yemen yet again. Conflict has been intensifying, but international funding is drying up. Families are having their food supplies halved, breadwinners are dying, and parents have nothing to console children crying out of hunger. Yemen needs us now, let us not be heedless of their pain. Yemen needs us now, let us not be heedless of their pain. Your donations can save lives.
Yemen and Covid-19: Catastrophe within Crisis
18 Jun 2020
More than five years of conflict, economic decline and the collapse of basic institutions continue to make Yemen the world's worst humanitarian crisis. A staggering 24 million need humanitarian aid and the COVID-19 threat is only exacerbating the situation. With low immunity levels among an undernourished population and only 50% of health infrastructure operational, Yemen is especially vulnerable. This is reflected in a fatality rate of almost 21% amongst cases recorded till the end of May 2020. Financial resources and medical supplies are extremely low, and the COVID-19 situation has also resulted in decreases in vital aid imports over the past few months. In Yemen it is a catastrophe, within a crisis. Conflict rages, famine looms, and food insecurity affects some 20 million people who don't know where they will get their next meal. The rapid spread of disease against this backdrop, could be unspeakable. DONATE NOW. THE WORST CRISIS DESERVES OUR GREATEST COMPASSION.
Yemen Crisis Remains World's Largest
23 Apr 2020
Yemen remains the world's largest humanitarian crisis with 24.3 million people in need of assistance, more than half of them vulnerable children. Humanitarians are racing around the clock to prepare for potential outbreaks of COVID-19 in a country where the healthcare system has long fallen to its knees, and millions are facing food insecurity and the threat of famine. Let's continue to show mercy to the people of Yemen. Al-Imdaad Foundation's ongoing emergency aid and food supplies are delivered regularly in various areas of Yemen, to help needy families survive. DONATE NOW. LET'S #SHOW MERCY IN YEMEN
Yemen Crisis in 2020
26 Jan 2020
24.1 Million people in need 3.65 Million displaced since March 2015 80% displaced for longer than a year 66,000 families newly displaced 1.28 Million IDPs 267,244 refugees 10, 576 Asylum seekers The crisis in Yemen continues and your support is critical to providing life saving aid. DONATE NOW AND MAKE A DIFFERENCE.
YEMEN NEEDS US MORE THAN EVER
07 May 2019
It's been more than four years of bitter conflict. Four years in making a crisis that has left 70% of Yemenis food insecure, and almost ten million on the brink of famine. It is a smear on our humanity that more than 85 000 children have died of starvation and disease in the last five years, and they continue to die each day. We cannot forsake the Yemeni people now, we have to keep doing whatever we can to limit the loss of life and soaring malnutrition. With your support, Al-Imdaad Foundation has been providing regular food hampers to displaced communities in various areas of Yemen. This support must continue. PLEASE KEEP GIVING, BECAUSE IN YEMEN, IT'S A QUESTION OF SURVIVAL.
Distributions in Ibb City and Wusab
28 Jan 2019
In the face of a continued humanitarian crisis with 22.4 million in need of assistance and 11.3 million Yemenis in acute need of food aid, your support has ensured that regular deliveries of essential supplies can continue. The latest deliveries have taken place in the Wusab area in Dhamar Governorate and in Ibb City. CONTINUE YOUR SUPPORT AND LET'S FIGHT MALNUTRITION AND STARVATION
Aid reaching the Yemeni People
20 Nov 2018
The Yemeni people continue to face conflict, malnutrition and starvation in a country where 14 million people are on the brink of a famine that could be the largest of our time. Save the Children recently reported that up to 85 000 children may have died from starvation since the escalation of the Yemen conflict in 2015. That's an average of 77 children dying every day, without even considering the deaths from airstrikes, cholera and other causes. Al-Imdaad Foundation continues to respond in Yemen and has also recently been distributing aid to refugees from Yemen who have been struggling with limited assistance in Djibouti. Distributions of food aid and hygiene items have been delivered in Djibouti at some of the main camps hosting refugees. CONTINUE YOUR SUPPORT AND HELP FIGHT STARVATION
Food aid and hygiene pack distributions
15 Jul 2018
With generous sponsorship form the Iqraa Trust in South Africa, the Al-Imdaad Foundation has completed recent interventions of food aid and hygiene packs for communities in three areas of Yemen. Distributions took place in the administrative division surrounding the capital known as Amanah al Asima, on the Island of Socotra and in the Wusab Governorate
Yemen Aid Activities continue
24 Mar 2018
Al-Imdaad Foundation continues its varied response to the crisis in Yemen with support for Cholera clinics, distribution of dry food hampers and installation of water tanks for safe water.
Activities underway in Yemen
05 Feb 2018
Al-Imdaad Foundation distributions continuing in Yemen with a focus on nutrition and medical needs. Distributions of food aid hampers and the sponsorship of a clinic treating cholera cases have been undertaken. Activities are focused in the Taiz and Aden areas thus far.
Education
01 Feb 2018
21% of schools across the country are unfit for use for educational activities due to conflict-related damage, hosting of IDPs, or occupation by armed groups. An estimated 4.1 million school-aged children require assistance to continue their education. The system is increasingly depending on humanitarian aid stretching beyond its scope and remit to continue to provide minimum basic assistance. However, the situation of millions of vulnerable Yemenis is expected to further deteriorate rapidly. According to WFP, the domestic prices are high, volatile, and likely to increase further throughout 2018. Meanwhile, fuel prices have increased by more than 150% when compared to pre-crisis period.
Health
01 Feb 2018
Currently, only 50% of health facilities remain functional, and even these face severe shortages in medicines, equipment, and staff. Destroyed public health systems have contributed to the unprecedented scale of the 2017 cholera outbreak followed by a rapidly spreading suspected diphtheria outbreak attributed to low vaccination coverage. As of 5 November, more than 900,000 suspected cholera cases and 2,192 associated deaths were reported since April 2017, children accounting for 25% and people over 60 accounting for 30% of this number. The outbreak has affected 21 of the country's 22 governorates. The highest cumulative suspected cases are reported from the governorates of Al Hodeidah, Amanat Al Asimah, Hajjah and Amran, which accounts for 41% of all suspected cholera cases. Over 2 million IDPs are particularly at-risk due to the conditions in overcrowded shelters and settlements with inadequate water and sanitation facilities. However, pockets displaying an upward trend can be found in a total of 81 districts, notably in Lahj, Hajjah and Amran governorates. Some 16 million people lack adequate access to clean water, sanitation and hygiene. Besides, as of late December 2017, health facilities reported a total 9,245 conflict related deaths and over 52,807 injuries suffered during the past two and a half years, a number considered to be significantly underreported. The integrated Health and WASH cluster cholera response and prevention efforts need to continue to scale up to fully contain and control the outbreak.
Shelter and essential non-food items
01 Feb 2018
Over 3 million people have been forced to flee from their homes since the escalation of conflict, including 2 million who remain displaced. In total, an estimated 5.4 million people require emergency shelter or essential household items, including IDPs, host communities and initial returnees. Conflict, economic decline and subsequent disruption of operational budgets and salary payments in public sector institutions have contributed to the collapse of basic services and institutions.
Food Security and Agriculture
01 Feb 2018
Yemen is now the world's largest man-made food security crisis. However, this crisis is not driven by a lack of food in the country. Rather, Yemen's food crisis is driven by factors constraining the supply, distribution and people's diminishing purchasing power. An estimated 7.5 million people are in need of nutrition assistance. Some 1.8 million children, including 400,000 children under age 5, and 1.1 million pregnant or lactating women are acutely malnourished and do not know where their next meal will come from. The average cost of the monthly minimum food basket has increased by 47% since the beginning of the crisis and the price of water trucking also increased up to 60%.