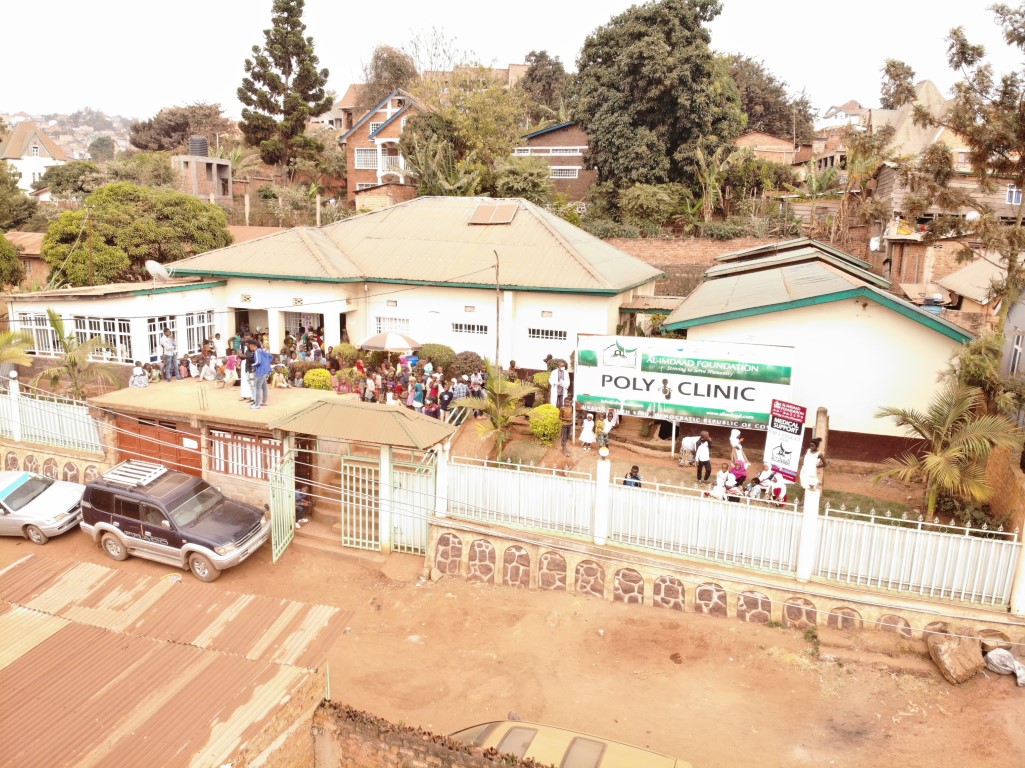 10 Sep 2020
The DRC Health Centre established by the Al-Imdaad Foundation in Bukavu, South Kivu in 2009 continues to provide free of charge Medical treatments to vulnerable members of the local population
SUPPORT OUR DRC POLYCLINIC
06 Jul 2020
The Democratic Republic of Congo has faced insecurity and instability for years, causing immeasurable difficulties for the population. In 2017, the DRC was noted as having the most internal displacement in the world. The Al-Imdaad Foundation has been running a Polyclinic in the DRC since 2009, that has been providing vital medical services in the conflict-torn South Kivu region. DONATE NOW AND HELP OUR POLYCLINIC CONTINUE SERVING THE CONFLICT AFFECTED PEOPLE OF DRC
Further Support Provided to DRC Polyclinic
11 May 2016
In 2016, the hospital was unable to secure medicines from MONUSCO due to changes in organization's mission. The hospital thus had to make emergency provisions so as to restock the hospital pharmacy with sufficient medicines to allow it to remain operational for another twelve months. The hospital at this stage was in extremely dire straits because of a lack of medicines, prompting the managing committee to reconsider its status as a non- profit facility. However due to requests from the community, the hospital has decided to keep500 of the most needy patients under free treatment. In order for the hospital to expand the capacity of its free treatment and to allow needy pregnant mothers access to free treatment, the Al-Imdaad Foundation has once again stepped in to fully replenish the pharmacy at the hospital so as to expand the capacity of the free treatment once more. We hope that such assistance can be maintained so as to allow free operation to continue unabated.
Al-Imdaad polyclinic established in Bukavu
17 Mar 2010
One of the tragedies of the African continent has been the ongoing flare up of civil conflict in disparate regions. These conflicts destroy the infrastructure and create an environment of economic vulnerability where many people cannot afford their monthly expenses. One such conflict that keeps seeming to bubble over is the conflict in the DRC and as a result many families suffer with malnutrition affecting the most vulnerable infants and children of the society. The war had serious consequences for the socio-economic situation in East Congo which in turn caused severe repercussions on children's health. Entrenched poverty due to the fighting has equally taken a toll on Congolese families where many are unable to feed their children and face difficulty gaining access to health care. Services such as health care and education were already of an extremely low standard before the war and in the aftermath of the conflict such services scarcely exist. After visiting Bukavu in the South Kivu province of East Congo in 2010, the Al-Imdaad Foundation team observed the dire situation facing the local people. The team decided to construct a non-profit hospital and to fully fund its establishment so as to provide free health care to indigent patients, orphans and female victims of sexual violence. Since 2010 the hospital has continued to provide free health care with support received from MONUSCO's Pakistan contingent and from a local organization called VOVOLIB which deals with women's rights and cases of abuse.