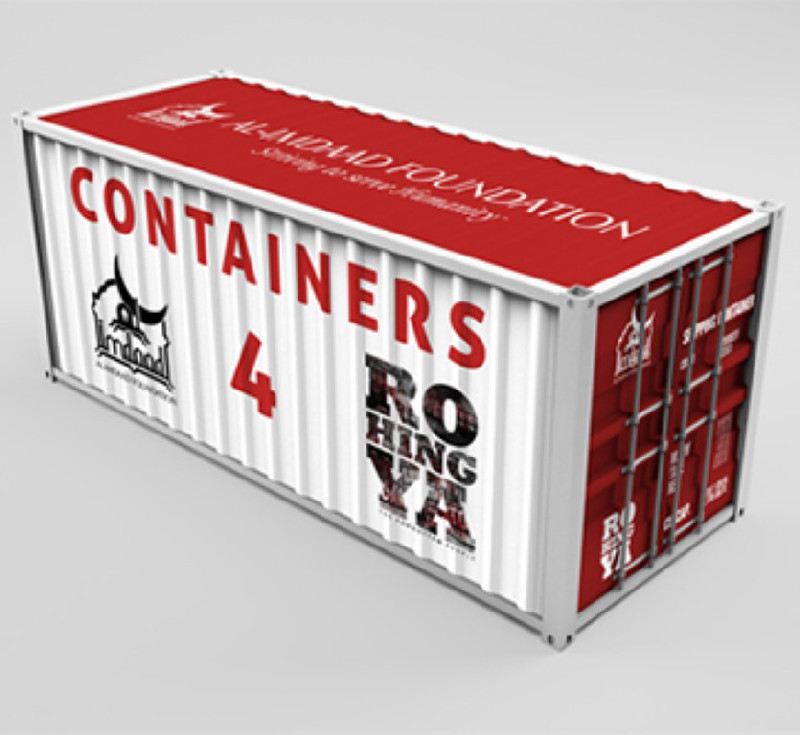 01 Feb 2018
A national collection drive across most major South African towns and cities to fill a minimum of ten shipping containers with essential items for Rohingya women and infants. Be part of this today, make your drop-off at a collection centre near you.
Closing Mission for Container-4-Rohingya
27 Feb 2018
After distributions overseen by the Bangladesh office continuing in phases in late January and throughout February 2018, Al-Imdaad Foundation dispatched a team from South Africa to oversee the final phase of distributions to close the project. The team was made up of representatives from Al-Imdaad Foundation's provincial offices who had been directly involved in the project. Up to 4000 items were distributed at the Kutupalong camp in two distribution areas as part of the programme. According to the Bangladeshi coordinators this brought the total number of beneficiaries from the project to almost 50 000.
A busy day of distributions
01 Feb 2018
Al-Imdaad Foundation teams in Bangladesh had a busy day on January 30th with distributions for the #CONTAINERS4ROHINGYA programme. The teams distributed a total of 20 truckloads of items contributed by South African donors at 14 different Rohingya refugee camps and centers. Distributions continued into the following day as well with thousands benefitting.
CONTAINERS-4-ROHINGYA distributions underway in Bangladesh
22 Jan 2018
CONTAINER-4-ROHINGYA distributions have kicked off in Bangladesh under the supervision of our Bangladeshi country office. Distributions have taken place at the Balukhali and Tankhali camps and will continue in the next few weeks. Thousands of needy Rohingyan refugees are benefiting from the combined efforts of the South African community.
Containers packed and ready for dispatch
13 Nov 2017
After a day of collective action that brought together volunteers in Cape Town, Durban and Johannesburg the containers in our collection drive were packed and ready for dispatch to the shipping companies. Al-Imdaad Foundation would like to thank Spiritual Chords, al Falaah College, Star Hire, Dawood distribution, Goolhurst Islamic Society and Masjidul Furqan Islamia College for coordinating the volunteer effort. We would also like to thank all volunteers who spent of their time and energy to make the packing a success. The ships carrying the containers are scheduled to depart on November 21st and 23rd 2017.
Collection drive completed
05 Nov 2017
After a truly national effort that brought together communities from across the country the containers4rohingya collection drive has moved into its next phase. All collected items will now be sorted and packed into boxes ahead of the volunteer packing day scheduled for Saturday November 11th 2017.
DONATION POINTS
20 Oct 2017
Please refer to the background tab above for a full list of our drop-off points arranged by province for your convenience.
Details of Containers4Rohingya
15 Oct 2017
The Containers4Rohingya Drive seeks contributions from the public of the following items: • Blankets • Baby Blankets • Cloaks, Burkhas and scarves It will be a national collection drive across South Africa, with drop-off points in all major towns and cities. A list of drop-off points will be updated on this site. Contributions should preferably be new items or good quality used items. All used items should be washed and neatly packed. The deadline for collections at the various collection points is Sunday, 5th November 2017. The empty containers will arrive at packaging points in Durban, Johannesburg and Cape Town on Friday, 10th November 2017. On Saturday, 11th November, we will require volunteer assistance with packaging items into the containers. Details and locations will be confirmed closer to the time via our website and social media. On Sunday, November 12th all containers will leave packaging centres and will be collected by the shipping companies for dispatch.