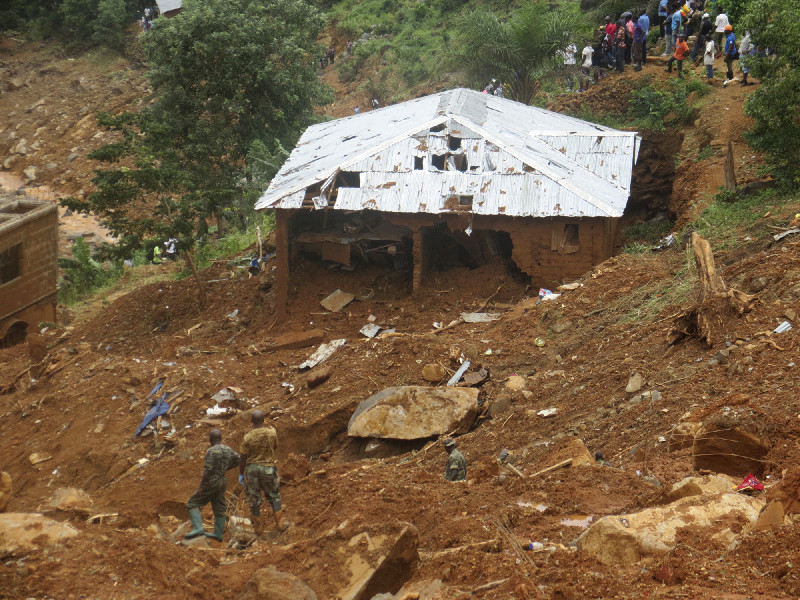 13 Aug 2017
Sierre Leone has faced devastating flooding and landslides that have taken the lives of hundreds and left thousands homeless. Donate now and help us make a difference.
testing 123
05 Oct 2017
TEST RUN This is gonna test some ish
testing 123
05 Oct 2017
TEST RUN This is gonna test some ish
testing 123
05 Oct 2017
TEST RUN This is gonna test some ish
Al-Imdaad Foundation teams conduct distributions for victims
28 Aug 2017
On Tuesday August 29th, 2017, the team engaged in a distribution of mattresses, pillows, kitchen starter packs including pots, pans and utensils and female and infant hygiene packs. The items were distributed in the capital Freetown, in the Hill Station area. The beneficiaries were victims who had lost homes and belongings and were staying in temporary tent facilities provided by UNICEF and administered by Sierra Leonean authorities. The intervention aimed to provide basic items that would assist victims in the medium to long term when they were moved to semi-permanent, individual tents, or found other places for shelter. Currently, more than 1500 displaced families scattered across the city are staying in camps, mosques, churches and other temporary centres administered by the ONS. They are being accommodated and provided meals through a committee set up for this purpose.
Al-Imdaad Foundation teams on the ground in Freetown
27 Aug 2017
On August 28th 2017, Al-Imdaad Foundation teams arrived in the Sierra Leonean capital of Freetown. The teams inspected the site of damage in the Regent area where part of a mountainside had collapsed triggering the devastating mudslide. The team also met with the Office of National Security, which coordinates disaster relief and response efforts to determine the best location for their intervention.
Al-Imdaad Foundation teams leave for Sierra Leone
25 Aug 2017
It's two weeks on from the crisis and evidence from the ground is suggesting that the six hundred or so missing persons in Sierre Leone are unlikely to be found bringing the death total to over 1000 persons. More than 5600 are now homeless and have taken up temporary residence at camps and facilities around Free Town. Many have lost everything, from family members to houses, savings and belongings leaving them with literally nothing. In this context, the Al-Imdaad Foundation dispatched its relief team to the country on Saturday, August 26th 2017. The team will engage in distributions of food aid, potable water and sanitary items to victims of the disaster around the capital Free Town. Further updates to follow….
#SierraLeoneMudslide: the details
18 Aug 2017
 Part of a hillside collapsed early on Monday morning, causing a mudslide on the outskirts of Sierra Leone's capital, Freetown.  The mudslide occurred after three days of torrential rain and three times the average rainfall since the month of July.  The worst flooding took place in the mountain town of Regent, on the outskirts of Freetown.  Located a few kilometres from the capital, the town sits between the Atlantic Ocean and a range of hills with many people living in informal settlements along the hillsides  The mudslides overran many homes killing hundreds of residents.  In Freetown the mudslides and rainfall had been too much for drain systems, resulting in water flows moving rapidly down the steep streets of the capital.  As of Wednesday, August 16th, 400 people have died in the flooding, with at least 109 children among those who have been killed.  It is estimated that at least 600 people remain missing.  The main morgue at Freetown's Connaught Hospital has been so overwhelmed that many bodies have been left on the floor.  The threat of water borne disease such as cholera remains high due to water logging and the open exposure of corpses in the summer heat
Al-Imdaad Foundation response
16 Aug 2017
Al-Imdaad Foundation teams are preparing to respond to the needs of the victims of Mondays floods and mudslides in Sierra Leone with emergency relief items to address urgent needs. Interventions will include emergency food items, hygiene items and potable water to help avoid the curb of water borne disease. Teams are expected to be on the ground early next week. Further updates to follow…