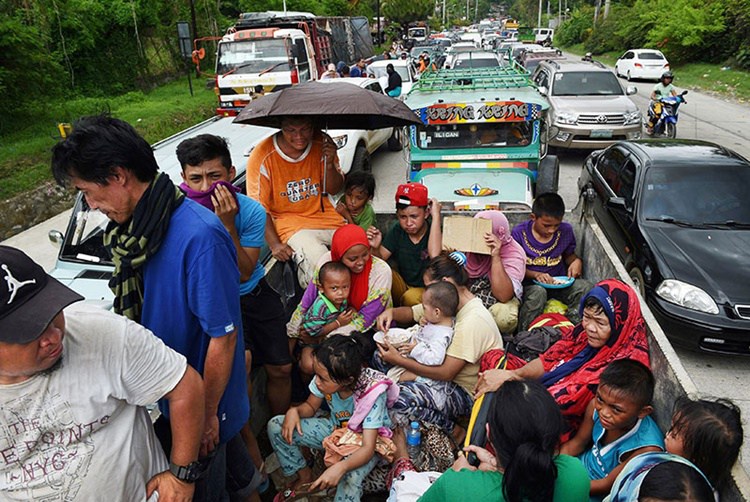 04 Jun 2017
Al-Imdaad Foundation has launched an emergency appeal to assist displaced residents of Marawi in the Philippines after clashes between government forces and militants have displaced over 250 000 people from the city.
Distributions to displaced families in Iligan City
01 Aug 2017
Al-Imdaad Foundation representatives on the ground in the Philippines conducted a relief programme for those displaced residents of Marawi that have taken refuge in the neighbouring city of Iligan.
Fighting in Marawi enters week four
15 Jun 2017
The fighting between government forces and the Maute group in Marawi has entered its fourth week. While evacuation efforts are ongoing, an estimated 300-500 people remain trapped in the city, according to the authorities. More than 200,000 people have been displaced by the fighting, thus far. The rainy season has started, and thousands are still scattered in evacuation centers, while many have sought shelter with relatives. Many have been displaced throughout the duration of Ramadan. The continuing clashes, and the damage to infrastructure in the city, will likely prolong the displacement of Marawi residents. Their needs are immense and growing by the day. AL-IMDAAD FOUNDATION IS RESPONDING TO THE CRISIS. DONATE NOW AND HELP US MAKE A DIFFERENCE
Marawi Displacement Crisis Background
07 Jun 2017
According to officials, the death toll from the conflict has already reached 129 people, including more than 30 civilians. Most of the city's citizens have fled their houses to escape the clashes and air strikes, but there are believed to be about 3,000 people still trapped in their homes, including elderly or sick people who were left behind in the first few waves of evacuees. The number of IDPs from the city has reached 176,920 people, almost two thirds of the city's estimated population. 79,175 individuals are staying in 38 evacuation centers in different parts of the Provinces of Lanao del Norte, Lanao del Sur, and Misamis Oriental, while 97,745 individuals have sought refuge with relatives and friends throughout Northern Mindanao and ARMM Islands. The Philippines Government and the Moro Islamic Liberation Front have agreed to establish a "peace corridor" to help civilians affected by the ongoing fighting to ensure the safety of civilians and the delivery of the needed humanitarian aid for the displaced persons.
What is needed
07 Jun 2017
Given the large number of displaced families living in temporary centres it has been determined that the most urgent needs at the moment are food and hygiene items. Most displaced families will still be fasting and may face difficulties finding food to break their fasts each day. Al-Imdaad Foundation's intervention will therefore focus on providing both iftaar meals as well as food hampers and hygiene packs.