#Spread Peace and #Feed the Hungry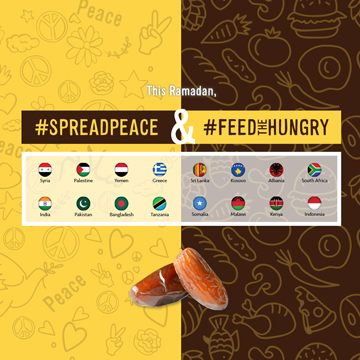 13 May 2017
This year join us as we "Spread Peace and Feed the Hungry" as the Holy Prophet (Peach Be Upon Him) instructed us. Contribute to our global Ramadan food Hamper campaign by sponsoring a hamper for just R875
Feeding the Hungry this Ramadan
24 Jun 2017
For the past month, in over sixteen countries across the world, the Al-Imdaad Foundation has been engaged in Ramadan feeding and food hamper programmes as part of this year's #SpreadPeaceand FeedTheHungry campaign. In this way, we have reached out to Syrian refugees, needy Palestinians in Gaza, refugees stranded in Greece and impoverished communities in Africa, Asia and the Balkans. With generous contributions from our donors we have helped ensure that communities facing dire humanitarian circumstances have had the means to fast this Ramadan.
Feeding the Hungry for Eid in Cape Town
24 Jun 2017
Al-Imdaad Foundation in Cape Town teamed up with Hanover Park Society to prepare 60 deg pots of food to be distributed on Eid day to needy families in Hanover Park and surrounding areas. The project had the support of local Ward councillors and the Manager for the Presidential Urban Renewal for the City of Cape Town, Ivan Anthony who was present during the preparation of the meals. The food will allow poor families to enjoy wholesome traditional meals as part of Eid celebrations.
Ramadan hampers reaching communities in need
30 May 2017
Our teams across the world have spent the last few days ensuring Ramadan Hampers reach communities across the world who need them most. From Palestine to Myanmar, from Pakistan to Syrian refugees in Jordan and Lebanon, donations are translating into daily iftar and suhoor for hundreds of families. KEEP DONATING AND HELP US TO KEEP DELIVERING.
Ramadan Feeding Programme
13 May 2017
This year, we're bearing in mind the words of the Holy Prophet PBUH who said, "O People, Spread Peace and Feed the Hungry". Join us today by sponsoring a Ramadan food hamper for people from one of 16 countries across the globe. SPONSOR A RAMADAN FOOD HAMPER FOR JUST R875 AND FEED THE HUNGRY THIS RAMADAN.