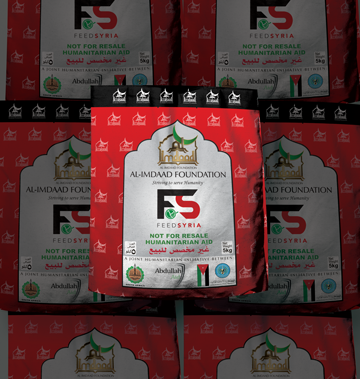 13 May 2017
SUPPORT OUR ONGOING CAMPAIGN TO PROVIDE RICE TO DISPLACED SYRIANS- SPONSOR A 5KG SACK OF RICE FOR JUST R120
FEED SYRIA convoy launched
15 Aug 2017
In Mid-August 2017, the FEED SYRIA convoy was launched to address the nutritional needs of displaced Syrians living in the desert regions along the berm between Southern Syria and Jordan. The convoy was dispatched in three phases and was a joint effort between the Al-Imdaad Foundation, the Jordan Hashemite Charity Organisation and the Jordan Armed Forces. Representatives of the donors from the UK were also present for the launch and also spent some time hand delivering some of the rice from the convoy to Syrian refugees at the Azraq camp.
'FEEDSYRIA' Distributions ongoing
02 Jun 2017
Over the past few days Al-Imdaad Foundation teams in Jordan were joined by Moulana Sulaiman Moola from South Africa for a relief mission. Moulan Sulaiman Moola got directly involved in distributing rice from the FEEDSYRIA campaign to needy Syrian families including numerous orphan households.
PROVIDE RICE IN SYRIA
13 May 2017
Tens of thousands have been stranded near the Syrian border with Jordan after fleeing conflict in Syria but being unable to cross the border. The area they occupy is extremely dry and arid and their living conditions have been very difficult as a result. The Al-Imdaad Foundation's Jordanian office has therefore undertaken to provide rice for these stranded Syrians to allow them to prepare meals and feed their families. FOR JUST R120 YOU CAN SPONSOR 5KGs OF RICE (including packaging, storage and transport cost)