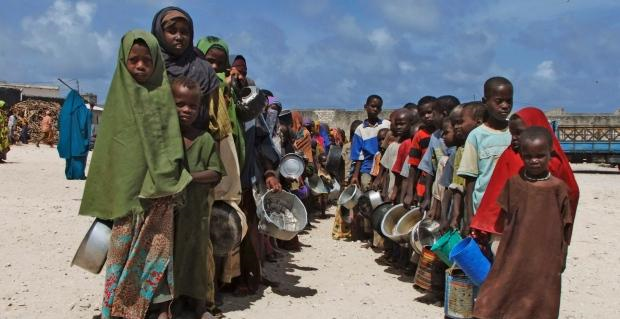 31 Oct 2017
After consecutive seasons of poor rainfall Somalia's pastoral lifestyle has been stretched to the brink with more than 6.2 million in need, including hundreds of thousands of children facing malnutrition and the threat of famine. HELP US ADDRESS THIS DIRE SITUATION
Activities in Baidoa
17 Jun 2017
On June 18th 2017 Al-Imdaad Foundation teams were active in Baidoa a city in South Western Somalia located in the Bay region. The Bay region has seen one of the greatest numbers of displacements due to the recent drought situation and has vast numbers of displaced families living in makeshift tents around the city. The Al-Imdaad Foundation teams conducted food hamper distributions, and also visited the malnutrition wards at the Baidoa regional Hospital. The hospital shows a shocking picture of the impact of the food security crisis in terms of malnutrition on the youngest and most vulnerable Somalis. Meanwhile in Mogadishu at the Anatolian orphanage centre on the Same day, the Al-Imdaad Foundation conducted a special iftaar feeding programme for Somalian orphaned children. The children were treated to a wholesome meal and broke fast together in a communal setting.
Distributions in Mogadishu
15 Jun 2017
Al-Imdaad Foundation teams on the ground in Somalia today distributed food hampers to 2000 families in Karasbaley, Mogadishu. The distribution targeted families who had been affected by the recent drought situation that has displaced hundreds of thousands in the country.
New clothes distributed to Orphaned Somali Kids
14 Jun 2017
Al-Imdaad Foundation teams kicked of their Ramadan activities in Somalia with a special outreach programme for Somali orphans. The teams visited orphans at school and distributed new clothes that the children could use to dress up on the occasion of Eid. Al-Imdaad Foundation's intervention will help these orphan children who do not have fathers to provide for them.
Ramadan Delegation arrives for relief mission in Somalia
13 Jun 2017
Al-Imdaad Foundation teams have arrived once again in Somalia for a relief mission for drought displaced Somalians. The teams will be conducting hamper distributions, clothing of children and engaging in Iftaar feeding programmes as part of a special Ramadan programme for victims of drought displacement. The team is also accompanied by journalists from Radio Islam and Salaamedia who will be documenting the trip and providing live feedback to the public.
Distributions on Behalf of Jamiatul Ulama South Africa
18 May 2017
As part of the May relief mission undertaken by the Al-Imdaad Foundation in Somalia, a series of distributions were also conducted on behalf of Jamiatul Ulama South Africa. These distributions took place in Baidoa as well as in Mogadishu, to displaced families living in tent-camps.
Water distributions in Baidoa
17 May 2017
Al-Imdaad Foundation teams also distributed water via tanker to families who had been displaced by drought around Baidoa. A total of 15 tankers were sponsored by the Polokwane Muslim Trust Welfare Fund and were distributed at different camps for displaced people. The total volume of water distributed amounts to almost 180 000 litres. The beneficiaries have no stable supply of water and rely on such distributions to meet their daily needs.
May relief teams distribute aid to drought displaced families
16 May 2017
On May 17th 2017, a second relief team from the Al-Imdaad Foundation in South Africa arrived in Somalia for a series of relief distributions for victims of the drought. The teams were accompanied by representatives from the Polokwane Muslim Trust Welfare Fund who had made a significant contribution to the Somalia Emergency Relief appeal. The team spent a week in Somalia conducting distributions of food aid hampers for families who had been displaced from their homes in rural areas due to the drought. These families took up residence around urban areas like Mogadishu and Baidoa in makeshift tent-caps that offered very little protection. Al-Imdaad Foundation teams distributed hampers around the capital Mogadishu as well as further inland around Baidoa which is in one of the worst affected regions. The teams also visited malnourished children at the Hospital in Baidoa.
Relief teams en route to Somalia
13 May 2017
With the month of Ramadan fast approaching, the Al-Imdaad Foundation has been partnering with local groups in South Africa to facilitate drought relief missions ahead of the holy month. In the next few days the Foundation will be partnering with the Polokwane Muslim Trust Welfare Fund and Jamiat ul Ulama South Africa who will join us for missions into the heart of drought affected areas in Somalia. The teams will distribute food hampers and supply water via tanker to affected communities.
Drought relief water tankers
13 May 2017
As part of our ongoing response we regularly supply communities with water tankers to fill their buckets and barrels for daily domestic consumption. Donors can sponsor a 12000 litre water tanker at just R3000 and supply the water needs of a drought afflicted community for a day. DONATE NOW AND HELP QUENCH SOMALIA'S THIRST
Drought relief in Ramadan
11 May 2017
Millions across Somalia face the prospect of Ramadan under drought conditions without adequate food or water. It is a tragedy that many will not have food and water to start and break their fast each day. This Ramadan, the Al-Imdaad Foundation's drought relief programme in Somalia and East Africa continues with your support. Donate now and help make a difference.
Regular Distributions Continue
19 Apr 2017
Regular distributions of food aid continue in affected parts of Somalia through our partners on the ground. The conditions continue to be dire with more and more people being displaced as they search for food and water. People are migrating in mass to towns and villages that still have a water supplies increasing the risk of water borne diseases due to informal settlement without adequate sanitation solutions.
Al-Imdaad Foundation teams on the ground in Somalia
08 Apr 2017
In April 2017, an Al-Imdaad Foundation delegation from South Africa was dispatched to Somalia to distribute aid first hand. The team focussed their activities in Baidoa which is located in the Bay region in South Western Somalia. This region is one of the worst affected in the current drought with many already in the food crisis stage. The Al-Imdaad Foundation teams distributed food aid hampers and potable water to displaced families in makeshift camps around Baidoa city. The families had left their homes due to a lack of rainfall for consecutive seasons causing failed harvests and the death of livestock. They come to urban areas in the hope of assistance form NGOs and some source of water. Al-Imdaad Foundation teams distributed food hampers containing staples with added nutrients that would last an average family around 20-30 days. The team also visited acutely malnourished children at the hospital for IDPs in Baidoa and described the shocking reality the drought was bringing to bear on Somalia's younger children. The Al-Imdaad Foundation aims to do as much as it can to help avoid a repeat of the 2011 famine that took the lives of 260000 and needs the help of donors to achieve this. DONATE NOW AND HELP US FIGHT STARVATION AND MALNUTRITION
Food Aid distributions in Somalia
16 Mar 2017
With the declaration of pre-famine alert by the United Nations in early February and a national drought disaster by the Somalia government later in the same month the need for interventions was critical. Al-Imdaad Foundation has been continuing its distributions of emergency food aid hampers through regional partners to assist victims of the ongoing drought and food crisis.
Food and Water distributions
12 Mar 2017
In the face of the ongoing drought, the two most critical needs are food and pure water to combat food insecurity, malnutrition and drought related diseases like cholera and Acute Watery Diarrhoea (AWD). Working through local partners the Al-Imdaad Foundation has been distributing food aid hampers and drinking water to communities in badly affected areas.
Al-Imdaad Foundation response
08 Mar 2017
Al-Imdaad Foundation has launched an emergency appeal to address the dire situation in Somalia which continues to escalate. The threat of a repeat of the 2011 famine which left a quarter of a million dead is very real. During the 2011 famine, the Al-Imdaad Foundation conducted an extensive emergency relief campaign to address the dire consequences of the famine. With the current conditions projected to be even worse the need for a timely intervention is critical. BE PART OF THE RESPONSE TODAY, DONATE NOW AND HELP US ADDRESS THE FOOD SECURITY
The situation in Somalia at a glance
08 Mar 2017
• 6.2 million Somalis are in need of humanitarian assistance • three million are in need or urgent life saving measures • 950,000 children under the age of five will be acutely malnourished this year • 70,000 severely malnourished children are in need of urgent, life-saving support • 185,000 children risk death without immediate medical treatment • There are currently 363,000 acutely malnourished children • Three-quarters of the country's livestock has died and cereal production is down 75%, sending food prices skyrocketing • This could be Somalia's third famine in 25 years. • The last famine in 2011, killed nearly 260,000 people • The situation has hit the whole of Somalia and forecasts suggest more people could be affected than in 2011. • Food insecurity is more widespread than in 2011 • Somalia declared a national disaster in late February as drought conditions continue to deepen • Displacement, malnutrition and drought-related diseases are all on the rise
Understanding Famine
08 Mar 2017
What does famine mean? Famine is declared when 1 in 5 households or more lack adequate food and basic needs and acute malnutrition is greater than 30%. People are underweight and unable to access enough nutritious food. In these situations, by the time famine is declared, starvation and death are already evident. During famine, there are two deaths per 10,000 people every day, or four child deaths per 10,000 children every day. The problem is, when there is no information, famine could already be happening but has not been declared. How is famine different than hunger? Famine is the most disastrous form of widespread hunger where hunger is understood as undernourishment that lasts at least one year, where people cannot maintain a healthy weight and continue necessary daily activity. What causes famine? Drought, conflict, social unrest, and high food costs all play a role in famine. Conflicts force people to flee their homes and farmers are unable to plant crops on their land. Food cannot be accessed without facing people with weapons. During conflict, local markets shut down, cutting people off from their primary sources of food. Climate patterns and global warming bring extreme weather conditions creating alternating drought and flooding. Both affect farmers and communities who rely on them. When was the last major famine? The last major famine occurred between 2011 and 2012 affecting Somalia, Ethiopia and Kenya. Low rainfall, rising inflation and armed conflict made food and water scarce across the region. In Somalia alone, almost 260,000 people died over the course of the famine with half of them being children under 5. Who is the most vulnerable when famine strikes? Children and pregnant and nursing women are the most vulnerable. While children need to grow their bodies and pregnant and nursing women need to sustain their children, sometimes families choose to first provide food to the breadwinner. What is happening to people in famine-affected areas? In famine-affected areas, millions are malnourished and in need of food and water. They move in search of these resources, and pastures where they can keep their livestock or fields where they can grow crops. People skip meals to make food last longer and some might only eat every other day. The weakest and most malnourished among them do not survive. How bad is this crisis? 13 million people were at risk in the 2011 - 2012 Horn of Africa crisis and 20 million people are at risk today. Since famine is projected to get worse in the coming months, everyone needs to contribute to making a difference. What can people do to survive?. To find food, families search for wild plants, roots, leaves and even bark to eat boiled. Some might hunt or fish if they have the tools. Everyone lives from day to day, hoping for more food tomorrow. What will happen if the famine continues? If famine continues, more people will suffer from hunger and malnutrition — and the most vulnerable will die of starvation. Widespread death will occur with two deaths per 10,000 people every day.