Vision-4-Life eye-care programme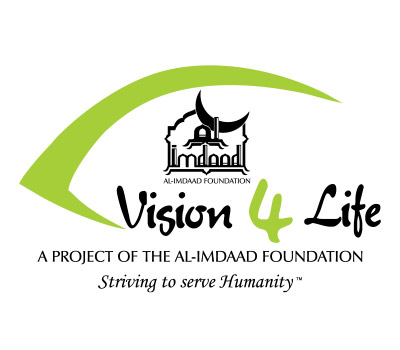 09 May 2020
The Al-Imdaad Foundation's "Vision 4 Life" eye-care campaign assists with eye treatment for patients unable to afford private treatment or those waiting on back-logs in the public sector.
Cataract Camps with Al-Basar International Foundation
02 Mar 2020
Over the month of February, two Vision-4-Life cataract surgery camps took place in KwaZulu-Natal in partnership with the KwaZulu-Natal Department of Health and volunteer ophthalmologists and medical technicians from Pakistan. The team from Pakistan was able to complete 748 surgeries for patients on backlogs at the Rietvlei and Umphumulo Hospitals in the Harry Gwala and Ilembe Districts respectively.
World Sight Day
10 Oct 2019
The World Health Organisation says at least 2.2 billion have vision impairment or blindness but almost half this number could have been prevented or can still be addressed. This #WorldSightDay our volunteers from the Alliance of International Doctors are working with the Department of Health to address cataract backlogs at public facilities in Northern KwaZulu-Natal. In Phase 1 of this Vision-4-Life cataract surgery programme the Al-Imdaad Foundation aims to complete 1000 surgeries. THIS #WORLDSIGHTDAY, SUPPORT THE FIGHT AGAINST PREVENTABLE BLINDNESS AND VISION IMPAIRMENT
Cataract Surgery Programme with Turkish volunteer doctors
07 Oct 2019
During eye care-awareness month 2019, Al-Imdaad Foundation kicked off a three-month long cataract surgery programme in the northern districts of KwaZulu-Natal. The programme was arranged in partnership with the KZN Department of Health and Turkish NGO Alliance of International Doctors. Air Ambulance Service, Air Mercy has also provided assistance to the programme by transporting the volunteer doctors and Departmental officials. The cataract programme will help address the backlog of patients awaiting cataract surgery due to limited personnel. The programme will run from October to mid-December and will form part of a series of upcoming cataract camps with volunteer doctors under the Vision-4-Life project.
VISION-4-LIFE 2019
22 Jan 2019
With your generous support Vision-4-Life has been able to provide eyecare and cataract surgeries for needy patients waiting on backlogs in the public system. Through our eye-care clinic in Durban, KwaZulu-Natal we provide comprehensive eye exams and dispense spectacles at no cost. We also partner with volunteer doctors who perform eye cataract surgeries free of charge. The year 2019 is an important one for the Vision-4-Life programme as we have partnered with international eye-doctors and the KwaZulu-Natal Department of Health to implement a large-scale eye-cataract programme that will benefit hundreds of patients. You can help these free eyecare services to continue by contributing to lenses, medications or medical consumables for cataract surgeries. Each donation can make a difference in the life of someone struggling with vison impairment or preventable blindness. DONATE NOW TO HELP RESTORE VISION AND ENHANCE LIVES
Outreach Programme as part of Vision Awareness Month
17 Oct 2018
Al-Imdaad Foundation teams in Gauteng distributed walking sticks to elderly citizens at Laudium Community Health Centre (CHC) as part of an outreach programme for eye-patients in partnership with the Tshwane Department of Health. Elderly patients received free eye screenings and medical tests from optometrists and other medical practitioners in attendance. The programme was part of celebrations for the National Vision Awareness month which ran between September 23rd and October 18th.
Vison-4-Life cataract surgeries at Kalafong Hospital
15 Oct 2018
Al-Imdaad Foundation's Vision-4-Life eye cataract programme continued over the weekend of October 13th and 14th with cataract operations performed at the Kalafong Hospital in Atteridgeville, Pretoria. Over the course of the weekend more than 30 operations were performed successfully by a team of volunteer doctors. These operations followed a similar programme at McCord Hospital in Durban on Wednesday October 10th which saw the completion of up to 40 surgeries.
Vision-4-Life cataract surgery programme at McCord Hospital
10 Oct 2018
An Al-Imdaad Foundation Vision-4-Life cataract surgery programme was held on Wednesday, October 10t, 2018 at McCord Eye Hospital in Durban ahead of the celebration of World Sight Day on Thursday, October 11th, 2018. World Sight Day (WSD) is an annual day of awareness held on the second Thursday of October, to focus global attention on blindness and vision impairment. Feeding into this, the cataract programme at McCord will help restore vision for up to 40 cataract patients who received surgeries from volunteer doctors. Al-Imdaad Foundation supported the programme by supplying medical consumables and lenses for the operation as well as snack packs for the patients.
Eye-Screenings at Elderly Person's Programme
17 Apr 2018
Al-Imdaad Foundation's #Vision4Life team conducted eye-screenings as part of an Elders' programme held at the NMJ Hall in Overport, Durban on April 18th, 2018. The programme was well attended, and numerous elderly residents had their eyes tested. Those needing spectacles will receive them from the Vision-4-Life clinic.
First 6-months sees hundreds of patients treated
30 Oct 2017
In the first 7 months of its activities (March-October 2017) the Vision-4-Life clinic was able to examine 673 patients and dispensed 602 spectacles. The clinic saw patients with glaucoma, cataracts and keratoconus. It also examined numerous eye-patients with serious medical conditions including patients on Anti-retroviral drugs, dialysis, as well as patients with diabetes. The clinic has also referred up to 124 patients to the McCord's eye hospital for further treatments.
Vision4Life Cataract surgery in Malawi
13 May 2017
Al-Imdaad Foundation has also recently launched eye cataract surgery in Malawi where over 70 000 people require treatment. Due to being unable to afford the costs of surgery, many elderly Malawians go on for years at a time with severely impaired vision and even blindness due to the effects of cataracts. Donors can sponsor eye cataract surgery in Malawi for just R550. DONATE NOW AND GIVE SOMEONE THE GIFT OF VISION TODAY.
Vision4life serving the community
10 May 2017
It's been just over two months since the launch of our Vision4life clinic from our offices in Durban, South Africa. In that time, the clinic has already distributed up to a hundred spectacles to needy patients including elderly citizens and school children. The clinic has worked in conjunction with local civil society groups in different areas to identify patients who have been unable to obtain eye-treatment previously. Many of our patients have been elderly citizens well into their latter-years. We have even provided spectacles for a 95-year-old nonagenarian in partnership with MA Motala Islamic Centre in Wyebank, Durban. The clinic has also held meetings with senior officials from McCord's eye-hospital to discuss the possibility of assisting with backlogs in the system. Plans are also in place for future eye-cataract surgeries in partnership with volunteer doctors from Turkey as part of broader vision4life outreach. All in all, the project is growing into a successful asset for the local community.
Donor Driven Project
03 Mar 2017
The Vision4Life programme will be donor driven, allowing donors to sponsor the full eye-care treatment package including the dispensing of spectacles for just R480, a fraction of the cost charged by private practices. Where specialised treatment is necessary or more complex lenses required donors will be given the opportunity to cover the balance. DONATE TODAY FOR JUST R430 AND LETS MAKE THEIR VISION, OUR PRIORITY
Vision4Life Eye Care Programme
03 Mar 2017
The Vision4Life programme will involve the screening of deserving patients from primary schools and other locations to determine the need for potential vision correction. Patients who fail the screening will be requested to attend a comprehensive eye exam at the Al-Imdaad Foundation Vision4Life clinic in Sherwood, Durban. Patients and parents (in the case of children) will be informed about the diagnoses and given advice about a treatment plan. Where appropriate spectacles will be prescribed, and dispensed a week from the examination. Should the need arise, referrals will be made for specialised treatments. Transport to and from the clinic will also be arranged for the patients. In this way, the Al-Imdaad Foundation and the Vision4Life team aim to address the critical need for eye-care services amongst needy members of the population.
Eye Care in South Africa
03 Mar 2017
The Vision4Life eye-care programme addresses the lack of adequate eye care in the public health sector in South Africa. Many patients in rural areas as well as poor urban dwellers cannot afford or access private eye care. The Department of Health in South Africa estimates that 85% of the population rely on public health care. Many of these are children under the age of 16. As a result, due to the lack of effective, affordable eye care in the public sphere, the majority of South African children have extremely limited access to any form of eye care services. Children attending primary school are the most vulnerable group as it is often at this time that their eyes are put under increased stress due to the introduction of school work. World Health Organization Vision 2020 recommends that all schoolchildren have a simple vision-screening examination service provided through school health programmes. However, the National Vision Screening Programme in South Africa was discontinued in many provinces of owing to a lack of resources. Poor vision impairs the ability to achieve potential for health and productivity and can also mean poor performance in school and an inability to earn an income. For these reasons the Al-Imdaad Foundation and the Vision4Life team, headed by ZA Kader Optometrists have seen the need to implement the Vision4Life Eye care programme in South Africa. By improving access to eye care we will contribute to improving school performance, income generation and general quality of life.
Al-Imdaad Foundation launches "Vision 4 Life" eye cataract surgery campaign.
19 May 2014
In May 2014, the Al-Imdaad Foundation launched its "Vision 4 Life" eye cataract surgery campaign to assist people suffering with cataracts, which is a leading cause of blindness in South Africa. Currently an estimated 160 000 South Africans are blind because of cataracts and this number increases by 10 000 every year. Cataracts are a gradual clouding of the lens of the eye, which obstructs the passage of light, eventually leading to blindness. The Al-Imdaad Foundation in partnership with the Witbank Muslim Community rolled out a two day programme to assist impoverished people by providing free eye cataract surgeries. All patients were given pre-operation care and the procedure was completed on the first day. On the second day patients received post operation care where the success of the operation was tested and a success rate of 100% was achieved. A patient as old as 96 years old had her eyesight restored after the procedure. The patients received refreshments before and after treatment together with a food hamper and blankets. The voluntary team of doctors headed by Dr Elyas Msutwana also included Dr Hamzah Tayob, Dr Irene Mdaka and Dr Sibongile Mthetwa who were assisted by clinical staff. Their efforts helped to address the large backlogs in cataract surgeries in the public sector.