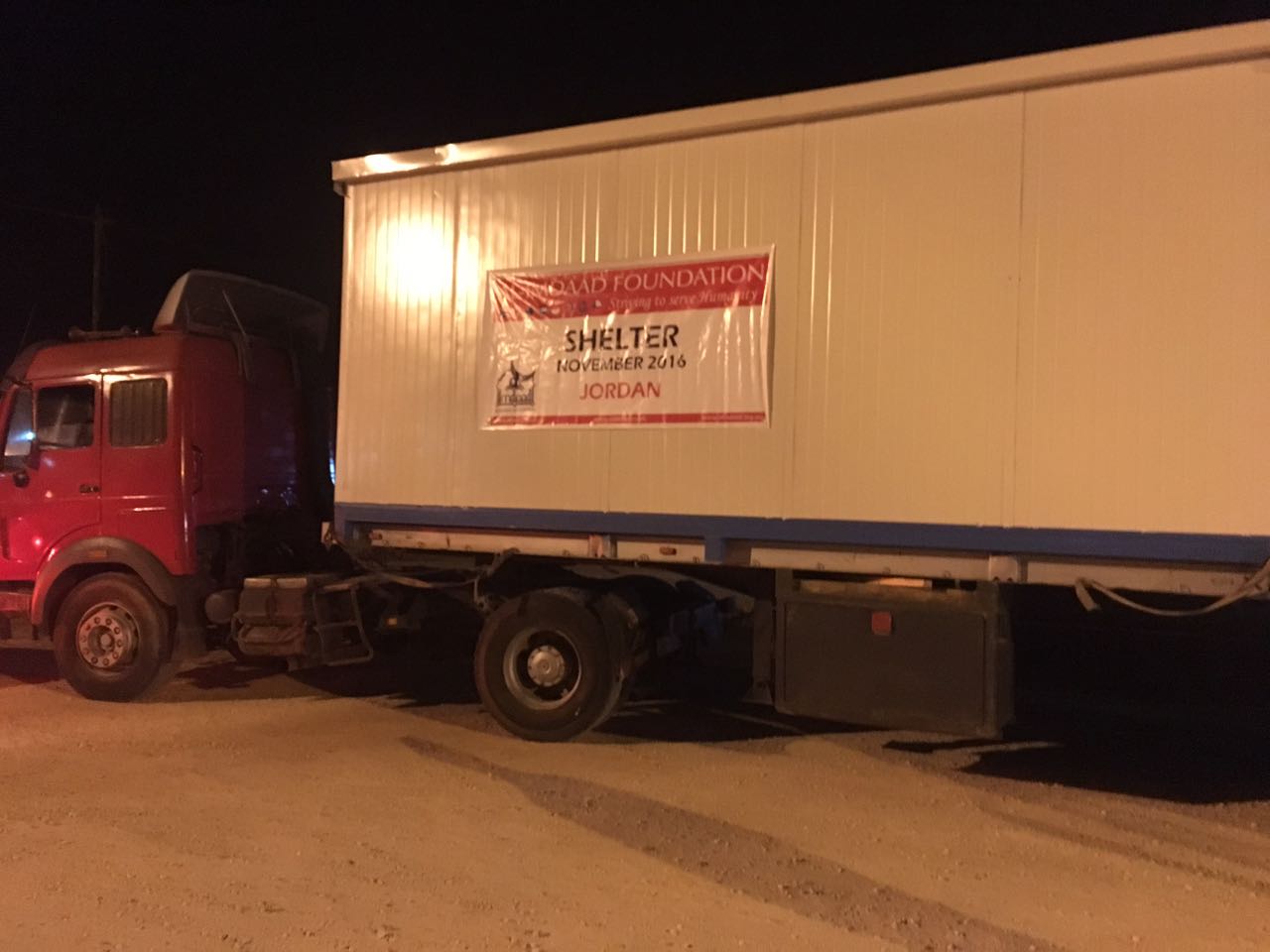 31 Oct 2017
Al-Imdaad Foundation's Jordanian office has been erecting container homes for Syrian refugees living in appalling conditions in the Jordanian dessert. Support this initiative today- sponsor a R30,000.00 unfurnished container home or a R45,000.00 furnished home today and make a difference to their lives
Malawi Sponsored Containers
22 Jul 2018
As part of a recent aid programme generously sponsored by the Muslim Community of Malawi, container homes were delivered to Syrian refugees living in the Jordanian desert near the Syrian border.
Roshnee Relief Group volunteers donate container homes
08 Apr 2018
New container homes were donated by volunteers from the Roshnee Relief Group who were on the ground with Al-Imdaad Foundation in Jordan and handed over the homes to Syrian refugees at the Zaatari camp.
Container Homes delivered
15 Sep 2017
Seven new container homes were recently set up in the Jordanian desert for refugee families with no pre-existing support structures. The containers were delivered by the Jordanian team together with donor delegations from Roshnee and Durban in South Africa. Thus far the Al-Imdaad Foundation has set up close to 100 container homes for struggling refugee families and the project continues. Sponsor a furnished container home today for R45 000 or an unfurnished one for R30 000 and help provide a stable roof of a Syrian family.
Container homes save families from the chill
25 Nov 2016
Late November 2016, saw biting chills affecting Jordan with desert temperatures dropping very low during the evenings. In these conditions Al-Imdaad Foundation teams delivered container homes that would help families escape the winter chills by providing greater warmth and insulation.
Volunteer group erects container homes
04 Nov 2016
In Early November 2016, just before the onset of the coldest winter months in the Northern hemisphere when Jordan receives most of its annual rainfall, Al-Imdaad Foundation volunteers were once again delivering container homes. Very needy families had been identified including a tent that accommodated up to thirty people who had nowhere else to stay. Another elderly women had been staying in difficult tent conditions for up to 3 years with her daughter and two grandchildren. These people were especially grateful for the container home interventions.
Al-Imdaad volunteers deliver container homes
23 Jul 2016
In July 2016, a volunteer delegation from Roshnee in Johannesburg joined the Al-Imdaad Foundation for a relief trip to Jordan. Part of the activities of the group involved the erection of containerised homes for refugees living in tents in the Jordanian dessert. The container homes are a lot more durable and better insulated than the tents and allow the refugees a greater degree of comfort.