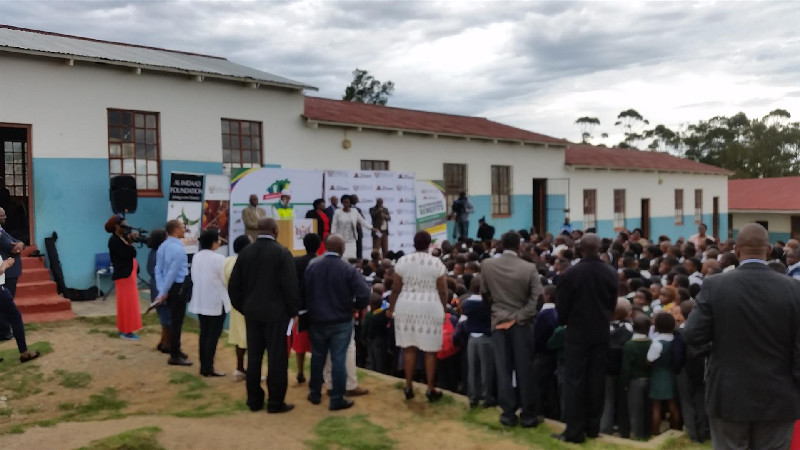 18 May 2020
Al-Imdaad Foundation's Back2School campaign delivers stationery packs to needy students at disadvantaged schools ensuring that they have the means for a learning-filled new year
Back2School distributions at Western Cape schools
16 Feb 2023
The month of February 2017 saw Al-Imdaad Foundation's newest established office in the Western Cape distributing school bags and stationery packs to needy students in several areas including along the Cape Flats. Areas targeted included Mannenberg, Lavender Hill, Eastridge, Delft, Uitsig, Tafelsig and Searidge Park.
School bag distributions in Hanover Park, Cape Town
17 May 2017
Its back to school for the second term and the Al-Imdaad Foundation's office in Cape Town is at it again. The teams have been reaching out to needy learners with torn and tattered bags and providing new replacements. Distribution's took place at Belmore and Voorspoed Primary schools in Hanover Park in Cape Town.
Back2School Distribution at Crown Reef Primary, Lenasia
31 Jan 2017
The Al-Imdaad Foundation's Gauteng office kicked off February with a Back2School distribution at Crown Reef Primary School in Johannesburg's Lenasia. As with all Al-Imdaad Foundation Back2School distributions, the neediest learners are targeted soas to make a meaningful difference. On this occasion the foundation was joined by Gauteng Deputy Director General for Education Mr Vuyani Mpofu
Back2School Packs distributed at KZN School
17 Jan 2017
Al-Imdaad Foundation packs were distributed to needy learners from Grades 5, 6 and 7 at Emafusini School in Witbank, Ladysmith. The principal of the school was very grateful for the donation and the learners were all smiles.
Back2School Launches in the Eastern Cape
10 Jan 2017
On Wednesday, January 11th 2017 the Al-Imdaad Foundation kicked off its back2school stationery distribution programme in the Eastern Cape in partnership with the Honourable Eastern Cape Premier Mr P Masualle. Head of the foundation's Eastern Cape operations, Hajee Abu Baker Patel joined the Honourable premier and other attendees for a launch programme at Tshatshu Location in King William's Town
Back2School distributions at Gauteng Schools
16 Feb 2006
In the second week of February, Al-Imdaad Foundation's Johannesburg office continued with a few more back2school distributions at several primary schools around Johannesburg including Sakhisizwe Primary, Fordsburg primary and Farriera Primary.