Help Save Aleppo's Evacuees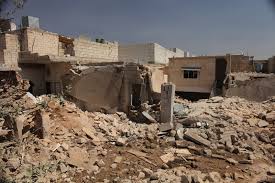 16 Dec 2016
Over 30 000 evacuees fled Eastern Aleppo for safety in Northern and Western Syria after an internationally brokered ceasefire agreement. Help the Al-Imdaad Foundation provide emergency relief to evacuees at camps in areas of northern Syria. DONATE NOW AND MAKE A DIFFERENCE
More aid delivered to newly the displaced
05 Feb 2017
In early February 2017, more relief aid was delivered to newly displaced Syrians in camps in Northern Idlib province. The aid was sponsored by the Polokwane Muslim Trust Welfare Fund (PMTWF) as part of a large fundraising initiative in December 2016. The funds were used to supply food hampers, hygiene packs and winter blankets to the displaced families. Extensive medical supplies were also made available for use in the treatment of the injured and sick.
Al-Imdaad Foundation and #OperationSA teams inside Syria
05 Jan 2017
During the last few weeks the South African community was mobilised by the efforts of the #OperationSA team to contribute towards relief efforts targeting Syrians. Al-Imdaad Foundation has been closely allied with these efforts and currently has a team on the ground together with #OperationSA's Yusuf Abramjee. The team has been conducting relief efforts at the Kamouna IDP camp in support of recently evacuated Syrians from East Aleppo. The team has described heart-breaking scenes of the difficult situation these recently evacuated Syrians, including many children, are facing. This is just one of the ways in which Al-Imdaad Foundation and #OperationSA is already making a difference for the Syrian people. CONTINUE DONATING AND HELP US MAKE A DIFFERENCE
Over 30 000 Evacuees left East Aleppo
03 Jan 2017
During the Evacuation of East Aleppo in late December 2016 over 30 000 evacuees left the city. Most of the IDPs from east Aleppo city remain in the western Aleppo countryside and Idleb, while some families travelled further north via Afrin to Azaz
Al-Imdaad Foundation partners building new camp for Aleppo evacuees
21 Dec 2016
Al-Imdaad Foundation's partners in Turkey, iHH will be building new displacement camps for evacuees fleeing Aleppo. The Kamuneh in Idlib and two other camps will eventually cater for up to 70 000 IDPs. Thus far around 25 000 evacuees have left Aleppo with many more still intending to leave. Al-Imdaad Foundation will continue to address the needs of these newly displaced people who are coming out of a difficult siege situation.
Evacuees continue to leave Aleppo
18 Dec 2016
Despite continuous interruptions in negotiations, evacuation from Aleppo has resumed with 3000 people leaving the city since last night. This brings the number of people evacuated since last week to over 12 000. These evacuees have included young, old, injured and orphans. The Al-Imdaad Foundation will continue to assist these evacuees. Keep donating and help us make a difference.
Emergency Relief reaching evacuees
16 Dec 2016
Al-Imdaad Foundation's emergency relief is already reaching evacuees from Eastern Aleppo who have been put up at makeshift camps in areas of Idlib province. Thus far more than 6500 people have been evacuated in 7 shifts. The process has been stalled though due to the many political actors involved in the talks and the diplomatic wrangling that has been necessary to eke out the deal. Hostage situations have also affected the process. Despite the difficulties the Al-Imdaad Foundation's emergency relief efforts are continuing for these vulnerable evacuees.
Al-Imdaad Foundation will respond to the needs of fleeing residents
14 Dec 2016
The Al-Imdaad Foundation has initiated an emergency relief programme for residents of Eastern Aleppo who have been fleeing violence in the wake of a fragile international agreement. The project will involve the distribution of emergency relief items to families who have been living under siege conditions for up to 8 months. The project will target recently evacuated families who will be bracing the harsh winter conditions in areas of northern Syria.