Rohingya Crisis continues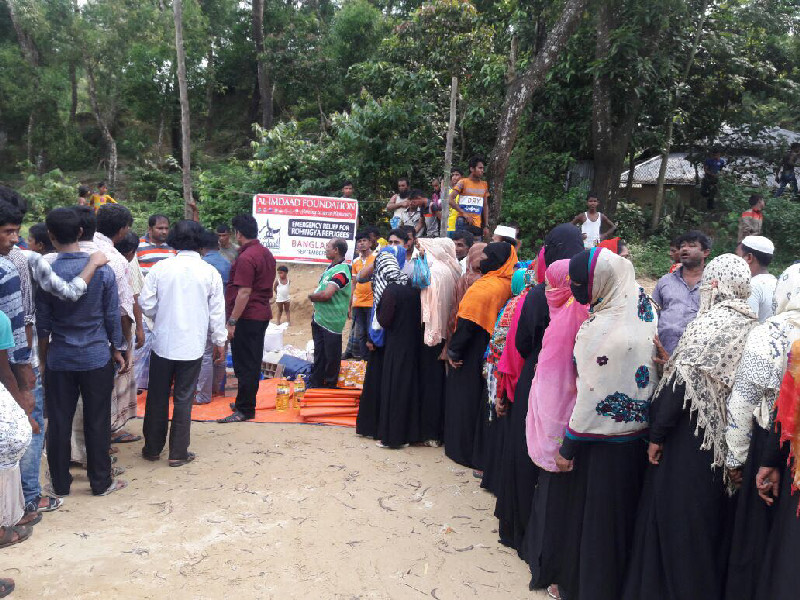 07 Apr 2021
Al-Imdaad Foundation continues to respond to the needs of the Rohingya refugees with over half a million having fled Myanmar by the end of September 2017. CONTINUE YOUR SUPPORT FOR THIS CRITICAL PROJECT!
Rohingya Crisis 2021
05 Apr 2021
Over a million Rohingya refugees currently live in the Cox's Bazaar region of Bangladesh. They remain highly vulnerable, having fled violent conflict and experienced severe trauma. These refugees now live in extremely difficult conditions in what has become the largest camp in the world.

In recent times, cyclones, monsoons and devastating fires have only added to their unimaginable burden.

DONATE NOW. HELP ROHINGYA REFUGEES TODAY.


Rohingya Relief sponsored by BMCO
06 Apr 2019
In early April 2019, Al-Imdaad Foundation dispatched a team to Bangladesh to deliver aid to Rohingya refugees in camps around the city of Cox's Bazar. The team distributed food aid hampers, cooking fuels and clothing to refugees in the Thenkhali camp. The interventions were generously sponsored by the community of Benoni under the Benoni Muslim Charity organisation (BMCO)
July Aid Programme
17 Jul 2018
Al-Imdaad Foundation teams were on the ground in Bangladesh in mid-July to deliver food aid to Rohingya communities living in camps. The refugees have been facing extremely difficult conditions in recent times due to the monsoon rains which have turned the camps into virtual mud-baths. Al-Imdaad Foundation was able to deliver 3000 hampers across two locations in the Kutupalong camp.
ROHINGYA RAMADAN APPEAL
09 May 2018
This year will be the first Ramadan that close to 700,000 newly displaced Rohingya refugees will spend in camps in Bangladesh. The refugees arrived after fleeing Myanmar in an unprecedented exodus that began in August last year and have since been living in extremely desperate conditions in the world's largest refugee camp. The Al-Imdaad Foundation has been responding to the needs of these Rohingya refugees with regular relief activities since September 2017 and with the onset of their first Ramadan in this difficult state we urge donors not to let them be forgotten.
May Food Aid and Clothing distributions
09 May 2018
Between April 29th and May 7th 2018, Al-Imdaad Foundation undertook a number of food aid and clothing distributions for Rohingya refugees in various camps in Bangladesh. Thousands of families benefitted from month-long supplies of essential food items including rice, lentils, spices, potatoes, salt, sugar and cooking oil. Clothing packs for men, women and children consisting of up to four items of clothing a piece also benefitted thousands of recipients.
April Relief Programme with Donors
17 Apr 2018
Al-Imdaad Foundation continues its current relief programme for Rohingya refugees in Bangladesh with donor representatives. On April 18th 2018, teams distributed freshly prepared meals to refugees at Block 1 in the Balukhali refugee camp. As part of the same trip, Al-Imdaad Foundation's Qari Ziyaad Patel and donor representatives also distributed dry food aid hampers for #Rohingya refugees at the Jamatoli camp.
Rohingya Relief for Mauritius Donors
02 Apr 2018
Al-Imdaad Foundation's Bangladesh teams continued with Rohingya relief efforts including hot meals, dry food hampers and blankets in early April 2018. The relief items, which were generously sponsored by donors from Mauritius, were distributed at three distribution centres in the Kutupalong Camp.
New delegation distributing aid in Bangladesh
09 Dec 2017
Starting Saturday, December 10, 2017, a new delegation began distributions of food aid and winter supplies for Rohingya refugees in Bangladesh. The distributions were generously funded by UK based ISSA Foundation whose representatives are also in Bangladesh together with delegates from Al-Imdaad Foundation UK and South Africa.
Al-Imdaad Foundation and Benoni Muslim Charity Organisation delivers winter aid
07 Dec 2017
Al-Imdaad Foundation teams together with representatives of the Benoni Muslim Charity Organisation (BMCO) has been on the ground in Bangladesh over the last few days to deliver winter aid hampers to Rohingya refugees. The teams spent their first day on Tuesday December 5th, visiting Rohingya refugees at the Kutupalong and Balukhali refugee camps. The teams also visited families living in temporary shelters previously established by the Al-Imdaad Foundation. In the subsequent days the teams proceeded with distributions of the winter aid at the Gundum 1 and the Kutupalong camps outside of Cox's Bazar. The aid had been generously sponsored by the Benoni Muslim Community. A second relief mission will follow in the coming days to continue the much needed aid distributions for the Rohingya refugee population.
Rohingya Water Project
01 Dec 2017
Deep Water Wells- These wells are drilled down between 150-200m to a level where the water is pure and suitable for both sanitation and domestic consumption uses. The wells are fitted with hand pump mechanisms and a cement foundation at a cost of R24 000.00/well (Sadaqa/Lillah)
Al-Imdaad Foundation partners with SANZAF and Salamedia
13 Nov 2017
Al-Imdaad Foundation teams from South Africa were recently on the ground in Bangladesh to continue with the relief efforts for Rohingya refugees. The teams were in Bangladesh between the 6th and 10th of November 2017 and conducted distributions of food aid, clothing packs for males, females and children and blankets together with representatives of the South African National Zakat Fund (SANZAF) who had funded these interventions. The team also conducted distributions of kitchen starter packs including gas tanks and cylinders, cooking pots, utensils and other items on behalf of the Salamedia Foundation. The teams were joined on the ground in the camps by South African High Commissioner Robina Marks and Deputy Speaker of Parliament Mt Tseloni who both lent their support to the humanitarian initiative and affirmed that they would return to their respective posts with a message of solidarity for the Rohingya cause. Distributions took place at Balukhali refugee camp where hundreds of thousands of refugees have now been stationed for over two months.
Distributions at Jadimura Camp
24 Oct 2017
Al-Imdaad Foundation teams from the UK have been on the ground in Bangladesh to continue relief efforts for Rohingya refugees on behalf of donors from the UK. The teams focused on providing essential needs including tent shelter solutions and food aid hampers and were active in the Jadimura and Balukhali refugee camps.
Johannesburg Volunteer Mission to Bangladesh
19 Oct 2017
A new relief delegation touched down in Bangladesh on Saturday August 14th 2017, to continue with relief efforts for Rohingya refugees. The delegation was made up of volunteers and Al-Imdaad Foundation team members and started their relief programme on Sunday 15th October, with distributions at camps near the border with Myanmar. Interventions have been focused on much needed relief essentials including food aid, blankets and plastic sheeting for shelters. The team conducted relief distributions at Camp 1 in Ghundhum, Bangladesh and other locations before leaving on Thursday 19th October 2017. More delegations are planned for the coming weeks.
Durban Volunteer Relief Mission
15 Oct 2017
Over the past week Al-Imdaad Foundation's businessmen volunteer delegation from Durban, South Africa has been on the ground in Bangladesh for a relief mission to assist Rohingya refugees. The volunteers began their activities on Wednesday, October 11th 2017 at the Balukhali refugee camp in Cox's Bazar, Bangladesh which now hosts hundreds of thousands of Rohingya refugees. The volunteers had a chance to interact with the Rohingya people and assess the dire situation on the ground at the camp. On the second day of their mission the teams went to the border between Myanmar and Bangladesh and witnessed the desperate conditions in which refugees made their way across the river border crossing. On Friday, October 13th, the teams conducted distributions of food aid, blankets, baby packs and mosquito nets they had generously sponsored at the Kutupalong Camp in Ukhia, Bangladesh. They also attended several water wells, amongst thirteen in total, that they had sponsored for the Rohingya community. The volunteer team wrapped up their mission on Saturday, October 14th 2017, with a medical camp day and distributions of bottled water at the Kutupalong Camp.
Contribute to these important Rohingya Relief projects today
03 Oct 2017
The Rohingya refugees who have fled Myanmar have arrived in Bangladesh with virtually nothing to their names. No food, no water, no shelter, adults often having only one pair of clothes and young children largely naked. Al-Imdaad Foundation has organised a diversified aid programme to help provide some of these essentials to refugee communities. Contribute to these projects today and help us help the Rohingya at their hour of need. • Sponsor a Set of Clothes @ R350.00 (Zakaat, Lillah, Sadaqah) • Sponsor a Food Hamper (45kg Rice, 10kg lentils, 4lt oil, 1kg salt) @ R800.00 (Zakaat, Lillah, Sadaqah) • Sponsor a Shelter (2.5mx6m, bedding, a kitchen set and mosquito nets @ R8000.00 (Zakaat, Lillah, Sadaqah) • Sponsor a Shallow Water Well* @ R3650.00 (Lillah, Sadaqah) • Sponsor a Deep Water Well* @ R24 000 (Lillah, Sadaqah) *Please note that due to the logistical challenges and the emergency nature of the situation, personalised wells with individual feedback are not applicable in this case.
Water solutions for Rohingya refugees
02 Oct 2017
Al-Imdaad Foundation teams have been addressing the water needs of Rohingya refugees Bangladesh. During a recent trip, up to 50 000 water purification tablets were distributed at camps for refugees. Water wells have also been established to cater for needs of families going forward. Plans are also in place to drill deeper boreholes that will provide more stable and long-term supply of water for affected communities.
Teams from South Africa on the ground in Bangladesh
21 Sep 2017
Al-Imdaad Foundation teams were on the ground in Bangladesh in the week starting Monday 18th September 2017. The teams conducted a number of interventions to benefit Rohingya refugees in Bangladesh who had by then surpassed 400 000. The teams conducted distributions of food aid hampers at Camp six in Ukhia, Cox's Bazar for up to 3000 people. Tents and blankets were also distributed to affected victims. Al-Imdaad Foundation teams also set up a medical clinic staffed by 8 Bangladeshi doctors. The clinic was set up in a deeply rural location and serviced the needs of many Rohingya families. Up to 150 000 medicines were donated for medical activities for the Rohingya refugees during the trip.
Prominent Scholar part of Relief Delegation
20 Sep 2017
Prominent Islamic Scholar Moulana Sulaiman Moola is part of a relief delegation currently on the ground in the border regions of Bangladesh. In an interview earlier today, Moulana described the devastating scenes of tens of thousands of people as they continued to pour across the river while fleeing for safety. He said the majority of victims were women, elderly and young people, often in shocking conditions. He described the palpable desperation evident on the faces of everyone and how they would crowd around team members in the hopes of some form of assistance. These are the victims who the Al-Imdaad Foundation's mission is directly benefiting. Donate now and help us to continue providing emergency relief to people fleeing for their lives.
Al-Imdaad Foundation teams en route to Bangladesh
17 Sep 2017
Al-Imdaad Foundation teams from Head Office in South Africa set out today for Bangladesh to join the Bangladeshi team for a relief mission for Rohingya refugees. The teams will distribute food hampers, blankets, tent shelters and water purification tablets. 150 000 medicines will also be supplied to clinics treating Rohingya refugees.
Distributions continue into the night
10 Sep 2017
On September 11th, 2017, teams were active at the Balukhali refugee camp in Ukhia, Cox's Bazar. The distribution targeted 700 newly arrived refugees, the majority of whom were women. Hundreds of families received food aid and kitchen utensils as part of the distribution which continued well past dusk to ensure all intended beneficiaries received their share.
Latest Rohingya Stats
10 Sep 2017
350,000 new refugees have entered Bangladesh in 16 days 3,000 refugees died while en route to Bangladesh 30,000 babies, pregnant women and elderly people have crossed into Bangladesh since August 25th 2017 2,500 refugees are currently injured with only a few hundred receiving treatment an estimated 160 Rohingya villages have been destroyed There were already 360,000 Rohingya children in camps in Bangladesh prior to the most recent exodus
Distributions at Palongkhali refugee camp
08 Sep 2017
On September 9th 2017, Al-Imdaad Foundation aid was distributed at Palongkhali camp in Cox's Bazar Bangladesh. This camp was set-up after the August 25th incident, specifically for victims of the most recent rounds of displacement. Currently over 270 000 refugees have poured into Bangladesh and require urgent aid. DONATE NOW AND HELP MAKE A DIFFERENCE
Relief distribution at new refugee camp
06 Sep 2017
Al-Imdaad Foundation teams in Bangladesh continued with relief distributions today at the newly established Balukhali refugee camp in Cox Bazaar Bangladesh. The camp was established to help accommodate the continuing influx of refugees from Myanmar who have been fleeing the ongoing violence. More than 150 000 refugees have now made the crossing in an unprecedented mass exodus. Al-Imdaad teams from the Bangladesh office have been doing all they can to provide tents, hygiene items and food to the vulnerable refugees.
September 2017 flare-ups
05 Sep 2017
Almost a year after a similar flare-up brought misery to the Rohingya people last year, yet another escalation of violence against the persecuted minority is underway. After military crackdowns on various Rohingya villages, including burning of homes and up to 400 deaths, some 100 000 Rohingya have left in mass exodus for the Bangladeshi border where they have been officially barred, but often make hazardous river crossing or night time escapades to traverse. Many have gone days without food and have no shelter and limited clothing and supplies. The majority of these displaced people are women and children. Many have congregated in groups in the open air outside the main refugee camp in Kutupalong with virtually nothing to their name. Al-Imdaad Foundation will be assisting the newly displaced Rohingya families with food, clothing, tents, hygiene packs and basic household items.
Relief distributions for refugees in Bangladesh
04 Sep 2017
Al-Imdaad Foundation teams from our office in Bangladesh were active today in distributing emergency relief supplies to newly arrived Rohingya refugees from Myanmar. More than 120 000 refugees have crossed into Bangladesh in the past 11 days, many of whom are women and young children. These refugees receive little welcome from Bangladeshi authorities and have little or nothing in terms of supplies to help them in their desperate situation.
Remember the Rohingya this Ramadan
13 May 2017
The current situation for the Rohingya in Myanmar is deteriorating by the day due to regular persecution from other ethnic groups. Many Rohingya are confined to refugee camps in remote areas without adequate food, safe drinking water or sanitation and their only means of survival is the humanitarian aid they receive as donations. This Ramadan, contribute to our ongoing projects for camp-dwelling Rohingya families and help ensure they are not forgotten.
Latest Stats on Northern Rakhine Situation
07 Mar 2017
• Latest estimates indicate that about 94,000 people remain displaced (either in Bangladesh or within northern Rakhine) because of the 9 October attacks and subsequent security operations. • Humanitarian organizations in Bangladesh estimate that over 74,000 people have crossed the border into Bangladesh since October and remain in the Cox's Bazaar area. • An estimated 20,000 people remain internally displaced in northern Rakhine.
Al-Imdaad Foundation Aid reaches Rohingya Victims
04 Dec 2016
Al-Imdaad Foundation emergency food aid has reached Rohingya victims in the West Rakhine State of Myanmar. The food hampers consist of staples and other essential items that will help these families sustain themselves in the face of the ongoing military crackdown that has engulfed Rohingya areas since October 2016.
Al-Imdaad Foundation responds to the Rohingya Crisis
24 Nov 2016
The Al-Imdaad Foundation has initiated an emergency response to provide humanitarian aid to displaced persons and victims of the latest round of violence. MAKE A DONATION TODAY AND HELP SHOW THE ROHINGYA THEY HAVE NOT BEEN FORGOTTEN
Unwanted in Myanmar and Bangladesh
23 Nov 2016
Many Rohingya have been trying to cross the Bangladesh border in an attempt to escape the violence. But the Bangladesh authorities are adamant that they cannot allow the opening of the border and that they will return refugees. There is also the threat that opening the border may Motivate elements in Myanmar to push for even more displacements of the Rohingya so as to ethnically cleanse the region. The Rohingya are thus placed in a very difficult condition where neither side wants them.
Attack on Myanmar border post precipitates Military crackdown
08 Oct 2016
On the 9th of October 2016 an attack on a border post took the lives of 9 Myanmar Police officers precipitating a military crackdown in the Maungdaw district in Western Rakhine. The attack was blamed on a Rohingya militant group and was used as a pretext for the army to clear out Rohingya villages. As a consequence, over a hundred Rohingya have been killed, and many homes and properties burnt to the ground. 30 000 people have fled the violence and all aid deliveries within Maungdaw have been halted, placing the population in an extremely vulnerable condition.