Winter Warmth for Syrian Refugees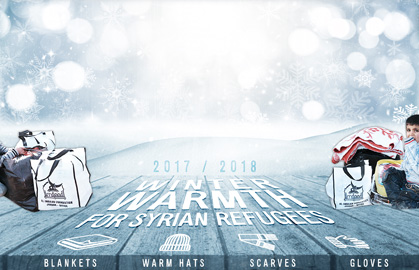 28 Nov 2017
Support our Winter Warmth project 2017-2018 for Syrian refugees by sponsoring a winter pack for just R300
Winter Warmth convoy 2017/18
08 Feb 2018
Winter is a very difficult time of year for displaced Syrians living in IDP camps and temporary shelters within Syria. This is why, in addition to winter programmes for refugees in Jordan, the Al-Imdaad Foundation also contributes to an annual winter aid convoy that delivers blankets, clothes, food and other items to IDP communities inside Syria. This year our contributions were delivered in early 2018, when many IDPs experienced the worst of the winter months. Contributions included food aid hampers, baby food packs, winter warmth blankets and mattresses, and stoves and coal supplies.
South African donors participate in winter aid distributions
29 Dec 2017
South African donors were recently on the ground in Jordan where they participated in distributions of winter warmth items and food aid for refugees. The donors had contributed a significant amount and took the time to participate in the distributions first hand.
Volunteer distributions in Jordan
18 Dec 2017
Al-Imdaad Foundation volunteers have been on the ground in Jordan to distribute winter aid to Syrian refugees in the Mafraq area. The intervention was part of the annual operation winter warmth initiative for Syrian refugees implemented by Al-Imdaad Foundation's office in Jordan. The programme sees the distribution of blankets, winter warmth packs and often food aid hampers, to Syrian refugees in Jordan.
Jordan Winter Packs 2017/18
21 Nov 2017
As the southern hemisphere heads into the hotter months, let's not forget that our refugee brothers and sisters in the Middle East are heading into the chill of winter. Since the start of the crisis, winter has always been a season where our office in Jordan puts extra effort into ensuring that camp-dwelling refugees have adequate winter wear to see them through the desert chill. These efforts will continue in the 2017/18 winter season with the distribution of specially prepared winter packs including blankets, gloves, scarves and woolen hats. DONATE NOW AT JUST R300 per pack AND HELP ENSURE SYRIAN REFUGEES ARE KEPT WARM THIS WINTER
Winter Warmth Distribution with UK Volunteers
04 Jan 2017
In early January 2016, Al-Imdaad Foundation teams from the UK and South Africa joined the Jordanian team for an intensive winter warmth distribution programme. Multiple camps and locations were targeted and specially prepared winter warmth packs were distributed.
Al-Imdaad Foundation launches winter Campaign
02 Nov 2016
With winter just weeks away, millions of Syrian children face misery and danger from the bitter cold. They already live on the brink with hundreds of thousands of families forced to flee unrelenting violence with little or no possessions. Children are among the most vulnerable to freezing temperatures and storms that have frequently swept the Middle East, leaving misery, illness and even deaths in their paths. Al-Imdaad Foundation needs your help to protect children from the cold, and provide supplies to help Syrian families get by. Syrian families struggle to buy even the most basic goods, including clothes, scarves, gloves and shoes to keep their children warm. For any child forced to flee their home, winter is a particularly challenging time. Without the ability to stay warm, children can become ill and drop out of school. Some children who survived fighting have lost their lives in snowstorms, flooding and bone-chilling winds with little or no shelter, clothing or heating. Al-Imdaad Foundation aims to provide thousands with clothes and supplies for the coming winter. Temperatures are already cooling, and in just weeks, the first wintry chills and freezing rain could be sweeping the region. Al-Imdaad Foundation teams are readying themselves to deliver winter clothing packs that include gloves, hats, scarves and blankets. The Al-Imdaad Foundations efforts will be focussed on Syrian refugees in Jordan where a staggering 93% are living below the poverty line. BE PART OF OUR RESPONSE TODAY, DONATE NOW AND MAKE A DIFFERENCE
Refugees in Jordan
30 Oct 2016
In Jordan, where our efforts are focussed, more than 600,000 men, women and children are currently living in exile. Up to 80% of them live in urban areas, while more than 100,000 populate the Za'atari and Azraq camps. Many arrived in Jordan with very little means to cover even basic needs, and those who could at first rely on savings or support from host families, are now increasingly in need of help due to the prolonged nature of their refugee status.