Mediterranean Refugee Crisis- Feeding Campaign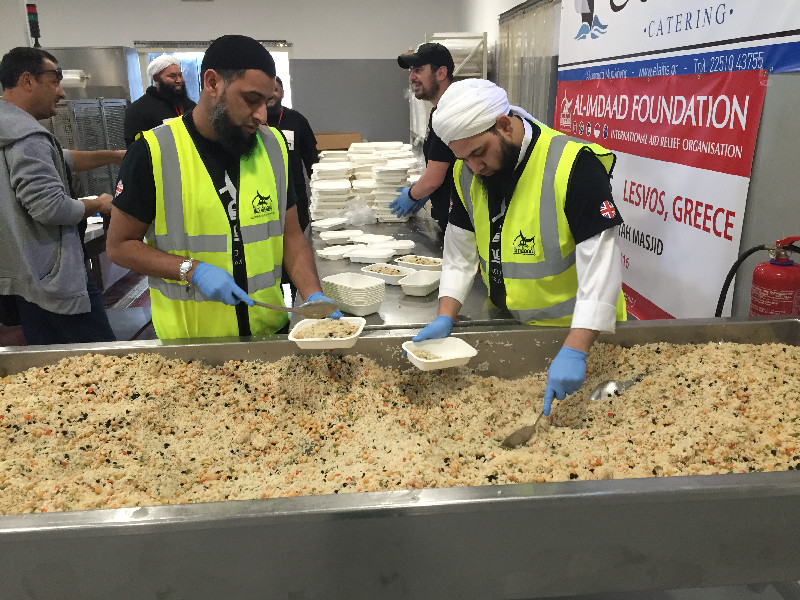 29 Sep 2016
Al-Imdaad Foundation gives you the opportunity to ensure refugees awaiting asylum on the Greek island of Lesvos have access to halal meals. For just R70 you can sponsor lunch and supper meals for refugees at the Kara Tepe camp which has been specially set up for vulnerable groups such as families with children, elderly or disabled members.
Refugees Facing Freezing Conditions Recieve Halal meals
19 Jan 2017
Halal Meals donated by Al-Imdaad Foundation donors are currently being distributed to refugees on the Island of Lesvos in Greece by our partners Children of Adam. Thus far distributions have taken place for refugees who have temporarily been relocated due to complications at the Main Moriah Camp. Refugees on the Island have been facing increased difficulties during one of the worst winters experienced in Greece in the past 15 years. The Moriah camp is very overcrowded hosting some 5800 people often with 4-5 people forced to share a two man tent. In the past few days conditions have deteriorated to such an extent that many tents have collapsed due to snowfall. The government of Greece has therefore dispatched naval vessels to provide emergency sleeping arrangements for the refugees from Moria. The commissioner for refugees was transported to the island via helicopter and due to the resultant heightened security situation access to the camp was restricted. Al-Imdaad Foundation partners however are aiming to be present for evening meal distributions inside the camp. In these difficult conditions faced by our refugee brothers and sisters the Al-Imdaad Foundation with its partners Children of Adam are making a difference with the provision of hot, wholesome, halal meals.
Al-Imdaad Foundation events with Children of Adam in Durban
10 Oct 2016
Join us for an eye opening event to gain insight into the Mediterranean Refugee Crisis and find out how you can help support refugees awaiting asylum in camps on the Greek Island of Lesvos. With presentations from our partners on the ground in Greece, Children of Adam and Feedback from brothers and sisters who have seen the crisis first-hand, this event is a not-to-be-missed opportunity to learn and give. • Event for Brothers to take place on Monday 31st October 2016 after Esha at Orient Hall (free admission) • Sisters-only fundraising event to take place between 9 and 12am on Tuesday 1st November 2016 at NMJ Hall (R70 per ticket, all proceeds will go towards the Feed a Refugee Campaign) • Talk in Pietermaritzburg to take place on Tuesday 1st November, after Esha at Mountain Rise
Catering for Longer term needs
22 Sep 2016
Since its inception in April 2015, tens of thousands of migrants and refugees trying to reach Western Europe have passed through the Kara Tepe camp. But since the EU deal with Turkey to limit the entry of migrants in exchange for economic and political favours, many refugees and migrants are now forced to stay at the camp for much longer. Whereas before the camp would see hundreds of people coming in for about a week at a time allowing it to cater for about 3000 a week. Now things have changed making it necessary to cater for longer timeframes. In response the camp can now accommodate up to 1,700 people at capacity staying here for a much longer period. The Al-Imdaad Foundation is committed to helping the refugees to have halal meals while they are resident at the camp and to work towards meeting any other specific unmet needs they may have.
Providing Halal Food
22 Sep 2016
The provision of halal food for refugees is a matter of great importance. At least 7 out of 10 of the world's top refugee producing countries (Syria, Afghanistan, Iraq, Nigeria, Eritrea, Pakistan, Ivory Coast, Guinea, Sudan and Gambia) are Muslim Majority. And those that are not have very large Muslim populations. This means that the vast majority of refugees are Muslims who often feel very strongly about their dietary requirements. As a Muslim NGO, the Al-Imdaad Foundation feels it is imperative to do whatever we can to ensure that these refugees have halal food to eat. For this reason we are making an appeal for donors to support this project by contributing R70 to cover the meals of one refugee for a day. DONATE NOW AND MAKE A DIFFERENCE
The Kara Tepe Camp
22 Sep 2016
The Kara Tepe camp is an overflow facility alternate to the main Moria Camp, where special cases such as families or vulnerable refugees such as the elderly or disabled members are prioritised. The camp is located on the eastern side of the Aegean island of Lesvos in Greece. It has been set up on what was once a driving school a few kilometres outside the capital Mytilene and has been transformed into a small village with the capacity to hold a maximum of about 1600 residents. The camp extends over an area of 2.2 hectares and was opened in April 2015 by Lesvos Mayor, Syros Galinos. Kara Tepe is home to families and vulnerable refugees and migrants, such as those with disabilities. It is a multi-ethnic camp and in August 2016, its population consisted of 335 Syrians, 135 Iraqis, 136 Afghans, 17 Palestinians, 16 Iranians, eight Congolese, eight Pakistanis, four Nepalese and one Eritrean. The vulnerable nature of the residents at the Kara Tepe camp makes it even more deserving of our support.