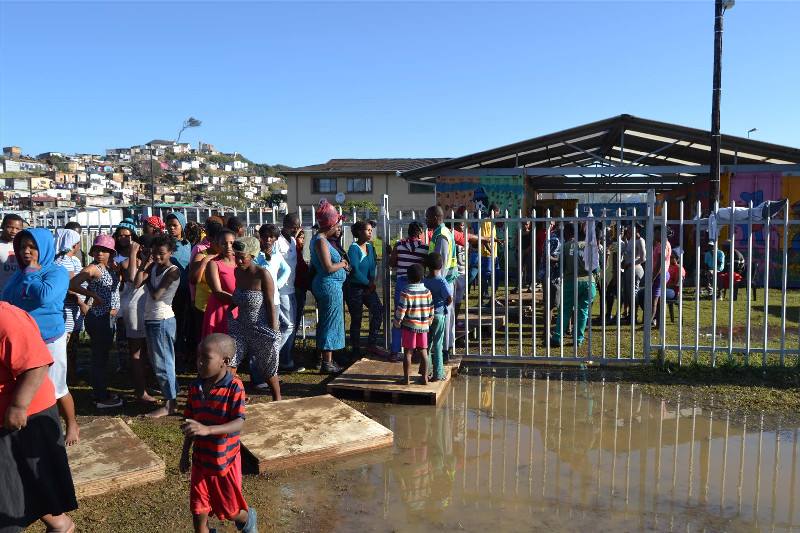 23 Jul 2016
Al-Imdaad Foundation teams responded to the needs of flood victims at temporary relocation sites in Umlazi, Dakota Informal Settlement in Isipingo and other locations
Al-Imdaad Foundation responds to Durban Floods
26 Jul 2016
After receiving a formal request from the Provincial Disaster Management authority, the Al-Imdaad Foundation teams were mobilised to respond to the flood situation. The teams distributed mattresses blankets, hygiene packs and other essentials to victims of the floods in Umlazi, Dakota informal Settlement in Isipingo and Chatsworth Unit 5. The interventions address families who had been displaced and were living at temporary relocation sites at halls and other public buildings. Other families who had lost goods and belongings to the floods were also assisted.
Storm lays havoc to greater Durban area
23 Jul 2016
The recent heavy rains which began on Sunday, 24th of July 2016, have wreaked havoc on eThekwini, flooding homes, causing structural damage and motor vehicle collisions in various parts of the City. A total of 19 municipal wards were affected including areas such as Umlazi, Inanda, Isipingo, Ezimbongodwini, Cato Manor, Amanzimtoti, Mayville, uMkhomaas, Bonella, uMhlanga and Lindelani. Several halls around Durban have been opened up to shelter displaced families including the Welbedacht Hall, Amoati Hall and the Umlazi Hall.