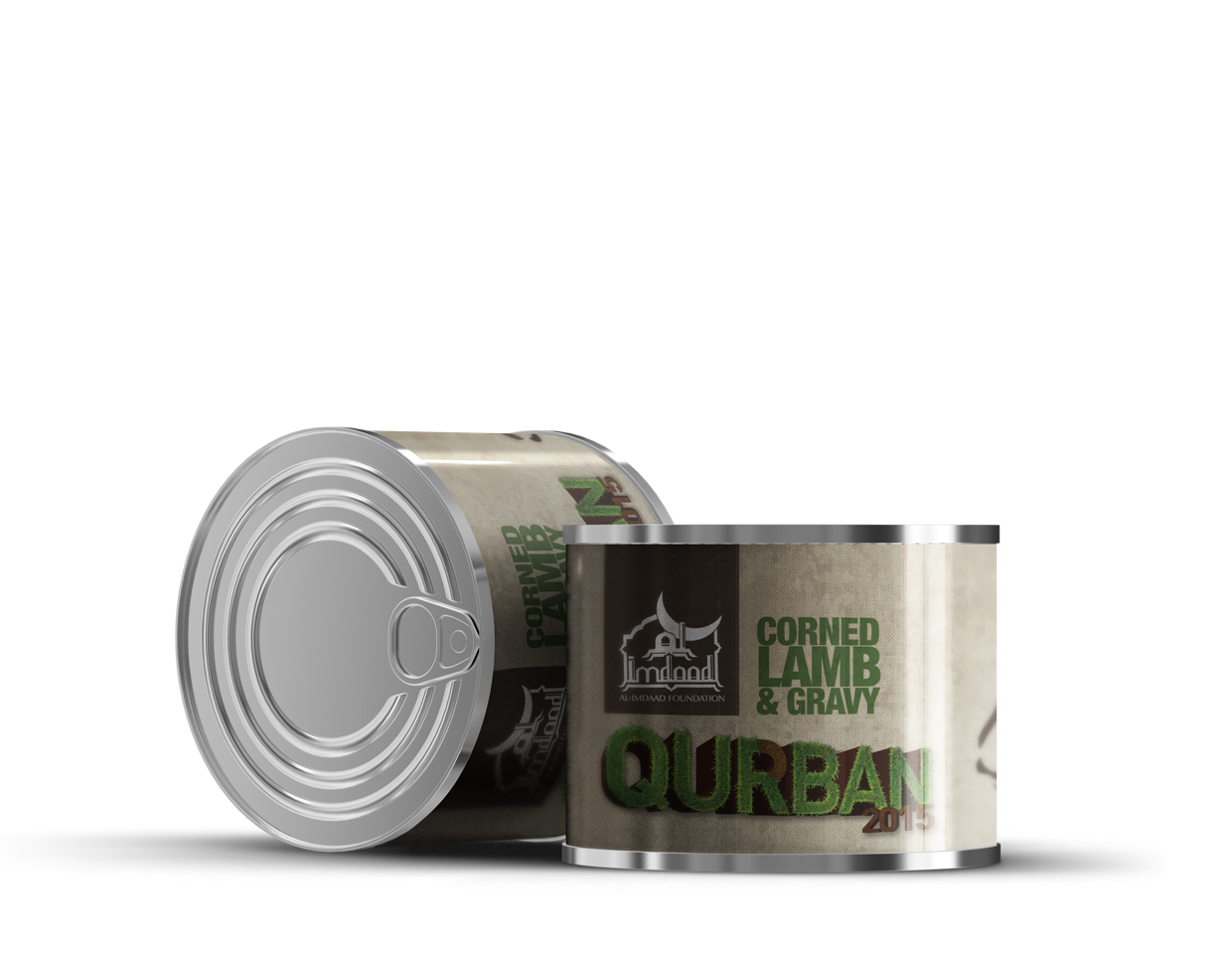 11 Sep 2016
AFTER THE SUCCESS OF LAST YEARS CANNED QURBANI PROGRAMME THE AL-IMDAAD FOUNDATION IS ONCE AGAIN PROVIDING A QURBANI OPTION THAT IS CONVENIENT, SUSTAINABLE AND HAS A SHELF LIFE OF UP TO 4 YEARS MAKING IT IDEAL FOR SYRIAN REFUGEE AND IDP COMMUNITIES
Canning Processes now Complete
28 Oct 2016
The canning processes for the Al-Imdaad Foundation's Canned Qurbani project 2016 have now been completed with all Qurbans successfully canned and processed at state of the art facilities in New Zealand. This means the Qurban meat is now ready to eat and needs only to be heated by the Syrian beneficiaries once they receive it. The canning process was the 5th phase in our 8 phase Qurbani programme with the next phase being the shipping of the canned Qurbani to Turkey. From Turkey it will be distributed to refugee and IDP communities in the Middle East. Shipment is expected to be completed within two to three weeks.
Slaughter and deboning now complete
20 Sep 2016
Phase one and two of our canned Qurbani programme 2016 are now complete. Representatives from our Australian offices participated in the selection process that ensured that only the highest quality of animals were selected. The animals go through both an external and internal check to ensure that they are healthy and fulfil Islamic guidelines for Qurbani. By the second day of Eidul Adha, phase one had been completed with the sacrifices made under the supervision of teams from our Australian Office. In Phase 2, after the slaughter, the carcasses were professionally cleaned before being sent for deboning and boxing. Strict guidelines ensure that only the highest quality meat is selected with 27 kg's per box. All of these processes were monitored to ensure adherence to the highest standards and hygienic practices. The boxed meat is thereafter frozen and transported to the canning and processing facility in New Zealand. The meat will then be processed and canned to ensure up to three years of shelf life for the final canned product. Once these processes have been completed the canned Qurban will be shipped to Turkey where we will ensure that it reaches the neediest Syrian refugees and IDP families.
SEND YOUR QURBANI TO SYRIA
29 Jul 2016
This year the price of one sheep is R1850, this price includes slaughter, canning and processing and transportation and distribution in the middle east. One Sheep will produce approximately 17 to 18 cans of ready to eat deboned meat each weighing 425 grams. In South Africa and other countries many of us are blessed to be able to perform multiple Qurbanis. LET'S MAKE AN INTENTION TO SHARE SOME OF THESE WITH FAMILIES AND COMMUNITIES WHO NEED THEM MOST. DONATE NOW AND SHOW THE PEOPLE OF SYRIA THAT THE UMMAH STILL CARES.
Taking Qurban to the Syrian People
29 Jul 2016
Due to the ongoing crisis in Syria, many people have been forced to flee their homes, leaving behind belongings and appliances. For these displaced communities even the festival of Eidul Adha is often a difficult occasion with limited availability of livestock to slaughter due to the ongoing war. Families survive on humanitarian interventions and many areas malnutrition has been rife. The canned Qurbani project allows these people to have a share of Qurbani despite the difficult conditions that prevail. The canned product has an extended shelf life of up to 4 years allowing it to be stored conveniently without refrigeration. It is also ready to eat and does not need to be cooked which makes it a perfect solution for displaced families in need. The project is an international collaboration and will involve slaughter of prime quality sheep in Australia, canning and processing in New Zealand, Shipment to Turkey and distribution in the Middle East. At each stage we ensure that oversight of the operation so that your Qurbani is carried out diligently and in accordance with the principles of shariah.