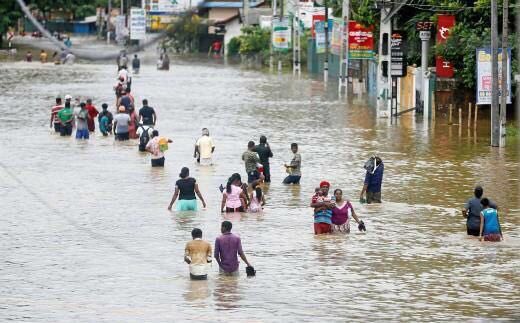 15 May 2016
Al-Imdaad Foundation has been responding to the desperate flood situation affecting several regions of Sri Lanka
Providing Emergency Relief to Displaced Families
23 May 2016
Due to the widespread flooding districts such as Colombo, Kandy, Puttalam, Mattale and Ratnapura have been severely affected. A conservative estimate places the number of displaced families at around 452 000. The weather authorities have warned that seasonal rainfall will continue for another week meaning displaced families cannot return home. Even so homes and agricultural land have faced extensive destruction with an estimated 2400 homes, 85 000 acres of paddy fields and 15 000 acres of home gardens destroyed. It is anticipated that families will be forced to stay at displacement centres for a few weeks due to the contamination of flowing water sources and the threat of viral infections and eye diseases. During this period, the Al-Imdaad Foundation will be responding to the needs of the victims with emergency relief supplies such as milk powder, food hampers, biscuits, blankets, clothing, health and hygiene packs and essential medical items. With the upcoming month of Ramadan fast approaching many families, including large numbers from Muslim Majority areas such as the badly affected Mabole, Wattale will still be displaced and require continued assistance.
Providing cooked meals to displaced victims
23 May 2016
Al-Imdaad Foundation continues to respond to the victims of the devastating flooding in Sri Lanka that started on May 16th with cooked meals distributed at displacement centres.