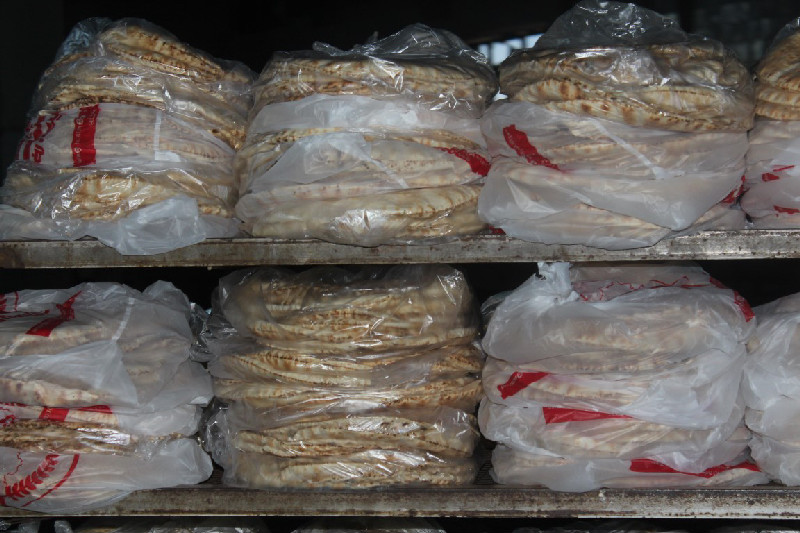 13 Apr 2021
THE AL-IMDAAD FOUNDATION IS CONTINUING WITH THE FLOUR-4-SYRIA CAMPAIGN TO SUPPLY BAKERIES PRODUCING BREAD FOR SYRIAN REFUGEES AND IDPS. FOR JUST R5000 YOU CAN SPONSOR A TON OF FLOUR THAT WILL PRODUCE MORE THAN 7200 PITA LOAVES.
Help us Provide Flour-4-Syria
24 Apr 2020
The people of Syria entered the tenth year of conflict on the back of some of the worst suffering in all previous nine years. Millions remain displaced, in extremely difficult living conditions with limited access to the basic essentials of daily life. The Al-Imdaad Foundation's Flour-4-Syria campaign has been ongoing for over five years, to help deliver daily bread to Syrian IDPs and refugees in Turkish the border regions. Syrian families eat the staple pita loaf with most meals, sometimes it's all they have. SPONSOR A TON OF FLOUR AT JUST R5000 AND HELP SUPPLY OVER 7200 LOAVES
Gottlieb Foundation Supports Reyhanli Bakery
22 Jan 2019
As part of ongoing Flour-4-Syrian activities, the Al-Imdaad Foundation has received generous sponsorship from the Gottlieb Foundation of Durban, South Africa to support the operation of the Reyhanli Bakery, which supplies Syrian refugees and IDPs.
Flour-4-Syria
09 May 2018
The Syrian staple is the pita bread which has kept many families afloat over the long, hard years of the conflict. Since 2013, the Al-Imdaad Foundation has been sending regular convoys of flour that are delivered from Turkey to a network of humanitarian bakeries producing free pita bread for Syrian refugee and IDP communities. This helps to minimize the impact of flour scarcity and inflation. FOR JUST R5000 YOU CAN SPONSOR ONE TON OF FLOUR THAT WILL PRODUCE OVER 8000 PITA LOAVES.
September Flour4Syria Launched
11 Sep 2017
Al-Imdaad Foundation teams were recently in Turkey for the launch of the September 2017 Flour4Syria convoy comprising 250 tons of flour. The teams visited the flour mill in the Turkish city of Gaziantep before proceeding to the town of Reyhanli on the Syrian border for the launch. The Flour was sponsored by the Two Lights Foundation, Community Ameerah Project and generous donors from Malawi. Flour4Syria is an ongoing initiative of the Al-Imdaad Foundation that supplies flour to a network of humanitarian bakeries supplying Syrian refugee and IDP communities. The project is donor driven and every rand donated contributes to another mouth being fed. Sponsor a ton of flour today for just R5000 and help ensure the next convoy is able to deliver its load.
Details of our Flour4Syria project
30 Jun 2017
Our Flour4Syria project is going strong for some four years now. In this time millions of Syrians have benefitted from the daily bread made possible by the campaign. Below we provide a brief breakdown about how our distributions work and who benefits. • Each ton of flour is made up of twenty 50kg sacks, which are distributed to bakeries supplying Syrian IDPs in various areas. • From each 50kg sack, a total of 55 Rabtas (bread packs) are produced, each consisting of 8 pita loaves. • This amounts to 440 pita loaves per sack. • Each beneficiary family, on average 6 members, receives two Rabtas (bread packs). • So each 50kg sack will provide for about 27 families or 162 individuals. So by sponsoring one ton of flour for just R5000 you can help provide bread to 3240 people.
SUPPORT FLOUR4SYRIA THIS RAMADAN
13 May 2017
This Ramadan help ensure our ongoing Flour4Syria campaign continues to supply bakeries serving our Syrian brethren who are facing their 7th Ramadan since the onset of the crisis in March 2011. SUPPORT OUR FLOUR FOR SYRIA CAMPAIGN TODAY FOR JUST R5000 A TON AND ENSURE ARE SYRIAN BRETHREN ARE NOT DEPRIVED OF THEIR DAILY BREAD
April Flour4Syria convoy launched
05 Apr 2017
On Thursday April 6th 2017, the Al-Imdaad Foundation launched a new Flour4Syria convoy consisting of over 240 tons of flour. The flour will supply bakeries inside Syria that are providing free daily pita for displaced Syrian communities including residents of the many IDP camps located near the Turkish border. The current convoy was generously sponsored by the Two Lights Foundation and Community Ameerah Project.
Price of one tonne of flour falls to R5000
23 Feb 2017
Good news for donors towards our Flour4Syria campaign now means that your donations can go further. Due to favourable exchange fluctuations, the price of flour per tonne has fallen to R5000. This fall will allow donors to increase their donations to this critical project at a time when millions of Syrians remain in a desperate situation.
Flour4Syria Campaign Continues
16 Jan 2017
With all the recent turmoil in Syria and the evacuation of Aleppo tens of thousands of newly displaced families have been forced to join the millions who are already displaced. Many are living in camps in bitter winter weather with limited supplies save what they obtain via humanitarian distributions. The Al-Imdaad Foundation's Flour4Syria campaign supplies bakeries that provide free pita loaves to many of these families. Donate now and help us sustain this important ongoing campaign.
Launch of the Flour for Syria Convoy 2016
08 Dec 2016
On Friday December 9th 2016, the Al-Imdaad Foundation launched its ten truck flour convoy of 265 tons from the Turkish border town of Reyhanli. The convoy was part of a larger joint initiative bringing together many NGOs across the world for an annual winter aid convoy overseen by our Turkish partner's iHH. The convoy will address the needs of Syrian refugee and IDP communities and the flour contributions will supply bakeries providing free pita loaves to the Syrian people.
Milling the Flour for the December 2016 convoy
07 Dec 2016
On Thursday December 8th 2016, the Al-Imdaad Foundation together with volunteers from the donor community of Isipingo Beach were present at the state of the art Mobak Un Flour Mill in Adana, Turkey. This mill produces the flour for the Al-Imdaad Foundation's Flour-4-Syria campaign which supplies flour to humanitarian bakeries servicing the needs of Syrian refugees and IDPs. A total of 265 tons of Flour were produced for the December 2016 campaign with the major portion of donations coming from the Muslim community of Isipingo Beach and the greater Durban area. The flour was milled fresh ahead of the dispatch of the convoy on December 9th 2016.
Launch date confirmed for winter convoy 2016
17 Nov 2016
The Al-Imdaad Foundation will once again be launching a convoy of winter flour supplies for Syrian refugees and IDPs. The convoy will be launched from the iHH coordination centre in Reyhanli, Turkey on Friday December 9th 2016. It will supply Flour to humanitarian bakeries in side Syria as well as the iHH bakery in Kilis, Turkey. The project will allow the distribution of free pita loaves to Syrian communities in Idlib, Hama, Latakia, Aleppo, Hatay and Kilis and is expected to benefit over 5.8 million people.
Flour4Syria Appeal 2016
03 Jun 2016
The Syrian crisis is into its sixth year with conflict still raging between opposing forces and consequently inflation continues to escalate placing the average family in a position that they cannot afford daily bread. The Al-Imdaad Foundation is continuing its FLOUR4SYRIA campaign in a bid to address the situation by supplying free flour to a network of humanitarian bakeries providing free pita loaves to IDP and refugee communities. SUPPORT THIS CAMPAIGN BY SPONSORING A TON OF FLOUR AT JUST R7000
Launch of winter aid convoy
04 Dec 2015
On Saturday December 5th, the Al-Imdaad Foundation's 10 trucks joined a further 39 trucks sponsored by a network of international NGOs from 12 countries in a convoy of winter aid targeting displaced Syrians. The convoy was launched after representatives of the NGOs spoke at a preceding press conference where the need to collaborate on humanitarian efforts inside Syria was stressed. The convoy included flour, food aid and winter accessories sponsored by NGOs from as far afield as Qatar, the UK, Australia, Kuwait and South Africa.
Convoy departs for iHH coordination centre in Kilis
03 Dec 2015
On Friday, December 4th 2015, the 10 trucks making up the Al-Imdaad Foundation convoy had been packed and prepared and were ready for send-off. Their first destination was the iHH coordination centre in Kilis, Turkey near the Syrian border. From there the convoy would proceed across the border to be distributed to various locations based on an analysis of need conducted by an iHH centre on the Syrian side of the border. A portion of the flour would also be kept at the Kilis coordination centre to be baked into pita loaves directly at the onsite bakery and distributed to IDPs close to the Turkish border.
Al-Imdaad delegation visits flour milling facility in Adana
01 Dec 2015
On Wednesday, December 2nd 2015, an Al-Imdaad Foundation delegation visited 2 flour milling factories in the Southern Turkish city of Adana that were producing the flour for the upcoming convoy of winter aid that the Al-Imdaad Foundation had sponsored. The facilities were multi-story state of the art operations with specific functions on each floor and an intricate process of milling sifting and sieving to ensure the highest and purest quality four is produced. For the Syrian pita loaf, a slightly coarser flour is preferred so the 250 tons of flour produced for the upcoming convoy had this characteristic.
Convoy of Winter-Aid into Syria
26 Nov 2015
During the winter, the body requires additional energy to generate warmth and maintain optimal body temperature. For this reason the consumption of staples generally rises during the winter season. But with the continued crisis in Syria this necessary increase has become increasingly difficult placing many at peril of insufficient nutrition. The Al-Imdaad Foundation has therefore contributed 250 tons of flour to be baked as pita bread for Syrian refugees and IDPs. The bread will be dispatched as part of an upcoming winter convoy of trucks sent into Syria that will be launched in early December 2015. One ton of flour can produce about 10,000 loaves so an estimated 2, 5 million loaves will be distributed as part of the project.