Disability Centre in the Gaza Camp in Jordan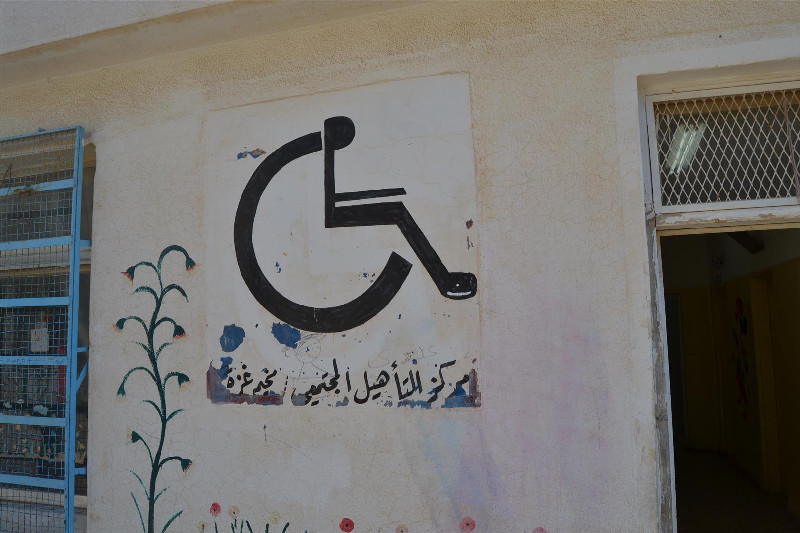 11 May 2020
Al-Imdaad provides regular support to the disability centre in the Gaza refugee camp in Jordan, one of the poorest camps in the country with refugees mainly from the Gaza strip
Help support the Disability Centre
01 Jan 2018
Al-Imdaad Foundation's Jordan office continues to support the critical services of the Disability Centre at the Gaza refugee camp in Jerash, Jordan. Help us sustain these activities with your donations. Monthly costs supported by Al-Imdaad Foundation help to cover staff salaries, the costs of hearing aid modules, and wheelchair distributions amongst other interventions.
Donor Delegation distributes wheelchairs
11 Sep 2017
Al-Imdaad Foundation teams, together with recent donor delegations from Roshnee distributed wheelchairs to disabled individuals at the Disability Centre in the Gaza camp. The teams also handed out hampers to refugee families from the surrounding area.
Al-Imdaad Volunteers reach out to disabled Palestinians
26 May 2016
During a May 2016 relief trip to Jordan, Al-Imdaad Foundation volunteers visited the Disability Centre at the Gaza Refugee Camp in Jordan. The volunteers delivered food hampers to disabled learners and their families. They also took time out to share love with the disabled refugees. These disabled refugees require continuous support which is only possible through the generous contributions of donors. DONATE NOW AND ENSURE THE VITAL ACTIVTIES OF THIS CENTRE CAN CONTINUE
Disability Centre affected by Fire
13 Nov 2015
On Saturday, November 14 2015 the sad news reached of a fire burning parts of the disability centre. This is a tragic occurrence for a centre so central to the lives of the local community. The Al-Imdaad Foundation is committed to helping the centre re-establish itself and to repair and renovate the damage. We are hoping to soon launch an appeal for this purpose
Distribution at Gaza- Refugee Camp disability Centre
11 Nov 2015
On Wednesday November 12th 2015, a South African delegation visited the disability centre to conduct a distribution programme for the surrounding community. Poor families, including the families of disabled persons were given blankets and food hampers by the Al-Imdaad team.
Amenities available at the Gaza-Camp Disability Rehabilitation Centre
11 Nov 2015
For a relatively small facility, the Gaza-Camp disability centre provides a great deal of assistance to the surrounding community. Some 500 disabled individuals from the surrounding community are regularly assisted both onsite and during outreach programmes. On site facilities include a fully functional carpentry workshop where a deaf and dumb instructor provides training to other disabled individuals in woodworking. There are also classrooms for medium and low ability individuals with mental disability as well as a skill training centre for individuals with Down's syndrome. Between 60 and 80 students are picked up by bus on a daily basis. There also is an auditory testing room along with a facility for the production of hearing aid modules and an onsite physical therapy room. In addition to these onsite facilities, the centre also hosts occasional medical open days for the surrounding community as well as conducting outreach programmes to assist the elderly and disabled in the surrounding community in coping with their conditions. This may involve the construction of in-home ramps and other accessories to make life easier for disabled persons.