Al-Imdaad Foundation and Air Mercy Winter Warmth initiative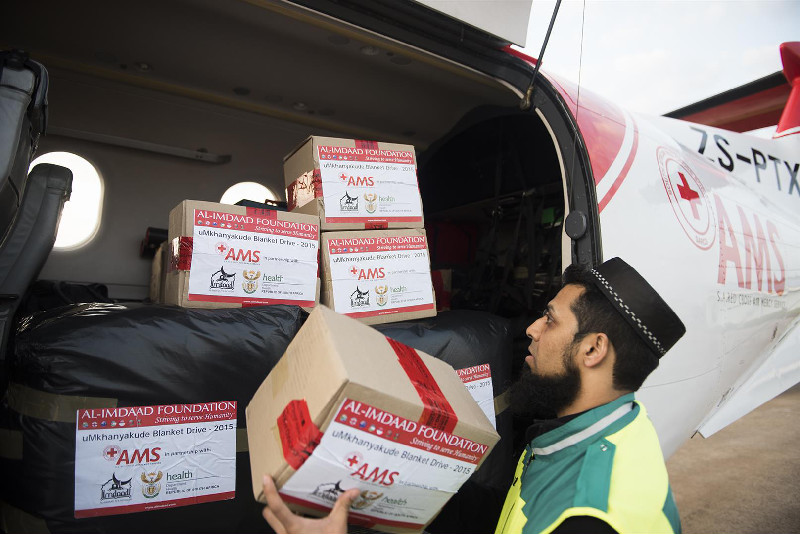 11 Aug 2015
Three-way partnership between Al-Imdaad Foundation, Air Mercy Services and the KZN Department of Health to reach out to isolated rural communities.
Flight no. 5
08 Sep 2015
On Wednesday September 9th 2015, the Al-Imdaad Foundation and Air Mercy conducted their fifth joint mission into the rural areas of uMkhanyakuhe Municipality in Northern KZN. This time the distributions took place at the Mselini Hospital which is just 60 km from the South African border with Mozambique.
Distribution in Mkuze with Senior Al-Imdaad Foundation Figures
25 Aug 2015
On Wednesday, 26th August 2015 senior members of the Al-Imdaad Foundation flew in with Air Mercy to participate in a second round of joint distributions in the Bethesda hospital in Mkuze. The Hospital is located at a high altitude which makes it relatively difficult to access overland. Patients and those waiting in line received the Al-Imdaad Foundation's branded high quality blanket.
Second round of distributions in Mosvold Hospital
24 Aug 2015
On Tuesday, August 25th 2015 a second round of distributions took place at Mosvold hospital. A representative of the Al-Imdaad Foundation's ground team, Waseem Mohammed, was on site to oversee the distribution.
Second Flight target Mkuze in Northern KZN
17 Aug 2015
The second Flight took place on Tuesday, August the 18th targetting the town of Mkuze in Northern KZN. Distributions centred on the Bethesda Hospital and surrounding Umbomba community. The community members were very grateful for the blankets, winter gear and walking aids they received and offered these touching words of appreciation: " ...our riches do not lie on only material wealth but in having friends like you Al-Imdaad Foundation"
Who are Air Mercy Services (AMS)?
11 Aug 2015
Air mercy is a key player in delivering healthcare to isolated areas, and works closely with provincial Departments of Health to implement effective programmes to address needs on the ground. Air mercy is able to provide access to aero-medical and associated humanitarian services to areas that may otherwise have fallen off the radar, thereby improving the quality of life for isolated communities. It is easy to see why these features will be able to enhance the access of the Al-Imdaad Foundation's distributions to be able to reach peripheral areas.
First Phase of distributions in uMkhanyakude District Municipality
11 Aug 2015
The first round of distributions took place on Wednesday the 12th of August 2015 in Ingwavuma in the uMkhanyakude district Municipality near the Swazi border. The area is well known for its relative deprivation and low unemployment levels. The Air Mercy airplane, which landed on a graft landing strip, was well laden with Al-Imdaad Blankets and winter gear which were distributed to patients at the Mosvold hospital. A central distribution point was also set up at the hospital where families from surrounding areas could also collect blankets and winter gear. Elderly members of the community received walking sticks from the Al-Imdaad and Air Mercy joint distribution team. The distributions were very well received and the event turned out a success with all parties agreeing that further collaboration in the future could yield positive results for humanitarian activities in isolated rural areas of the country. The next round of distributions in the same area in partnership with Air Mercy is scheduled for the 25th of August.