Safa Centre Orphanage for Syrian Refugees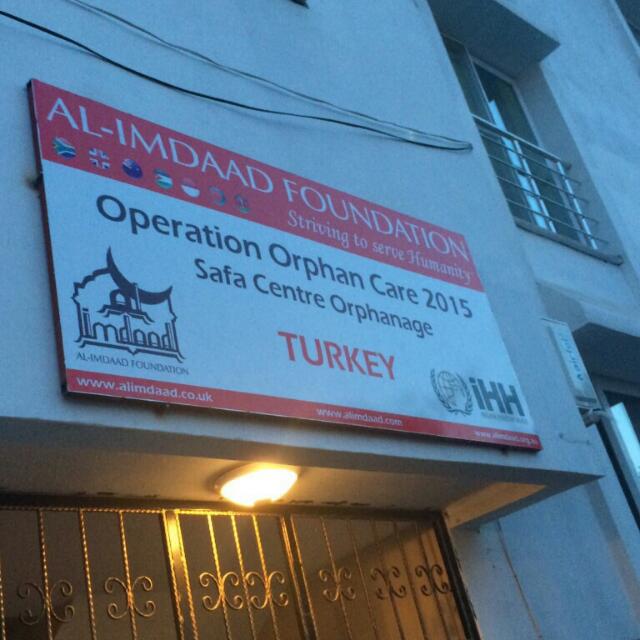 31 Jan 2015
The New orphanage located in Reyhanli in the Hatay Province of Turkey will house up to 50 orphaned Syrian refugees at capacity and will see to all their needs
Safa Centre Sponsorship
30 May 2016
The Al-Imdaad Foundation's orphanages for Syrian refugees continue to provide essential care to orphans in the town of Reyhanli near the Turkish border with Syria. The Safa centre orphanage is an important facility that has been running in the town to provide both essential orphan care as well as specialised trauma counselling. The Al-Imdaad Foundation continues to support the operational costs of the orphanages so that their essential service can be maintained. DONATE NOW TO SUPPORT THESE ESSENTIAL FACILITIES
Al-Imdaad team visits the Safa Centre orphanage in Reyhanli
06 Dec 2015
In early December 2015, an Al-Imdaad Foundation delegation had the opportunity to visit orphanages sponsored by the foundation in the town of Reyhanli near the Turkish border with Syria including the recently established Safa Centre orphanage. The Safa Centre orphanage is an important facility that boasts a sterling team of psycho therapists and trauma counsellors. It is a one of a kind institution and caters for children with severe trauma and psychological damage resulting from their experiences in the war. Special needs classes and activities are provided for children with severe trauma and the onsite team of psycho-therapists have organised a specialised wing where diagnosis and treatment of trauma related conditions can take place. These involve the use of thematic toys, games that encourage speaking about issues and other group activities. The facility also provides tuition classes to supplement school going children and offers language instruction in Turkish, Arabic and English. Some of the children at this centre have experienced torture and abuse or witnessed the death of their families creating severe trauma that if left untreated could have life-long implications for mental stability. Through the active treatment they receive at this centre these negative consequences can be mitigated.
The Safa Centre Orphanage in Reyhanli
31 Jan 2015
The orphanage will accommodate 60 Syrian orphans and plans to organize educational activities and courses for the children under its care. A three-floored building has been rented in order to be used as orphanage. The building consists of 14 rooms and 3 balconies, which will be converted into 7 bedrooms for the children, one administration office and two study rooms for educational activities. Two games rooms will ensure the children have adequate extra-curricular activity. The orphanage will also include a kitchen and 3 bath room and toilet facilities for the comfort and convenience of the children.