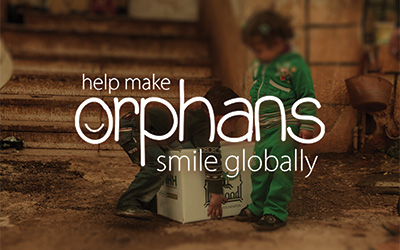 09 May 2020
Help spread a smile across the faces of orphaned children across the globe Sponsor an orphan at just R500 a month or R6000 for a year
Monthly sponsorship
05 Jun 2015
For just R500 a month you can sponsor the health, food and educational needs of an orphan in one of a network of our partner orphanages in different regions of the world. The orphans will receive quality care, love and support by on-site care givers and counselling staff who will monitor their progress and development to ensure they grow up both physically and emotionally healthy and well mannered. If the orphan you have sponsored requires any specialised care you will also be informed and given first option to sponsor whatever extra treatment or materials they may require.
9 Countries where we will be running our campaign
05 Jun 2015
Our orphan sponsorship programme has drawn orphans from 9 countries with especially tragic stories. Below we provide a brief synopsis of the conditions of orphans in each of these countries. EGYPT: Orphans in Egypt face an incredible amount of social stigma. Commonly looked down upon as illegitimate children they go through life trying to hide from this identity which can affect employment and social opportunities all the way into adulthood. Orphanages in Egypt are often staffed by untrained individuals and instances of abuse and maltreatment are sadly quite common. Many orphanages suffer from limited resources and untrained staff who cannot adequately cater for the needs of the children. As part of its unique orphan sponsorship program, the Al-Imdaad Foundation will allow donors to support the needs of an orphan in Egypt at one of a network of orphanages that maintain a high standard of care provision and needs fulfilment to ensure that the orphans grow up into healthy adults of sound body and mind. We cannot stop the social stigma on our own, but we can help ensure that orphans receive quality emotional and material care that allows them to develop self confidence that can conquer any stigma or stereotype. YEMEN: Yemen is the poorest Arab nation and one of the poorest countries in the world. Even before the recent conflict, almost half the Yemeni population was dependent on food aid for survival and after the recent Saudi aggression the conditions have spiralled into an even greater humanitarian disaster. Yemen is characterised by large-scale displacement, civil conflict, food insecurity, high food prices, extreme poverty and diminishing natural resources. Pre-conflict estimates suggest that 5 million people in Yemen were severely food insecure and unable to buy or produce the food they need on a daily basis. As a result of the conflict however, with food and energy scarcities and large scale power outages, this figure has escalated significantly. Child malnutrition rates in Yemen are amongst the highest in the world and infant mortality rates are extremely high despite the evident rapidly growing population. majority of social service centres and orphanages in Yemen face an acute shortage of supplies and materials. This means that they are unable to cater for the needs of the local populations even at the best of times. Orphaned children in Yemen are thus in an incredibly vulnerable position and in desperate need of sponsorship. GAZA: The latest Gaza war which saw more than 2200 killed and 11 500 injured caused almost 65% of Gaza's residents to fall into poverty and many more to face internal displacement, losing their homes and taking up residence in camps and make shift shelters. Hundreds of children were orphaned and what remained of their families was often too destitute to support them. For these children the loss of a father often means the loss of the sole source of livelihood as the government of Palestine does not have the resources or personnel to effectively deal with the situation. This leaves much to aid organisations and humanitarian missions. Through a network of orphanages, the Al-Imdad Foundation allows donors to cover the needs orphans in Gaza so that despite the difficulties in which they live a small monthly contribution on our part can help them to grow up in an environment of love and care. SYRIA: One of the many devastating effects of long term wars is the way they create orphans and widows where there were once extended family networks. The Syrian civil war is one such crisis, having torn through the fabric of Syrian society to create a sprawling refugee population of over 3.7 million spread out across neighbouring countries in the region. Many of these refugees are children who have lost their mothers and fathers and have been driven from their hometowns, relatives and friends. Being children, they have no means by which to support themselves or earn a livelihood and are fully dependant on aid from external means. Orphanages thus form a critical part of the humanitarian response to the Syrian crisis and regular support for orphaned children is a constant necessity. The Al-Imdaad Foundation has already been involved in the establishment of orphanages in Syria and now offers individual donors the opportunity to sponsor a Syrian orphan's needs on a regular basis. TURKEY: Due to the crisis that has been taking place in Syria, the ability to live a normal life has been stripped away from many people to such an extent that even the basic daily essentials have become a luxury. Approximately 300,000 people have been killed including women, children or men who left families behind needing to be looked after. Women and children, who have lost their husbands and fathers, are often driven from their hometowns, friends and relatives, into areas where they have no social connections and no means to earn their livelihood. Thus far close to 4 million people have had to flee their country in order to save their lives, or because they cannot earn their livelihood in war-torn areas. Turkey is currently hosting approximately 1.758 million of these refugees, many of whom are women and orphaned children. Help the Al-Imdaad Foundation to support those orphaned by this conflict and seeking refuge in Turkey. Our monthly sponsorship program will allow you to sponsor an orphan at one of our network of partner orphanages in Turkey. These offer high standards of care and environment of love for these vulnerable children. SOMALIA: Over two decades of civil war and tribal conflict in Somali in addition to frequent devastating droughts and decreasing crop yields have left a sever toll on the Somali population. As is usual in these situations it is the children who suffer the most as their young developing bodies and minds cannot cope with physical and mental stresses and traumas and the severe shortages of food and other essentials. Many Somali children have been left father and motherless by the conflict and what remains of their families can often not afford to adequately support them leading to severe cases of malnutrition that often leads to death. The Al-Imdaad Foundation's partner's iHH have recently established the biggest orphanage and education centre in the country in the capital Mogadishu where up to 400 orphans will be accommodated and over 1500 able to receive an education at the attached school. The Al-Imdaad Foundation's orphan sponsorship program will also support orphans at this centre allowing their physical, educational and emotional needs to be met. ETHIOPIA: Ethiopia is one of the countries with the most orphans in the world. With a rapidly growing population and limited opportunities it is home to over five million orphaned children who struggle day by day to meet their basic needs. Famine and drought has left a heavy toll on the social structure of the country. These orphans must grow up in a country where literacy rates struggle to rise above 40% where preventable disease accounts for up to 60% of health issues in a stumbling health system and where access to a sustainable source of water is still a problem for many rural dwellers. Effective orphan care programs such as those that will be provided by the Al-Imdaad Foundation's sponsorship project will go a long way to helping these children to grow out of the social environment in which they live to become well rounded, healthy citizens of their country. SUDAN: In recent times, Sudan has been one of the most politically and economically unstable countries in Africa. After years of civil war and unrest, many parts of Sudan have been devastated by continuous violence and poverty. As a consequence, an estimated ten percent of Sudan's children are orphans and many children live on the streets or in refugee camps without parents to support them. In Southern Sudan, one in four children dies before their fifth birthday. The tens of thousands of street children in Sudan suffer needlessly and are often forced into child labour, working long shifts, for little pay, in unsafe working conditions. Others become involved in glue sniffing, drugs, or are victims of sexual abuse. Many others end up dying on the streets because of a lack of access to clean water and medical treatment. These vulnerable children are in desperate need of institutions that will take them in and care for their needs helping them to develop strong characters and avoid the consequence of a life on the streets. The Al-Imdaad Foundation's orphan sponsorship program allows you to sponsor an orphan from Sudan who may otherwise have suffered these debilitating conditions. MAURITANIA: Despite being blessed with extensive natural resources, poverty in the desert country of Mauritania is a debilitating reality for many. With only 0.5% of land suitable for agricultural use, most Mauritanians are still reliant on subsistence farming for their survival. This places them at the mercy of the constant droughts and erosion and the frequent desert sandstorms that affect agricultural output. Many children in the country suffer from malnutrition due to low diet diversity. Inter-ethnic tensions have resulted in the death of many male Mauritanians leaving a trail of orphans struggling to get by in the dry desert country. Orphans from the lower wrung of Mauritania's caste based society are the most vulnerable. Effective institutions that can help these children escape the poverty and social stigma they are born into are essential to their dignity and survival. The Al-Imdaad Foundation's orphan sponsorship program allows donors the opportunity to help these children avoid a life of misery and destitution.