Rohingya Refugees in Indonesia 2015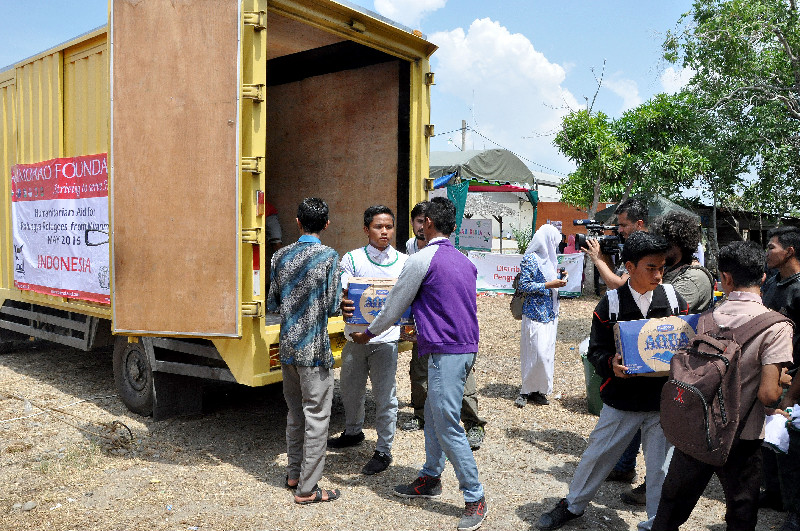 09 May 2015
Al-Imdaad Foundation teams have been providing assistance to the recently landed Rohingya refuges in the Indonesian province of Aceh.
Community Shelter Project
20 Jun 2015
The Rohingya refugees currently taking refuge in North Aceh province have had no permanent solution to their shelter needs since arrival. The Al-Imdaad Foundation is thus supporting an important community shelter project that will provide homes and essential facilities for 44 families or up to 332 people. When complete the project will include 80 shelters, a Mosque, school, community hall and clinic. Sanitation facilities, a playground and a deep well will also be included. In this way the basic needs of the refugee community will be addressed effectively. The project has been initiated and completion is expected within two months.
Regional Response to Ronhingya Boat Crisis
28 May 2015
After initially turning boats away Malaysian and Indonesian authorities have agreed to take in refugees provided it is only for a temporary period. In a regional meeting of the ASEAN region on 29 May it was agreed that search and rescue operations would be stepped up and that a region wide crackdown would be implemented to target the criminal human trafficking syndicates operating in the area. In addition steps would be taken to address the economic and social pressures at the source of the crisis.
Al-Imdaad Foundation provides aid to Rohingya Refugees in Indonesia
14 May 2015
The Al-Imdaad Foundation has responded to the recent crisis by distributing high nutrition meals, clean water, men's and women's clothes and blankets to the refugees who have been put up on the Indonesian Island of Aceh. The Al-Imdaad Foundation will also be assisting with medical assistance for this vulnerable group of people.
Conditions difficult for Recently Landed Rohingya Refugees
09 May 2015
After coming ashore after months at sea the refugees have been temporarily housed in relocation centres. These relocation centres have very limited water and sanitation facilities. Many of the refugees have developed diarrhoea and other symptoms. In addition, the lack of clean drinking water for extended periods has made them dehydrated. Many children are also suffering and malnutrition and gastric ulcers and some refugees have had to be taken to Cut Meutia General Hospital in Lhokseumawe.