Mafraq Distribution Centre in Jordan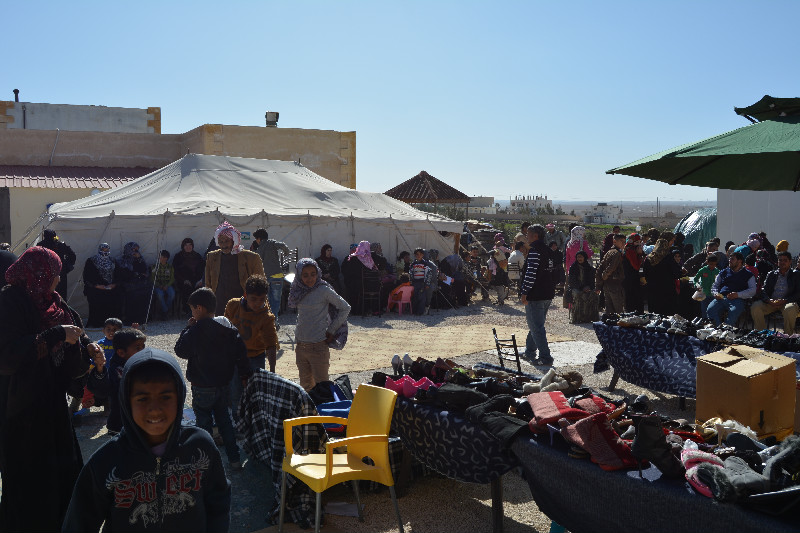 19 Feb 2012
Distribution centre servicing Syrian Refugees in the Jordanian governorate of Mafraq which hosts the largest population of Syrian refugees in the country
Distribution at Mafraq Centre with Roshnee and Pietermaritzburg Delegations
19 Sep 2017
Recent delegations in Jordan conducted distributions for the benefit of Syrian refugees in the Mafraq area from the Al-Imdaad Foundation's distribution centre in the governorate. The area is host to some of the largest refugee populations in Jordan including the Zaatari refugee camp. Most of the beneficiaries are females who often have no other support mechanisms available to them.
Aid distribution in Mafraq with South African delegation
12 Nov 2015
In mid-November 2015, an Al-Imdaad Foundation delegation was in the country as part of the launch of an aid convoy into Gaza from Jordan. The team spent one of their days in the Mafraq area and a distribution was organised for several groups of newly arrived refugees. The refugees received blankets, clothes and shoes in addition to food hampers and other essential items.
February aid distribution to refugees in Mafraq, Jordan
02 Feb 2015
In early 2015 a South African delegation visited the Jordan offices to conduct a distribution of aid funded by the Mozambican Islamic group Solidariedade Isslamica Mocambique. Food aid, blankets, paediatric kits and hygiene packs were distributed to needy Syrian refugees. The organisation targeted newly arrived refugees using the UN listing system. The refugees were given cards by the Al-Imdaad team at the Mafraq distribution centre and hired buses were arranged to bring them to and from the camps. In addition to the distribution the Al-Imdaad team also had the opportunity to serve a lunch meal to the refugees and interact with the children, many of whom were orphans of the conflict.