Al-Imdaad Foundation volunteers visit Syria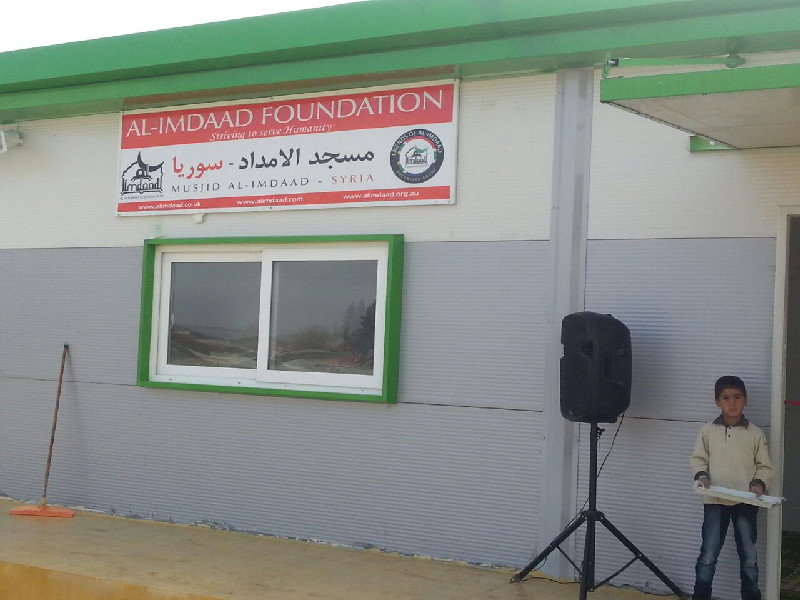 20 Nov 2014
In November 2014 a delegation of Al-Imdaad Foundation volunteers visited a number of projects in Syria including the Al-Imdaad Masjid in the containerised village in Siccu which they had made significant contributions to funding
Visit to the Al-Imdaad orphanage for Syrian refugees in Kirikhan , Turkey
23 Nov 2014
The team made a stop at the Al-Imdaad Foundation sponsored orphanage in Kirikhan, Turkey. The group was touched by the beautiful nasheeds the children sang for their guests and was proud to be associated with the Al-Imdaad Foundation and its continuing work to alleviate the suffering of the Syrian people.
Volunteers inaugurate the Al-Imdaad Masjid in the Siccu containerised village
21 Nov 2014
After visiting the offices of Al-Imdaad Foundation's Turkish implementing partners, iHH the delegation crossed over into Syria where there first stop was the opening of Masjid Al-Imdaad in the Siccu containerised village for Internally Displaced Persons (IDPs). The team was fortunate enough to pray the first prayer to be prayed in the Masjid which was the post-midday Zuhr prayer. The FAIF team, which had been instrumental in raising some of the funds for the Masjid were touched by the warm welcome they received from the residents. The Masjid was opened with a small program including a Qirat & Dua. Thereafter the team we were given a tour of the village which was nearing completion. The group was impressed by the facilities including the bathrooms, toilets, size of the containers, children's playground which all came together to create a safe and comfortable environment for the vulnerable communities. The team thereafter visited a number of other projects including the first containerised village established at Shammarin, schools, iHH feeding kitchens and a number of boreholes funded by the Al-Imdaad Foundation.