Gaza Water Filtration Plants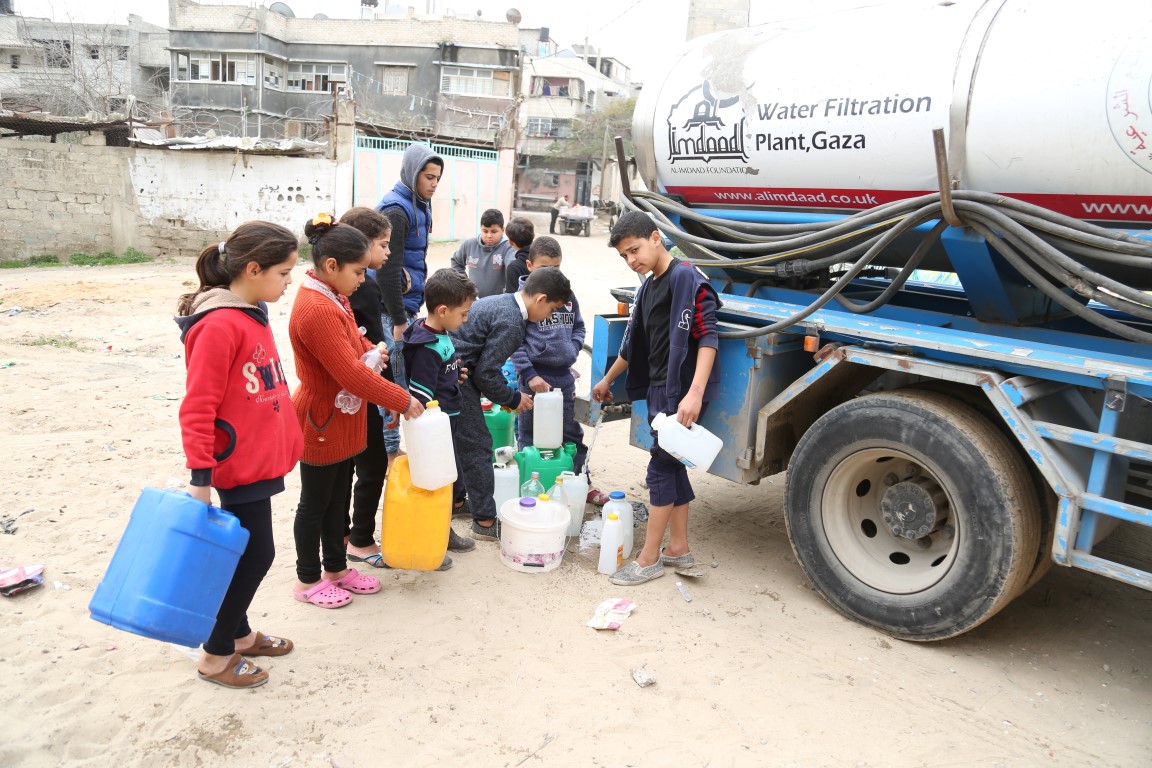 03 Sep 2020
Virtually all of Gaza's underground water is unfit for human consumption. DONATE NOW TO HELP US PROVIDE DESALINATED WATER AND SAVE LIVES.
Gaza Water Appeal
26 Apr 2020
In Gaza, unsafe water results in stunted growth, kidney disease and regular bouts of diarrhea that can lower average IQ due to nutritional deficiency. Gaza's only underground aquifer is no longer safe after years of over pumping and the entry of sea water and raw sewerage. This leaves over two million people without potable water. Two thirds of the population rely on tanker-delivered desalinated water, which is currently the only hope to avoid catastrophe. Humanitarian actors said Gaza would be uninhabitable by 2020. Despite this, the strip remains populated and the need for pure water remains. We can't save Gaza on our own, but we can make a difference. The Al-Imdaad Foundation's two generator-powered desalination plants have been providing water to communities in the Beit Lahia and Rafah areas since 2015. Storage tanks are also regularly provided to allow Gaza's residents to have available supplies. You can help sustain these activities. DONATE NOW AND HELP PROVIDE LIFE SAVING WATER TODAY
Gaza Water Desalination Plant and Tankers Appeal
08 Feb 2016
The Al-Imdaad Foundation's water desalination plants in the Gaza strip have been operational now for over a year providing essential water on a daily basis to marginalised communities in Beit Lahia and Rafah. In addition the Al-Imdaad Foundation sponsored two tankers in a fleet of water distribution tankers that service these areas. Due to the continued siege on the Gaza strip and the shortages of fuel, the running costs facing the plant and tankers has been escalating and the ability of our partners on the ground to sustain the operation is becoming stretched. The Al-Imdaad Foundation is therefore putting out an appeal for donations to sustain the operation of the plant and tankers. DONATE NOW AND HELP THE PEOPLE OF GAZA FIGHT WATER SCARCITY
Al-Imdaad Foundation establishes water filtration plants in the Beit Lahia and Rafah areas of Gaza
12 Oct 2014
Due to the extreme water shortages experienced in Gaza after the most recent Israeli offensive and the contamination of underground water with seawater and chemicals the Al-Imdaad Foundation established water filtration plants in the Beit Lahia and Rafah areas of Gaza. These plants consist of pumping and filtration machinery as well as a generator for power. The water will be distributed to surrounding areas via tanker to allow the local community enough pure water to sustain their daily needs.