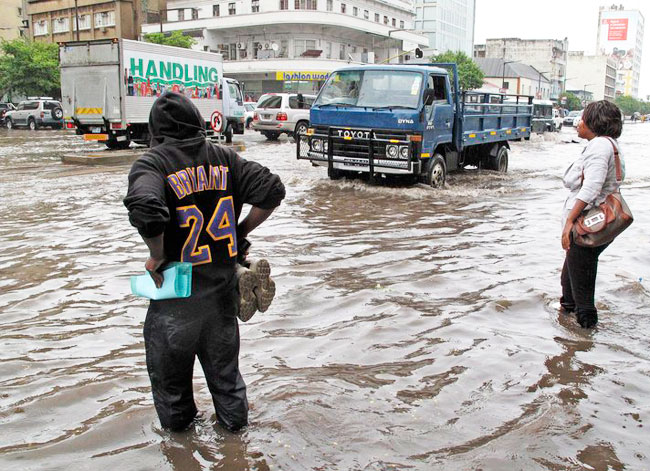 10 Jan 2015
Citizens walking on a flooded street in Maputo, Mozambique, 16 January 2015
Al-Imdaad teams distribute aid to communities still affected by the January 2015 flooding in Malawi
22 Feb 2015
The devastating floods which affected the Southern African region destroyed thousands of acres of plant crops and thus the livelihoods of whole communities. Almost a full month after the flooding many people were still struggling to get by having lost houses, belongings and crop land to the deluge. The Al-Imdaad Foundation thus distributed a second round of relief aid to the worst affected Southern regions of Phalombe, Nsanje and Chikwana. The distributions took place with the help of Al-Imdaad's partners on the ground, Mai Asha Trust and AMRA who organised volunteers to help the Al-Imdaad team. A central distribution point was set up in the different areas, and organised so that beneficiaries collected a bucket and utensils and thereafter received food packs consisting of staples and essentials, hygiene packs and a monetary hand out of 2000 Malawian Kwachas to help them replace some of their lost belongings. The distribution was mainly attended by women and children in the affected areas. It is hoped that this contribution will help the Malawian people achieve some degree of normality and stability in their lives.
Al-Imdaad distributes emergency relief packs to affected areas of Malawi
21 Jan 2015
Al-Imdaad relief teams have distributed essential food and non-food items to victims of the Malawi floods in some of the worst affected districts in the South of the country. The emergency aid packs aim to help the victims survive the difficulties that arise in the aftermath of the flood. Aid items include: • 40 metres black plastic sheeting • Plastic ware (7 plates, 7 big plates, 7 cups, plastic basin, bucket) • 50 sachets of Water Guard water purifier (makes 250 litres of drinkable water) • 10 kg's UFA • 1 blanket • 2 KG's Maize seeds • Mosquito net Al-Imdaad will continue to monitor the situation to determine the medium to long term needs of the affected communities.
Al-Imdaad teams have distributed aid packs in Zambezia province, Mozambique
21 Jan 2015
Al-Imdaad relief teams have distributed emergency aid packs in the worst affected regions in Zambezia province: Nicoadala, Namacurra and Mocuba Districts Aid packs include the following items to help the affected population survive the aftermath of the deadly floods: • Plastic bucket • Kitchen Utensils • Food items (sugar, macaroni, main meal, rice, sardines, salt) • Soap • Plates, cups, bowls and spoons • Water jugs Al-Imdaad will continue to monitor the situation to determine the medium to long term needs of the affected population.
Al-Imdaad Teams on the ground
19 Jan 2015
Al-Imdaad Foundation teams are currently on the ground in Mozambique conducting an assessment of the situation and distributing emergency relief aid to the victims. Updates to follow
Latest Malawi Flood Stats
17 Jan 2015
• An estimated 22 000 households (121 000 people) displaced • 638 000 people affected through damage to crops • More than 50 killed • Over 153 people missing in Nsanje province • State of Disaster has been declared in 15 of Malawi's 28 districts (Courtesy of reliefweb)
Latest Mozambique Flood Stats
17 Jan 2015
• More than 52 000 people affected • 24 deaths (unconfirmed) • 22,322 people in accommodation centres in Zambezia province • 4831 houses completely destroyed • 41 classrooms completely destroyed (Courtesy of Reliefweb)
Al-Imdaad Foundation Emergency Relief Teams Dispatched to affected Areas
16 Jan 2015
Due to the devastating impact of the floods, the Al-Imdaad Foundation emergency response team have been dispatched and are en route to the affected areas to provide emergency relief items. Updates to follow.