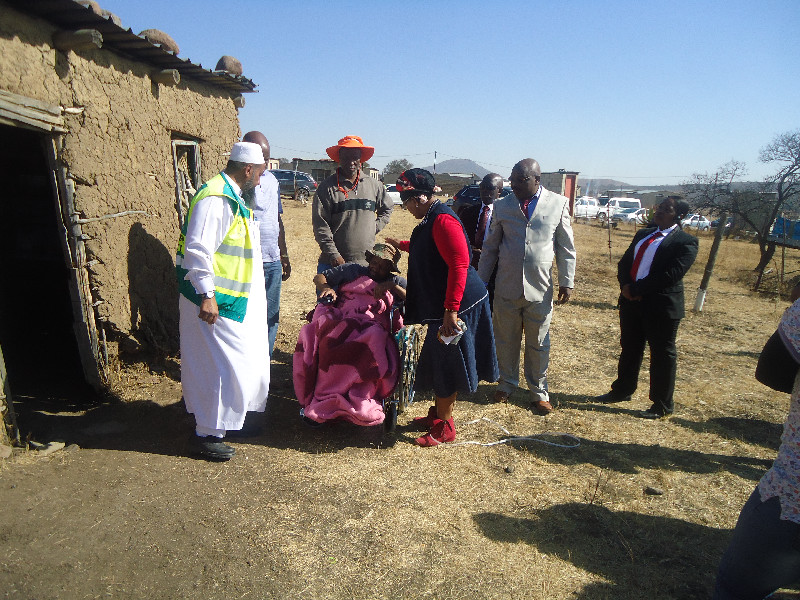 17 Jul 2014
An Al-Imdaad team member talks to Mr Mbongwa on the occasion of the laying of the foundation for his new home. In the background we see the old dilapidated mud house in which Mr Mbongwa has been living.
The Al-Imdaad Foundation and the Municipal Building Inspector supervise work on the house
18 Jan 2015
In January 2015 an Al-Imdaad Foundation representative in conjunction with a Ladysmith Municipality Building Inspector supervised work on the concrete foundation for Mr Mbongwa's house.
Bill of quantities for Mbongwa family home completed
05 Dec 2014
As of December 2014 the bill of quantities for the materials had been completed and construction was ready to begin.
Initiation of the Mbongwa family home project
17 Jul 2014
On the 18th of July as per agreement, Al-Imdaad, in partnership with Operation Sukuma Sakhe, the Local Municipality and the MEC for Arts and Culture officially opened the project for the Mbongwa family home and co-ordinated the digging of the foundation for the house. It was agreed that Al-Imdaad would supply building materials and furniture for the house and the Ladysmith municipality would supply builders, planning, electricity, grading, water and sanitation. The MEC for Art and Culture also indicated that they had been raising funds for furniture which would be jointly provided with Al-Imdaad.
Al-Imdaad and partners commit to building Mr Mbongwa a new home
02 Jul 2014
During the month of July 2014 an Al-Imdaad team alongside a visiting delegation from the Turkish NGO IHH conducted a distribution of gifts and blankets in the St Chads area near Ladysmith in partnership with Operation Sukuma Sakhe. During the distribution, they conducted an inspection of the living conditions of a disabled man called Mr Mbongwa who was living a difficult life in a dilapidated mud house. Because of this the Al-Imdaad team made a commitment to build him a new house, with the initial processes scheduled for Mandela day on the 18th of July. They were joined in this commitment by their Turkish partners, Operation Sukuma Sakhe and the Ladysmith Local Municipality.