Woodstock Informal Settlement Fire Incident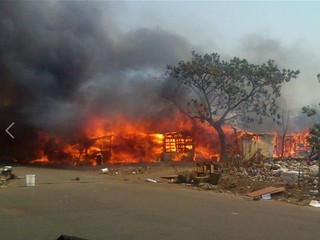 17 Sep 2014
Raging Blaze was believed to have been started as a veld fire
Al-Imdaad provides meals for the victims
20 Sep 2014
On the 19th of September the Al-Imdaad team distributed cooked food to victims of the fire for supper. Many of these victims who had already been living difficult lives in shack dwellings now found themselves in a position where they could not even cook a meal due to loss and damage of stoves, pots and food supplies in the fire. On the 21st of September 2014 Al-Imdaad provided breakfast, lunch and supper to the victims of the fire thus providing a small degree of comfort to those who had lost so much.
Al-Imdaad conducts and assessment and briefing with Municipality
17 Sep 2014
On the 18th of September 2014, the Al-Imdaad Foundation conducted an assessment of the damages at Woodstock Informal Settlement together with the ward Councillor, OSS Secretary, SANZAF and Ward Committee members. In consultation with the UMgungundlovu District Disaster it was agreed that the Al-Imdaad Foundation would be responsible for providing tents, mattresses and other essentials for the affected residents who were residing temporarily in a designated area. It was also agreed that the Al-Imdaad Foundation and SANZAF would be initiating feeding programs for the affected residents of Woodstock informal settlement.