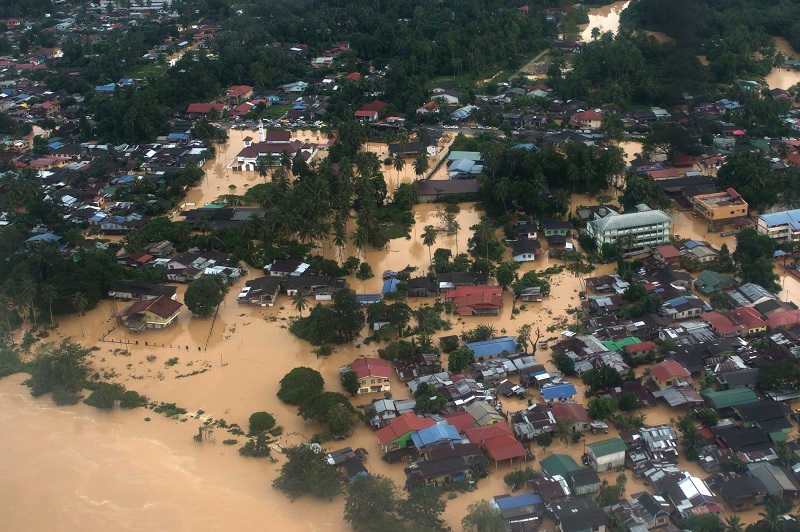 31 Dec 2014
Malaysia's Flood Crisis
Al-Imdaad continues to respond in the worst affected province
11 Jan 2015
Al-Imdaad has been responding through partners on the ground with cooked food in affected areas, essential non-food items (such as blankets, life jackets, diapers) and volunteers and staff to assist the victims. Al-Imdaad's response continues in the worst affected province of Kelantan with aims to reach families with an average of six members totalling to around 66, 070 individuals.
Flooding continues to cause hardship in areas of Malaysia
09 Jan 2015
On 9th January, rains continued in the provinces of Kelantan, Pahang, Perak and Terrengganu causing water levels to rise further beyond normal levels. The floods have been on going for two weeks now causing many difficulties in the daily lives of the affected people. The floods ruined all the things that are required for basic living, including homes, food items and clothes. Farms and crops have also been destroyed. Thousands of cattle have died. Crops ready for harvest were totally destroyed. Some villagers were washed away along with their land. The floods also wiped away the employment opportunities and educational set up in the state.
Latest Statistics
05 Jan 2015
Seven states in Malaysia have been battered by torrential rain since the middle of December, including Kelantan, Terengganu, Perak, Perlis, Johor, Selangor and Pahang. •To date, the states most severely affected are Terengganu with 24, 964 affected, Kelantan 158, 476 affected and Perak with 49, 369 •A total number of 240,591 people have been affected by the floods, with 21 fatalities •Rapid onset flash floods and landslides have destroyed houses, buildings, communications and transportation networks •A total of 503 evacuation centers have been opened, however many people are stuck in their communities, unable to reach the centers •Several areas are only accessible by helicopter, boat or heavy vehicles •Thousands of people have been living without electricity, proper sanitation, food and water (courtesy of Mercy Malaysia)
Aid response
02 Jan 2015
Al-Imdaad and partners have responded by providing hygiene kits, food aid, medical materials, blankets and mattresses. Mobile clinics are also in place to service the needs of the affected communities.
Latest Statistics
02 Jan 2015
Seven Malaysian states were battered by torrential rains during the floods including amongst others: Kelantan, Terengganu, Parak, Perlis and Parhang. Up to 240 000 people were affected by the floods and 503 Evacuation centres have been established accross the affected areas. Many of the areas were only accessible via helicopter making it difficult for aid to reach the affected communities.
Al-Imdaad conducts assessments with partners
31 Dec 2014
Al-Imdaad in partnership with IHH of Turkey and Mercy Malaysia are currently conducting an observation and assessment of the affected areas to determine how best to respond to the crisis. The teams are on the ground and updates will follow.
Background
31 Dec 2014
As of December 31, over 21 people have been killed and more than 200 thousand displaced in areas of north-eastern Malaysia in what has been described as the worst flooding in decades. Although the floodwaters are now subsiding, there are fears that there may be further downpours later in the week and authorities are bracing themselves for the potential outbreak of flood related diseases. The extent of the flooding has meant that even district agencies and staff were victims themselves, causing a delay in relief efforts in the flooded areas.