Al-Imdaad Foundation responds to South Asia Floods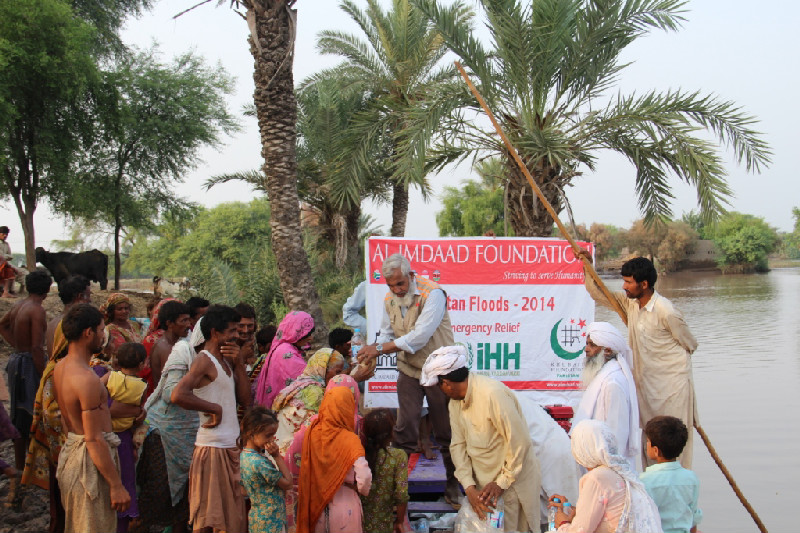 02 Sep 2014
Emergency Relief For victims of the Floods in Kashmir, Pakistan, Bangladesh, India & Nepal.
Help the Al-Imdaad Foundation reconstruct Kashmir.
06 Nov 2014
Days of incessant rain in the South Asian Region has killed hundreds of people in what is described as the region's worst flooding in more than five decades. Submerging hundreds of villages and triggering landslides, these floods have left thousands homeless. In many areas of Srinagar water levels were about 12 feet deep, forcing stranded residents to leave their homes and move in with friends or relatives in safer areas. The Al-Imdaad Foundation's relief teams provided emergency aid to the victims of the floods and have recently revisited the areas affected by the floods in Kashmir. Even though a substantial amount of time has passed since the flooding occurred, the team reported that lots of devastation is still visible and the cleaning up process promises to be long and painful. The IDP's (Internally Displaced Persons) are still living in make shift camps after losing their homes and are left with little or no belongings .With no income and no place to stay the IDP's are struggling to bring normalcy into their lives and are left languishing in these makeshift camps. As the winter months approach, the people of Kashmir now have the added worry of facing the extreme cold in a region that is notorious for its harsh weather conditions. With a view on assisting these destitute people in the longer term, the Al-Imdaad Foundation has initiated a reconstruction and development project where for just US$ 3000.00, you can provide a family with shelter that will protect them from the harsh weather conditions and provide them with a place they can call home.
FLOOD EMERGENCY RELIEF, KASHMIR, PAKISTAN, INDIA, NEPAL & BANGLADESH - 2014
17 Sep 2014
PROJECT BACKGROUND The flash floods, that began on September 3, have put more than half a million people in peril and rendered thousands homeless in the countries of South Asia; Pakistan, India, Nepal, Bangladesh and Jammu Kashmir Pakistan The government's National Disaster Management Authority (NDMA) says 312 people have died, with 2,275,000 affected and nearly 1.7 million acres (687,965 hectares) of crops lost. Punjab Province declared a state of emergency as the flood spread through central areas, with Jhang District hit hardest. 5,100 cattle perished, 31,770 people evacuated, 301 relief camps established and 2,237persons provided temporary shelters in camps across Pakistan and Azad Kashmir during the first week of September after heavy rains and floods. The four eastern overflowed rivers Chenab, Ravi, Sutlej, and Jhelum brought flash floods and caused homes to collapse in the Punjab, Gilgit Baltistan (GB) and Azad Jammu & Kashmir (AJK) regions. The worst affected districts are: Punjab – Sialkot, Narowal, Lahore, Gujranwala, Mandi Bahauddin, Gujrat, Hafizabad, Jhelum, Chiniot, Sargodha and Okara AJK - Hattian Bala, Haveli and Sudhnoti GB - Diamir, India. Over the last two days, heavy rain in Jammu and Kashmir caused heavy flooding, the state's worst in 50 years. Ten districts have heavily been affected, almost 150 people reported dead. Moreover, number of districts are not reachable yet. In the region of Jammu, landslides triggered by heavy rainfall have caused serious damages to infrastructure and agricultural land. The city of Srinagar is badly affected as river Jhelum has breached embankments in several parts of the city. 15,000 people evacuated to safety. Bangladesh A combination of heavy monsoon rainfall in the country's main river basins and the arrival of meltwater from the Himalayas has triggered severe flooding in Bangladesh's Lalmonirat, Kurigram, Nilphhamari, Rangpur, Gainbanda, Bogra, Sirajgani, Jamalpur, and Sherpur districts. Most of the major rivers swelled inundating fresh areas across the country. According to government reports around 3 million people are currently affected by the flooding and out of them more than 325,000 (68,000 families) are displaced. Almost 34,000 homes have been destroyed and around 200,000 damaged. A total of 56 people are reported to have drowned with more than 100 people injured. Nepal The monsoon season has been severe compared to previous years in Nepal. After an initial normal start to the season, early August massive landslides due to heavy rains killed 106 people with 155 people still missing and declared dead by the government of Nepal. Overall 21 districts throughout the country has been affected and the vast majority of those affected are in six districts in the mid-west. Approximately 225,000 people were affected, however, as the waters receded, the number decreased to around 125,000 people, the majority of them with their houses destroyed (8,000) or damaged (approx. 20,000).
AL-Imdaad Foundation's response to the South Asia Floods.
04 Sep 2014
Through its local partner organizations in each country along with Rapid Response Al-Imdaad have started relief activities in flood hit areas providing mainly cooked food, plastic sheets and blankets. DETAIL OF THE PROJECT Project Name: Flood Emergency Relief Project Project Location: Azad Kashmir, Pakistan, India, Bangladesh, Nepal and Jammu Kashmir. Project Rationale: Due to the latest torrential rains in Azad Kashmir, Pakistan, India, Bangladesh and Nepal, many villages have been affected with a great number of affected people. Due to the nature of the situation, immediate response is required for the affected people in the region. A large number of villages have been cut off from the outside world and hundreds of people marooned. Adjoining areas have received the heaviest rainfall in the main cities; however, some districts are still in dire need of humanitarian assistance. Strategic Objective: The overall objective is to deliver emergency aid including food, non-food and shelter items to the calamity-affected people in Azad Kashmir, Pakistan, India, Bangladesh and Nepal. Project Beneficiaries: Direct beneficiaries are the flood affected people. Project Description In the scope of this project, following items will be distributed to the disaster-affected people in the mentioned countries/territories: 1. FOOD • Cooked food • Food packet with basic food items 2. SHELTER • Plastic sheet • Blanket 3. NON FOOD ITEMS • Tent Detail of Items AZAD KASHMIR & PAKISTAN: FOOD: Details of the food packet are as following: COST OF THE PROJECT AZAD KASHMIR & PAKISTAN 1. Food packet €22.85 - R325.00 2. Cooked food €1.422 - R205.00 3. Tent € 256.50 - R3640.00 4. Plastic Sheet € 9.00 - R130.00 5. Blankets €13.50 -R 195.00 INDIA 1. Food packet €18.87 - R270.00 JAMMU & KASHMIR (INDIAN CONTROLED) 1. Food packet €16.31 - R235.00 BANGLADESH 1. Food packet €14.55 - R210.00 2. C.I. sheet €75.00 - R1065.00 NEPAL 1. Rice €0.45 - R6.38 2. Pulses / Daal €1.08 - R15.52 3. Cooking Oil €1.24 - R17.59 4. Beaten Rice €0.54 - R10.66 5. Blankets 2pieces per family €18.00 - R256.00 6. Mosquito net 3pieces per family €4.50 - R63.85 TOTAL €25.81 - R370.00 PAKISTAN Food Packet: 1. Sugar -5.0 € 2.64 – R37.45 2. Rice -5.0kg € 5.18 – R74.00 3. Pulses / Daal € 2.09 – R29.65 4. Tea € 3.47 – R49.39 5. Flour / Atta € 4.28 – R60.73 6. Cooking Oil € 5.20 – R73.78 TOTAL €22.86- R325.00 Cooked Food; 1. Rice 1kg €10.35 – R146.78 2. Oil 5kg €8.66 – R122.81 FRESH VEGETABLES 3. Onions 5kg €4.37 – R61.97 4. Tomato 5kg €4.25 – R60.27 5. Fresh Chili, Garlic,spices & other items 3 kg €4.89 - R69.35 6. Beef 5kg €19.58 – R277.68 7. Garam Masalah 1kg €4.25 - R60.30 8. Wood 80 kg € 20.25 – R287.18 9. Cooking Charges € 8.72 - R123.6 This amount is for 60 persons. The price of cooked food per person is 1.422 EUR. R21.00 INDIA Food Packet; 1. Rice 20kg €8.10 – R114.93 2. Pulses 2lt €2.32 – R32.91 3. Cooking oil 2lt €2.99 – R42.56 4. Sugar 1kg €0.63 – R10.93 5. Water 5lt €2.81 – R39.87 6. Tea 0.5kg €2.03 – R28.80 TOTAL €18.87 – R 270.00 JAMMU & KASHMIR (INDIAN CONTROLED) Food Packet: 1. Rice 5kg €5.63 – R79.76 2. Pulses 1kg €2.53 – R35.93 3. Sugar 1kg €1.69 – R27.65 4. Water 5lt €2.81 – R39.81 5. Flour 5kg €3.66 – R51.85 TOTAL €16.32 – R235.00 Help the Al-Imdaad Foundation assist the flood victims in South Asia by supporting any of our project above. Zakaat funds are accepted for this project.