Al-Imdaad Foundation powers up GAZA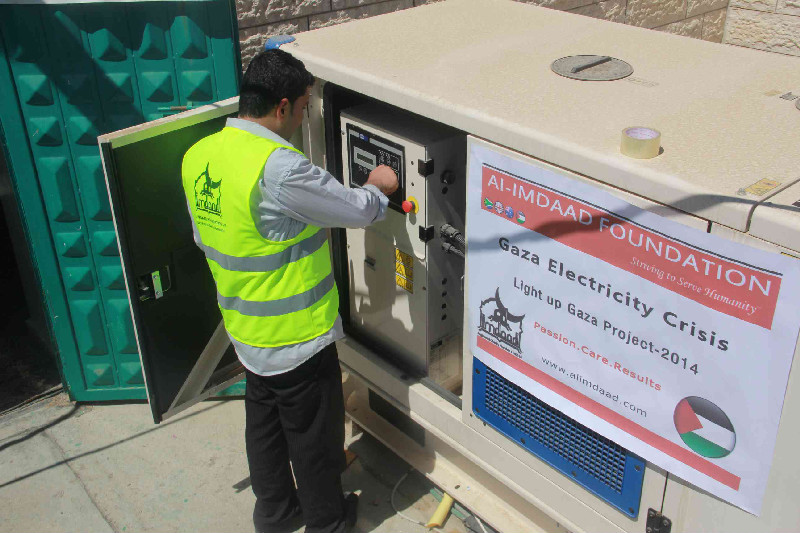 20 Jun 2014
The Al-Imdaad Foundation powers up GAZA with Induatrial generators.
The Al-Imdaad Foundation donates Industrial generators to GAZA
20 Jun 2014
GAZA GENERATOR Imagine having to spend your nights in absolute darkness. Imagine having to arrange your plan for each day according to a power-cut plan, or to force yourself into bed as there is nothing you can do other than to sit in the dark. Picture yourself studying for your exams using a candle, or spending all day long waiting for the electricity to come back, or walking in streets at night that are only lit by cars' headlights. If you find it hard to imagine all of these things combined, just seek the help of a Palestinian from Gaza. The people of Gaza have been suffering from power shortages since the bombing of the power station in the Gaza strip in June 2006. Since then, the electricity crisis has gradually become worse. "Previously we had electricity 16 hours a day. Now we only get to enjoy 6 hours of electricity a day" said a resident of Gaza. The electricity crisis has a grave impact on all sectors of the lives on the residents of Gaza strip. Health and humanitarian conditions in Gaza are at risk due to electricity outage across the Gaza Strip. Responding to the plea of the people of Gaza, the Al-Imdaad Foundation provided industrial generators to light up, Masajid, homes and clinics in Gaza, making an immeasurable difference to the people of Gaza, especially in the health sector.