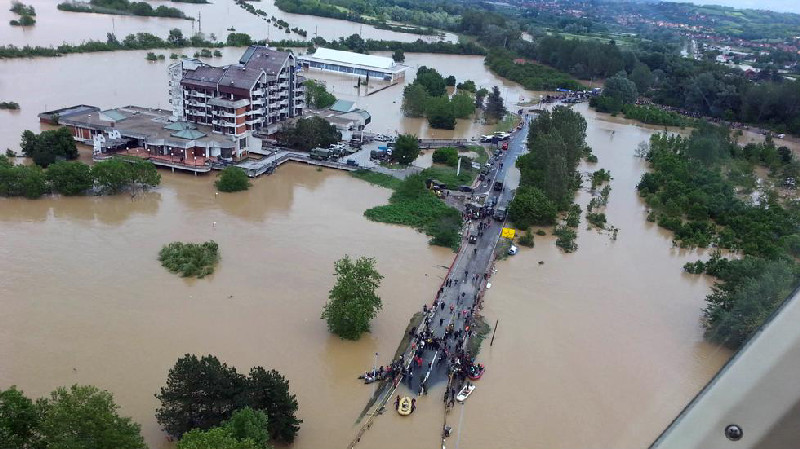 26 May 2014
The recent floods that have ravaged Bosnia and surrounding areas has been described as the worst in living memory.
Al-Imdaad Foundation response to the Bosnian floods
19 Jun 2014
The Al-Imdaad Foundation's relief teams headed by Abdul-Ahad Mia, trustee of Foundation's UK office, responded to the recent floods in Baltic region. Based in Bosnia, the teams assisted in the cleaning up process and also provided emergency aid and cleaning equipment to the victims of the flood. The teams conducted a door to door assessment and thereafter delivered aid to the homes of needy recipients. Large scale destruction was witnessed showing the magnitude of the floods that left debris strewn all over and destroyed homes, offices and schools. The floods have also washed up old landmines adding to the security risk for victims and aid workers. With the clean up process promising to be long, millions are still in desperate need of food and basic necessities. As Ramadaan approaches, this has been flagged as a cause for concern. Help the Al-Imdaad Foundation spread the blessings of the holy month by supporting our Ramadaan food hamper and iftar program and other rehabilitation projects for the people of Bosnia.
Al-Imdaad responds to the Bonia floods
27 May 2014
The recent floods that have ravaged Bosnia and surrounding areas has been described as the worst in living memory. Triggering landslides, these floods have left a trail of destruction with homes being toppled, buildings submerged in mud, trees uprooted and villages left strewn with the rotting corpses of livestock. Further fears of causalities and destruction are threatening the already battered Bosnian population as the river Sava swells and mines from the early 90's war have been washed out. While those that are fortunate enough to have been rescued are crammed into small boats and army trucks clutching onto whatever little they could salvage, millions are still trapped in cities and towns that are completely cut off without any food, clean water and electricity. It has since been estimated that a quarter of the Bosnian population is in dire need of emergency live saving assistance. In the northern part of Bosnia-Herzegovina, where floods have exceeded emergency levels, the Al-Imdaad Foundation has identified thousands of the most vulnerable flood affected victims and intends to respond by providing these masses with essential emergency relief items. Al-Imdaad teams will be providing those affected with a relief hamper containing: blankets, footwear, drinking water and basic food items. A detailed list of items that will be provided can be found in the list below: Al-Imdaad will be responding in the following areas of Bosnia: DISTRIBUTION AREAS 1. Maglaj, Bosnia 2. Doboj, Bosnia 3. Brčko, Bosnia 4. Gračanica, Bosnia FOOD ITEMS Rice 2kg White beans 2kg Macaroni 2packets Cooking oil llt Sugar 2kg Flour 2kg Canned peas 2tins Canned tuna fish 2tins Canned meat 2tins Instant soup 3packets Milk-pack of 1 lt. 1packet HYGIENE AND CLEANING ITEMS KITS Disinfection liquid 1Liter Cleaning powder 1kg Washing powder 3kg Wiper 1piece Tooth brush 5 pieces Tooth paste 1tube Shampoo 1bottle Liquid soap 1bottle NON FOOD ITEMS Boot 1pair Shovel 1piece Brush 1piece Blankets 1piece Donate now and Help us help the people of Bosnia.