Central African Republic humanitarian crisis 2014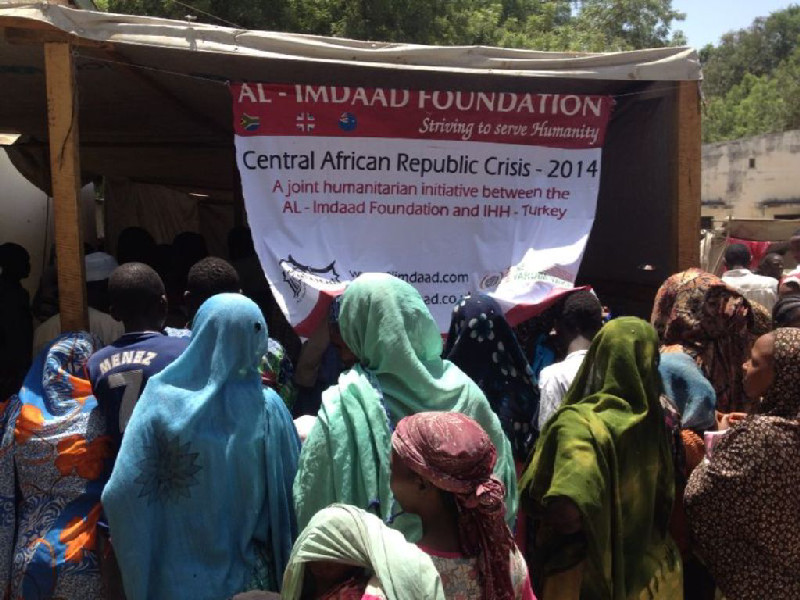 04 Feb 2014
The Al-Imdaad Foundation is responding to the humanitarian crisis in the CAR by providing Food & Hygiene packages to the refugees in Chad & Cameroon.
Al-Imdaad Foundation's relief teams deliver much needed relief aid to CAR refugees in Chad.
20 Mar 2014
Since December 2012, the CAR has been experiencing political and social instability as well as insecurity, which has exacerbated the already precarious humanitarian situation in the country. Following the seizure of power by force in March 2013, the country has seen the disruption of normal life, human rights violations, and the massive displacement of populations. Recent events have seen the country ravaged by what some human rights groups are calling ethnic cleansing. Mainly Muslim opposition seized power last year but after their leader was forced to stand down in January, Christian militias have been targeting Muslim civilians throughout the country forcing them to flee the country in order to save their lives. This unprecedented killing of our Muslim brothers and sisters has led to an increase in IDP's and refugees alike. Over 400,000 people are estimated to be internally displaced, compared to some 94,000 in early 2012. Some 65,000 individuals have fled to the Democratic Republic of Congo (DRC), the Republic of the Congo, Chad and Cameroon, bringing the global number of Central African refugees close to 220,000. Many of these refugees received aid from their local host countries for a month but that has now ceased leaving them completely helpless and totally dependent on foreign aid. Responding to this need, the Al-Imdaad Foundation recently dispatched a team led by Ml Muhammad Saloojee and Ml Mohamed Yusuf Chodree to assist CAR refugees that have sought shelter and protection in neighboring Chad. Two distributions were conducted in Doba and Gore, two areas close to the border, and benefitted thousands of refugees. Being deprived of even the most basic needs ,the Al-Imdaad Foundation provided these needy refugees with food hampers consisting of the following items: 1 Rice - sack of 50 kg 2 Wheat flour - sack of 50 kg 3 Cooking oil - box of 12 lt 4 Spaghetti - box of 12 lt 5 Tomato paste
Central African Republic - Humanitarian Crisis response.
21 Feb 2014
EMERGENCY RELIEF PROJECT FOR THE AFFECTED PEOPLE OF CAR - FEBRUARY 2014 DETAIL OF THE PROJECT: Project Name: Emergency Relief Project for the Affected by the Ongoing Crisis of Central African Republic Project Location: Cameroon and Chad Project Rationale: Due to the violence in the Central African Republic (CAR), thousands of people are estimated to have been killed, nearly half a million children are among the almost 1 million driven from their homes and 2.2 million, about half the population, need humanitarian aid. Throughout January 2014 and the first week of February, thousands of Muslim families from towns with sizable Muslim populations – Bossangoa, Bozoum, Bouca, Yaloké, Mbaiki, Bossembélé, and others in the northwest and southwest – fled to the neighbouring countries; Chad, Cameroon, and the Democratic Republic of Congo. Detail of Planned Distributions: As the people are leaving their homes due to the ongoing crisis, they are deprived of even basic needs. The Al-Imdaad Foundation aiming to provide basic food items and hygiene packs in N'djamena in Chad and Yamba and Garoua Boulay in Cameroon. > Relief Items to be distributed in Chad & Cameroon consist of the following: FOOD PACKS : 1 Bulgur 2 Rice 3 Green Lentils 4 Red Lentils 5 Macaroni 6 Tomato Paste 7 Chickpea 8 Sugar 9 Cooking Oil 10 Sweet 11 Jam 12 Zahter 13 Olive 14 Olive Oil Hygiene Pack: 1 Wet towels 2 Shampoo 3 Hand soap 4 Bath soap 5 Tooth paste 6 Tooth brush 7 Sanitary pad 8 Toilet papers 9 Baby diapers 10 Razor 11 Nail cutter 12 Comb 13 Hand towel 14 Bath towel HELP US HELP THESE DESTITUTE MUSLIMS WHO HAVE ESCAPED WITH VERY LITTLE AND ARE IN DESPERATE NEED OF LIFE SAVING EMERGENCY RELIEF AID.