Al-Imdaad in partnership hands over homes in Kwaggafontein.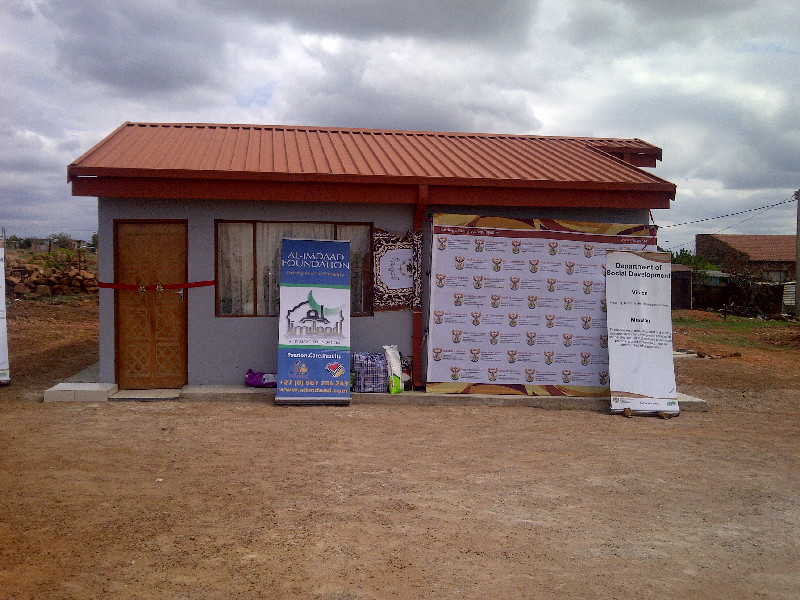 27 Oct 2013
Deputy Minister of DSD, Minister Bongi Maria Ntuli and Al-Imdaad President Hz Moulana Shabier Saloojee, handed over two homes to impoverished members of the Kwaggafontein community.
Al-Imdaad in partnership with DSD hands over houses in Kwaggafontein, Mpumalanga.
15 Nov 2013
The Al-Imdaad Foundation together with the Department of Social Development handed over 2 houses to needy recipients in Kwaggafontein and Moloto in the Mpumalanga Province on the 28/10/13. The families, who were identified by Deputy Minister Ntuli, harbor no employed family members and were living in shacks with no source of income apart from social grants. Both of these families are headed by elderly women who have four and five dependants respectively. The houses were built by the Al-Imdaad Foundation in association with the South African Social Security Agency (SASSA). The handover was attended by the Deputy Minister of Social Development, Minister Maria Ntuli, President of the Al-Imdaad Foundation Moulana Sabeer Salooje, Executive Mayor, MMC's of Mpumalanga Legislature, Provincial Executives of SASSA & Human Settlements, CEO of NDA and local councilors. The Deputy Minister thanked Al-imdaad for its continuous support and efforts and also presented Al-Imdaad with a certificate of appreciation.