Global Water Well and Borehole Projects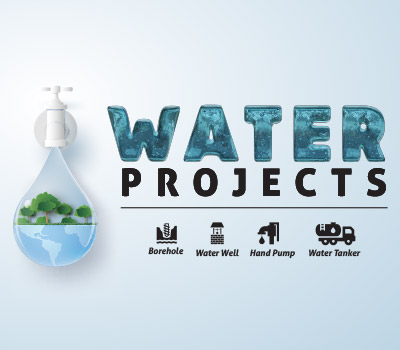 17 Sep 2020
Al-Imdaad Foundation provides "The Gift of Life" to thousands of thirsty people across the globe.
CURRENT WATER PROJECTS
16 Sep 2020
Across the world, water scarcity is a leading cause of death, disease, and ill health. Climatic changes, frequent droughts and flooding affect delicate water sources in the world's more water scarce countries. Globally 785 million people lack access to safe water, and by 2025, two-thirds of the world's population may face water shortages.
In the face of this crisis, Al-Imdaad Foundation's borehole and well project is helping needy communities to access subterranean supplies which are still available and are safe for consumption.
Currently the following water projects are operational:
Kenya Boreholes @ R26,000.00 including a hand pump or electrical pump depending on location
Albania Boreholes @ R26,000.00 including street side taps for public consumption
Malawi Boreholes @ R20,000.00 including a hand pump mechanism.
South African Boreholes @ Approx. R150,000.00 depending on depth. Includes storage tanks, pumps, water filtration, plumbing etc. Part contributions accepted.
Bangladesh tube well @ R5,000.00 including hand pump mechanism
India tube wells @ R4,000.00 including hand pump mechanism
Gaza Water tankers – Any amount can be contributed to the operating costs of the desalination plants and water delivery
LET'S DO ALL WE CAN TO ADDRESS WATER SCARCITY. DONATE NOW TO SPONSOR A WELL OR BOREHOLE.
NB. Part contributions are also acceptable
Sponsor a well and save lives
14 Apr 2020
Some 785 million people across the world lack access to adequate safe water. In times of pandemic, these people face added risk. Let's invest in improving their water access, hygiene and sanitation and help save lives in the process. SPONSOR A WATER WELL OR BOREHOLE TODAY
LATEST WATER PROJECTS
11 Apr 2019
In today's world, 785 million people lack access to safe water. Without this water, there is no escape from poverty. Children contract disease, women and young girls collectively lose millions of hours fetching water, crops die, and breadwinners struggle to earn a living. Whether for communities facing drought in Kenya, in water scarce areas of South Africa or rural areas of Malawi and Albania, our boreholes are installed to make a difference. We have dug tube wells for families in India and Sri Lanka, and in Pakistan our water projects are part of sustainable livelihood systems. In the Gaza strip, where 97% of water is unsafe, our desalination plants and water tankers are helping to provide a safe, reliable alternative, for hundreds, daily. Tens of thousands benefit from our water programmes each year, but in the face of climatic changes, the need is ever greater and requires your continued support. Let's work together to empower communities with what the Holy Prophet (PBUH) called 'the greatest charity of all'. CURRENT WATER PROJECTS South African borehole with electric pump, Jojo tank and accessories- from R120000 (depending on depth) Albania borehole with tap facility for public use @ R26 000 Kenya borehole with hand pump/electric pump (depending on location) @ R26 000 Malawi borehole with handpump @ R20 000 Pakistan tube well with hand pump and sustainable grey water collection @ R4000 India tube well with hand pump @ R3500 Sri Lanka tube well with hand pump @ R3000 Gaza water tankers fuel costs – Any contributions appreciated DONATE NOW, AND HELP CHANGE LIVES, ONE WELL AT A TIME
Our Current Water Projects
27 Oct 2017
• South Africa (Lillah, Sadaqah): +- R 120,000.00. The Al-Imdaad Foundation has been drilling boreholes in areas across the county that have been badly affected by the drought. • Malawi Borehole (Lillah, Sadaqah): R 20,000.00. The Al-Imdaad Foundation has been implementing water projects in Malawi since 2005, and in this time have implemented hundreds of water projects that service the needs of rural communities. Our boreholes are all fitted with hand pumps and are located in central areas of rural villages near schools or masjids to maximise access for the surrounding communities. • Gaza Water (Lillah, Sadaqah): The Al-Imdaad Foundation established water filtration plants in the Beit Lahia and Rafah areas of Gaza. These plants consist of pumping and filtration machinery as well as a generator for power. The water is distributed to surrounding areas via two of our tankers to allow the local community enough pure water to sustain their daily needs. Help us sustain this project and continue to provide the people of Gaza with fresh potable water. • Kenya Borehole (Lillah, Sadaqah): Sponsor a borehole in Kenya today for just R26,000.00 and be a source of much needed comfort for struggling families in dry and arid areas. Please also note: • The borehole will be established with a plaque indicating the donor's name. If you would prefer your donation to remain anonymous please communicate this to us. • Essale Sawab details (names of deceased etc) must be emailed or faxed through in addition to the deposit slip to finance@alimdaad.com/0363524114
Suspension of tube well project in Sri Lanka
17 Jan 2017
Unfortunately due to a request from our ground partners in Sri Lanka we will not be accepting any new donations for our Sri Lanka tube well project. All outstanding tube wells will be completed however as of January 22nd 2017 we will no longer accept donations for Sri Lankan tube wells. We are looking at other possibilities for boreholes and open wells in the future in Sri Lanka. We encourage all donors looking to support water projects to consider one of our other water projects including boreholes in Kenya for R26 000, boreholes in Malawi for R20 000 and boreholes in South Africa at approximately R120 000 including pumps, water storage tanks etc. Part contributions to water projects are also accepted. Please also consider supporting the operational costs of our water tankers operating in the Gaza Strip.
Water Well project in Malawi now closed
21 Nov 2016
Please note that our water well project in Malawi is now closed. We will however still be implementing our boreholes in Malawi which can be sponsored at the cost of R20 000. All previously sponsored water wells have been completed but due to feasibility considerations we have decided that no further water wells in Malawi will be established.
New Water project in Kenya
10 Oct 2016
For a long time, water scarcity has been a major issue in Kenya with up to 43% of the Kenyan population having no access to clean water. This situation is caused by many factors including the country's long and persistent droughts, poor management of the water supply, contamination of available water and a sharp increase in water demand resulting from high levels of population growth. To try and help address the water scarcity situation, the Al-Imdaad Foundation's office in Kenya is initiating a borehole programme that will target especially vulnerable rural areas where people must walk for miles to obtain water. Almost two thirds of Kenya is arid or semi-arid but large scale aquifers are present below the ground that can be accessed with boreholes to provide a reliable water source for hundreds of families. SPONSOR A BOREHOLE IN KENYA TODAY FOR JUST R26 000 AND BE A SOURCE OF MUCH NEEDED COMFORT FOR STRUGGLING FAMILIES IN DRY AND ARID AREAS. Each borehole will be installed with a storage tank and a submersible pump or hand pump. In some areas it is necessary to install a hand pump due to a lack of electricity while in other areas a submersible pump can be connected electrically. When this is the case, an agreement is made with members of the community or the owner of the plot on how the monthly electrical bills will be covered. The average depth of the boreholes is between 20-30m as the water table is quite high in most areas.
Suspension of Waterwell Projects in Bangladesh
21 Oct 2015
It is with great disappointment that we would like to inform our donors that our water well program in Bangladesh has been suspended. This is due to the extensive backlogs and the continuing political instability which has limited the ability of our teams to access remote areas. All outstanding water well projects will be completed inshallah but no further wells will be planned in the country. WE APOLOGISE FOR THIS SET BACK AND HOPE TO SEE BETTER CONDITIONS IN THE FUTURE
New Water Well Project in Sri-Lanka
20 Oct 2015
Although access to water in Sri Lanka is documented to be as high as 84 per cent this figure masks considerable disparities and a need for focussed solutions in certain geographic locations that have been overlooked or underserved such as remote rural areas, and pockets in the north and the east of the country. Although policies are in place to promote access and quality, enforcement requires strengthening and any support from the global NGO community is appreciated. The spread of water-borne diseases and long-term exposure to contamination is an increasing concern in Sri Lanka with reports that some areas where up to 40 per cent of households contribute through to heavy water pollution and water borne diseases through unhygienic practices in open water sources. In addition, disasters such as floods and droughts have increased sharply since 2010 as the increasing impact of climate change is felt, placing more of a burden on water sources in the country. Out of the millions affected by natural disasters since 2005 in Sri Lanka, the majority was affected between 2011 and 2013. Flooding in December 2012 alone contributed to the contamination of more than 20,000 wells. Bearing all of this in mind, the Al-Imdaad Foundation has embarked on a new project to establish tube wells with hand pumps to help service the needs of underserviced locations in Sri Lanka. The Project will be the latest addition to our ongoing global water projects which we have run in Malawi, Sri Lanka, South Africa, Somalia and Assam India.
Assam Water Wells - PROJECT CLOSED
04 Dec 2014
India's northern state of Assam is famous for its tea plantations which produce some of the best tea in the world. But this state also includes dry arid regions which in 2014 saw the least rains in living memory. Later on in 2014, however Assam was struck by a terrible monsoon flood that affected more than a million people. These extremes in weather wreak havoc on the water supply in the area. In arid areas many people face immense difficulties in obtaining enough safe drinking water as many do not have a regular supply. Women usually travel very long distances on a daily basis to obtain water for their families. During flooding existing groundwater sources are often submerged forcing the communities to make use of above water sources that are exposed to bacteria. This lack of adequate pure water can lead to an increase in water-borne diseases like diarrhea, cholera and Typhoid. The Al-Imdaad Foundation therefore embarked on a project aiming to provide safe drinking water for various household uses through the sinking of tube wells and water wells in vulnerable areas of Assam state. The availability of safe drinking water will help prevent various water-borne diseases and protect the people of Assam from suffering and difficulty. Water is a daily necessity for both consumption and sanitation purposes and an inadequate supply of fresh water results in a life of sickness, and extreme difficulty. The Al-Imdaad Foundation with generous support of its donors will continue its efforts to provide clean water wherever it is needed for the benefit of the local populations.
Malawi Water Wells
19 Jul 2014
Although the government claims that access to water in Malawi is as high as 85%, in reality the number of people with reliable access to water is much lower. This is because of the frequent breakdown of water pumps that often remain unattended to for long periods of time. It is estimated that up to one in three community water-points are inactive at any given time and when this happens communities are forced to return to unsafe water sources placing them at risk of water related diseases. In the areas surrounding Blantyre, Malawi's second largest city, only 38% of people have water meeting government standards and in up to 25% of Malawian schools there is no protected water supply for the use of the children. Poor hygiene, lack of adequate sanitation and low quantity and quality of drinking water all contribute to Malawi's poor health indicators and cause diseases like diarrhoea which contributes to approximately 3500 deaths per year in the country. The Al-Imdaad Foundation has thus embarked on a program of borehole and well establishment in Malawi with the aim of increasing access to safe water for the population and thereby limiting water related illnesses and fatalities. We have been operating for a number of years now establishing wells and boreholes in vulnerable regions of the country. Extremes in weather make Malawi's already problematic water situation even more difficult for the local population either through contamination of water sources during floods or their drying up during drought. Thus deeper boreholes and wells need to be established that tap into reliable underground aquifers. The Al-Imdaad Foundation has thus organised for individual donors to sponsor wells and boreholes in affected regions allowing the population to have a safe source of water to meet their daily needs.