Al-Imdaad Container Village Inside Syria - 2013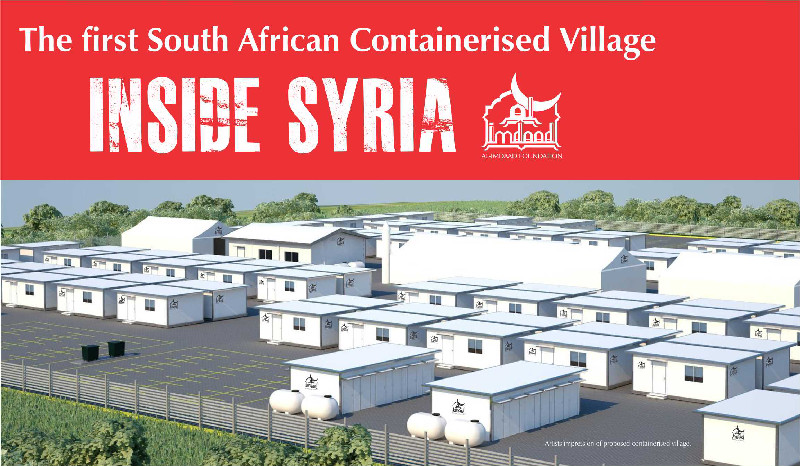 05 Jul 2013
Help us build the first South African Containerised Village inside Syria
DETAIL OF PROJECT:
05 Jul 2013
DETAIL OF PROJECT: As the Syrian people have been leaving their own home due to the ongoing crisis and seeking a secure place, many people have been gathering in the nearby villages from the Syria-Turkey border. The most affected ones are orphans and their mothers. This project will provide not only shelter to them but also, all of life's necessities and services and will include the following: Plan of the center: Bird's eye view of the center: 1. ACCOMMODATION: */ Container rooms: 100 container rooms of 15 m² each width 2,500 mm / Length 6,000 mm / Height 2,500 mm will be installed. The technical specification of container is attached herewith as ANNEX I. */ Mattresses: 500 mattresses of 190 X 90 X 14cm, with an average of 5 members in each container, will be provided. */ Blankets: 500 blankets of 160 x 220cm - 2,200 gr., with an average of 5 members in each container, will be provided. */ Pillows: 500 pillows, with an average of 5 members in each container, will be provided. */ Mat / Rug: a mat / rug will be provided to suffuse the floor of each container. */ Trash bin: A plastic trash bin be provided to each container for domestic cleanliness. */ Water thermos: A water thermos with the capacity of 12 liter be provided. */ Table fan: A metal table fan with 40 W power be provided to each container to get it cool during heavy summer temperature. 2. FOOD: */ Container for kitchen: 70 m² Container with width of 7,000 mm, length of 10,000 mm and height of 3000 mm, be installed to be used a kitchen that will daily serve cooked food to orphans, their mothers and needy families. */ Container for kitchen storage: The same size of a container be erected to be used to store food other items of kitchen. */ Kitchen utensils to each family; as cooked food will be provided to families at the center, a set of kitchen utensils will be provided to each family comprising of 6 dinner plates, 6 bowls, 6 water glasses, 6 tea glasses, 1 jug, 6 table spoons, 6 table forks, 6 tea spoons, a tray, a table cloth and portable food container-to carry food from kitchen to containers. 3.WASHROOM & TOILET */ Container toilet: 4 containers of 21 square meter with 7 toilets and 7 basins each; 2 containers for females and 2 for males are to be installed. */ Container Bathroom: 4 containers of 21 square meter with 7 shower cabins and 7 basins each; 2 containers for females and 2 for males are to be installed. */ Water tank: 20 plastic water tanks with the capacity of 2 tons each to be installed for bathrooms, toilets, kitchen and for drinking water. */ Waste container: 20 waste containers will be placed in different location in the planned village. 4. EDUCATION: */ Containers for school: 2 containers of 7 x 10 meters with 3.5 meter height, be erected to be used as classroom where children will get education. */ School furniture: Two containers of 7 x 10 meters with 3.5 meter height, are be erected to be used as classrooms; one with armed chairs and one will be to accommodate smaller age groups. */ School stationery: Each student will be provided with a school bag, 5 notebooks, a set of books, 2 drawing bags, 12 pencils, 6 erasers, 2 sharpeners, a set of color pencils and a ruler. 5. MASJID */ Container for masjid: A container of 7 x 20 meters 3.5 meter height, will be erected to be used as a masjid along with required items; mat, carpet, etc. 6. CAMP DEVELOPMENT */ Generator: A 50 KV generator to provide electricity to containers, masjid and kitchen */ Fence wire: Fence wire will be fixed around the center for protection.
AL-IMDAAD FOUNDATION'S RESPONSE
05 Jul 2013
AL-IMDAAD FOUNDATION'S RESPONSE The Al-Imdaad Foundation had dispatched an emergency relief team the Syrian borders of Turkey and Jordan. Working in the refugee camps since the uprising, the Al-Imdaad Foundation provides food aid, medical projects, blankets and heaters to thousands of refugees on these borders. The Al-Imdaad Foundation also set up a clinic to cater exclusively for the medical needs of the refugees. This clinic offers a wide array of services which include general check-ups by GP's, a gynaecology wing, a minor operations theatre and a dispensary. High value food hampers and infant care baby packs are also distributed on a regular basis. Many of the refugees in Jordan are unable to get access to refugee camps and thus our office assisted them by covering their accommodation costs. DETAIL OF THE PROPOSED PROJECT: Project: Establishment of a container village for orphans, their mothers and needy families in Syria Project Location: Tutul Village, Salkin Town of Idlib Province, Syria Project Rationale: For more than 2 years Syrian people have been seeking shelter away in order to save their lives from the fighting and in search of life necessities. Today, approximately 5 million people have been displaced within their own country, leaving thousands homeless and in need of food, water and sanitation, shelter and blankets. Access to health facilities has also become difficult or impossible in some areas due to violence, checkpoints and fuel shortages, while food prices have tripled in some areas. Refugee camps on the borders have exceeded their maximum capacity and are limiting the number of refugees entering these camps. Moreover, many families who have lost their bread winners either due to being killed or detained, families have had to flee their houses leaving all their possessions and seeking refuge within save heavens in Syria, creating a dire need for basic humanitarian aid. As winter is approaching and temperatures begin to fall, Syrian people need regular food supplies, health services, proper shelter and winter supplies urgently. Thousands of children have fled across the border, terrified and desperate for safe refuge from the violence along with their family members who have been left alive. Children face tremendous dangers on a daily basis. They are being killed, maimed and orphaned by conflict. In Syria, countless children suffer from the psychological trauma of seeing family members killed, of being separated from their parents and being terrified by the constant thunder of shelling. Many have fled their country to live in refugee camps in neighbouring countries. Basic infrastructure and public services are being systematically destroyed. Families are struggling to survive in increasingly desperate conditions. One in every five schools in Syria is destroyed, damaged or converted into shelters for displaced families thereby disrupting schooling for hundreds of thousands of children. Children and women in shelters are more exposed to unsanitary conditions, including unsafe drinking water and a lack of water for personal hygiene, placing them at further risk of water-borne diseases including acute respiratory infections and skin diseases such as scabies. Due to security, not many organizations are providing means of humanitarian aid to those displaced families within Syria. This project is designed to establish container villages with all necessary items for the orphaned children, their mothers / guardians and needy families in different parts of Idlib Province of Syria in order to provide them a safe haven and to fulfill their basic life necessities and services. This is the minimum right that every child in the world deserves to have. PROJECT LOCATION: Al-Imdaad Foundation plans to establish the proposed project in Tutul Village, Salkin Town of Idlib Province with an aim to establish such centers across Syria.