Bangladesh garment factory disaster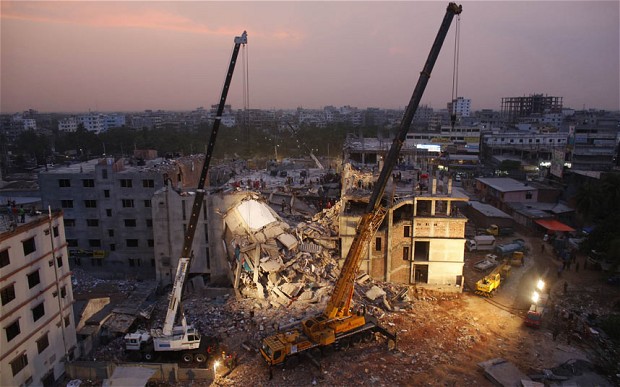 30 Apr 2013
A view of rescue workers attempting to find survivors from the rubble of the collapsed Rana Plaza building in Savar, around 30 km (19 miles) outside Dhaka April 30, 2013.
Al-Imdaad Foundation responds to Bangladesh garment factory disaster.
01 May 2013
The Al-Imdaad Foundation is currently responding to the Bangladesh garment factory collapse tragedy. On 24 April, at least 385 people were killed when the building collapsed in Bangladesh's Savar industrial suburb (24km northwest Dhaka), trapping more than 3 000 people. The Al-Imdaad Foundation has sent a disaster team with medical supplies and relief aid to aid the victims of the tragedy. "We have already done our initial assessment to find out the needs of the victims and their families. The Al-Imdaad Foundation is focussing on providing medical care, surgery and rehabilitation to the victims," said Head of Bangladesh Mission, Abdul Ahad Miah. Miah surveyed the collapse building site. "The Bangladeshi security forces have sealed of the building site but I was able view it from a distance. The second phase of the operation has begun, the recovery stage, and trucks and bulldozers are clearing away the huge pieces of concrete to recover bodies." The stench of decomposing bodies fills the air. "There is a really strong smell of what I presume to be decomposing bodies. There are over a thousand people unaccounted for and are presumed dead. Their bodies are trapped in the debris. A lot of people have crowed the site, clinging to any glimmer of hope of finding their loved ones," said an emotional Miah. Miah visited the injured in hospital. "I visited a hospital and a medical college. It is quite a horrific sight. We visited all the wards and spoke to a lot of patients. The vast majority of them are women who have fractured or broken bones or more serious amputations," he said.