Operation Sukuma Sakhe 2012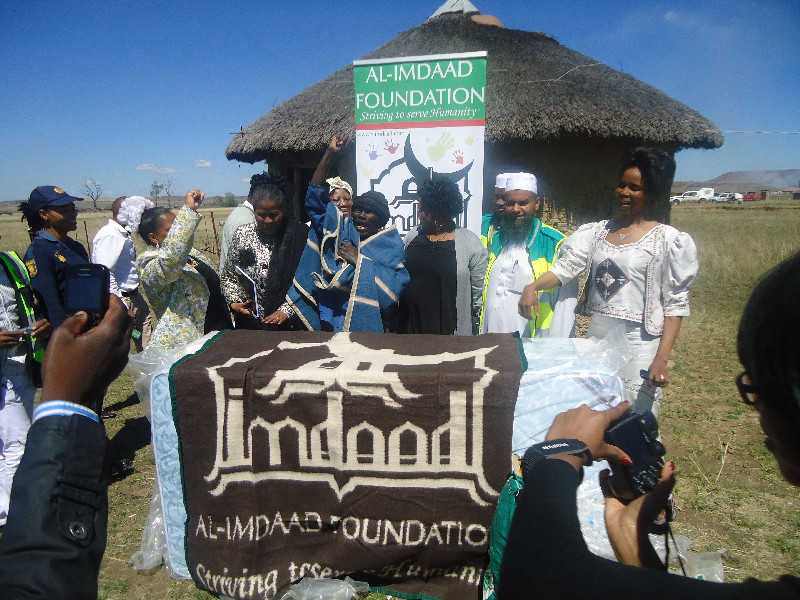 31 Dec 2011
Deputy national minister of DSD hands over aid with Al-Imdaad Foundation team members as part of a Operation Sukuma Sakhe joint distribution
Al-Imdaad provides Aid in partnership with National Department of Social Welfare.
16 Sep 2012
The Al-Imdaad Foundation was present at a meeting held by the Deputy Minister of Social Development in Lucitania, Ward 24 of the Ladysmith Municipality. Speaking on the campaign titled "Taking DSD to communities" the Deputy Minister, Ms. Maria Bongi Ntuli enlightened the audience as to what the campaign entailed and the steps to be taken in order to best achieve the desired goals. In brief, The Deputy Minister encouraged those agents capable of affecting change, to come out of their offices and work in the field to fight poverty, to undertake self sustainable projects, to utilise community potential to assist in projects and to work together with NGO's such as the Al-Imdaad Foundation to battle the scourge of poverty. The Deputy Minister also stressed that poverty is not an inheritance and with the proper application and positivity, casting aside pride and laziness, everyone can make a difference to their lives. The Minister concluded the meeting by thanking Al-Imdaad Foundation for its invaluable contributions in the battle to fight poverty and mentioned that The Al-Imdaad Foundation is a great example of Sukhuma Sakhe (Stand up and make a difference). The Deputy Minister together with Al-Imdaad and OSS then distributed beds, food parcels, mattresses and wheel chairs to impoverished households in Lucitania and Matiwane Madlala.
Operation Sukuma Sakhe Launch in Zululand
28 Feb 2012
Working together, The Al Imdaad Foundation together with the KZN Provincial Government, hope to overcome many of the pertinent issues that have destroyed communities. Being present at the launch of Sukuma Sakhe in Zululand on the 29th of February 2012, The Al Imdaad Foundation in the presence of the KZN Premier Dr Zweli Mkhize, made an initial contribution of 40 bicycles and 60 food parcels to those underprivileged communities staying in the rural outlying areas. Simultaneously, members of the Al Imdaad Foundation were also present at a distribution in the Uthukela District at which the MEC for Transport, Community Safety and Liason, Mr T. W Mchunu was also in attendance. The Al Imdaad Foundation distributed blankets, wheel chairs, soccer kits and volleyball kits. Similar distributions were also conducted in the Durban Metro district with MEC for COGTA, Nomusa Dube. These distributions are aimed at assisting the poorest of the poor in the deepest and most impoverished of rural areas. The Al Imdaad Foundation believes that Sukuma Sakhe is an excellent model that provides assistance in a sustainable, accountable and transparent method and is proud to be involved in such a community upliftment project.