BANGLADESH: Jaheda Begum, "I can't feed my family"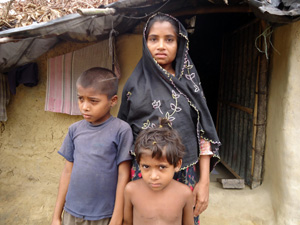 30 Apr 2012
BANGLADESH: Jaheda Begum, "I can't feed my family"
KUTUPALONG, 1 May 2012 (IRIN) - Jaheda Begum, 25, and her family - Rohingya refugees who crossed into Bangladesh from Myanmar - haven't had a square meal in days because the heavy pre-monsoon rains have prevented her husband from finding any work. Only those Rohingya - a Muslim ethnic minority - registered with the government (28,000) receive protection, humanitarian assistance and food rations from UN agencies and international NGOs, but those who are undocumented are unassisted. More than 200,000 undocumented Rohingya refugees are living in southern Bangladesh. Hundreds of thousands have fled since 1991 to escape persecution in neighbouring Myanmar, where they have long been subjected to systematic and widespread human rights violations, including summary executions, torture, state-sanctioned rape, arbitrary arrest, and forced labour. Jaheda has two children, Jannat Ara, 4, and Mohammed Rafique, 8. Jannat Ara's middle-upper arm circumference (MUAC) - used by the World Health Organization (WHO) to measure the severity of malnutrition - is 12cm. It puts her on the brink of severe acute malnutrition. A recent report by Physicians for Human Rights, an American NGO, notes that many undocumented Rohingya refugees at the Kutupalong makeshift camp outside Cox's Bazar District, Chittagong, (where Jaheda and an estimated 25,000 others are living) had not eaten in two days, and 18 percent of children under the age of 5 were suffering from acute malnutrition, a situation WHO defined as 'critical'. "We ran away from our hometown in Maungdaw [District, in Myanmar's Rakhine State] six years ago after the military accused my husband of murder and took him into forced labour. "We managed to escape to Bangladesh by boat and we have been living here in the makeshift camp for the last four years. "My husband, Hashem Ullah, 35, tries to find work as a fisherman or as a day labourer in the brickfields. It's not easy, as legally we're not allowed to work. Sometimes he pulls rickshaws. He earns between 150TK (US$2) to 200TK ($3) per day. "I cannot work. After I lost my third child during childbirth earlier this year, the doctors told me that I couldn't work for another six months if I wanted to have children again. "How do I feed my family? I can't. "We have plain rice for breakfast, we don't have lunch. Dinner depends on whether or not my husband gets work, otherwise we don't eat until the morning after. "If things get very bad, I borrow food from neighbours, but we're all in the same mess. "I am always worried about my children because I cannot give them proper food or study expenses. "How can the next generation succeed if we have to choose between buying food and buying schoolbooks? "I hope to go back to my village in Maungdaw, but the situation in Myanmar is still no better. When the country's situation improves, nobody will stop me from going home." Courtesy of IRIN This report does not necessarily reflect the views of the AL IMDAAD FOUNDATION, its trustees or team members and volunteers globally.